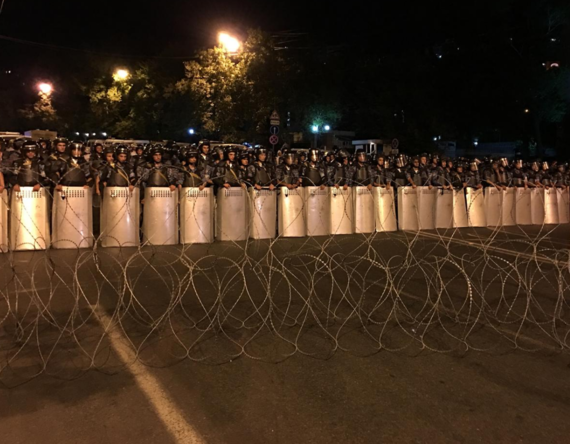 Image: Armenian police used excessive force against peaceful protesters and journalists on July 29, 2016. Author: Human Rights Watch
YEREVAN, Armenia -- In any urban protests that police meet with violence, there is one day or night when authorities' use of force reaches a crescendo.
That day was February 20, 2014, at the Euromaidan protests in Ukraine's capital of Kiev. President Viktor Yanukovych's security forces shot more than 60 demonstrators dead, bringing to more than 100 the number whom police had killed in about a month's time.
The crescendo of law-enforcement violence against demonstrators supporting an armed group who occupied a police station in Armenia's capital of Yerevan came on July 29, 2016.
No deaths were involved, but security forces beat protesters to the point of breaking bones and used stun grenades on them that caused first- and second-degree burns and cost one protester his eye.
Unlike in previous decades in the former Soviet Union, when police in the region use excessive force these days, there's usually a day of reckoning.
The February 20, 2014, killings in Ukraine so galvanized the anti-Yanukovych forces that he was forced to flee to Russia for his life.
The day of reckoning in the July 29, 2016, police violence against Armenian protesters came with the firing of Yerevan's police chief this week, and penalties imposed on 18 other officers.
Whether the reckoning expands to government officials -- such as the interior minister, who is ultimately in charge of Armenia's police forces -- remains to be seen.
Some analysts see the law-enforcement officers as scapegoats. Their punishments were aimed at mollifying the public while insuring that accountability for the violence does not land at the feet of government higher-ups, these analysts contend.
Georgi Gogia, director of Human Rights Watch's South Caucasus Division, said the "dramatic" punishments imposed on the police officers "could be a sign that there will be accountability for what happened on July 29." The implication was that the organization would like to see the accountability going higher.
Armenians owe the local chapter of Human Rights Watch a debt of gratitude for documenting the July 29 violence while being at risk of becoming victims themselves.
Organization members interviewed protesters who had been beaten and injured in stun-grenade attacks -- at the scenes of the demonstrations, in detention centers and in hospitals.
Police also injured a number of journalists on July 29. Documenting the violence in the same way that journalists did, Human Rights Watch's interviewers could easily have shared their fate.
The government fired Yerevan Police Chief Ashot Karapetyan this week for what it said was his "failing to prevent violent (police) attacks on protesters and journalists" on July 29.
The words "failing to prevent" police violence suggest that Karapetyan might have played a passive role in the excessive use of police force against the demonstrators -- that he simply failed to exercise enough oversight.
Actually, he led the charge on the protesters who ended up being injured, several witnesses told Human Rights Watch.
The same day the government fired Karapetyan, it reprimanded 13 police officers involved in the violence. Three days previously, it suspended five.
Stun grenades are supposed to disable opponents with a blinding flash of light and a huge bang without causing permanent injury.
But the stun grenades used against the July 29 protests caused permanent injury to many demonstrators, Human Rights Watch reported.
When the grenades exploded, they burned many people and emitted plastic shrapnel that caused fragmentation wounds, the organization said.
"Polystyrene (plastic) in some stun grenades will melt in the heat created when they are discharged, and cause serious burn wounds," Human Rights Watch noted.
The fragmentation wounds were from shreds of plastic penetrating people's skin. Some entered several centimeters deep, Human Rights Watch said.
A doctor told Human Rights Watch that a young man he treated had suffered such major fragmentation damage to his eye that he had to remove it.
The same doctor reported treating -- or seeing other doctors treat -- 20 to 25 people with burns and fragmentation wounds on the night of July 29 and the early morning of July 30.
Protesters told Human Rights Watch that police gave them one order to disperse, then waded into them.
"Immediately after firing and throwing the stun grenades into the crowd, uniformed police and unidentified people in civilian clothes acting with them, ran toward the protesters, detaining many," Human Rights Watch reported. "Police and the unidentified men also punched, kicked and used wooden clubs to beat some journalists and protesters, and damaged or seized journalists' equipment."
The beatings continued in police vehicles used to transport demonstrators to detention facilities, and in the facilities themselves, Human Rights Watch added.
Yerevan State University lecturer Marat Yavromyan was one of the protesters who suffered severe injuries.
Police broke the 37-year-old's nose, gashed the side of his mouth and left him with lacerations inside his mouth that needed stitched up.
The demonstrations ended after 20 of the 30 original police-station occupiers surrendered on July 31, two weeks after they had seized the station on July 17. The raiders had demanded the release of Zhirair Sefilian, head of the opposition fringe party Founding Parliament, and the resignation of President Serzh Sargsyan. Police arrested Sefilian in June of 2016 on a charge of plotting a coup -- an allegation he and his followers denied.
The demonstrations grew as the station occupation wore on, attracting participants from parties besides Founding Parliament.
By the time the police-station siege ended, it had turned from a fringe-party protest to a more general uprising against the government.
While not producing martyrs in the traditional sense of the word -- people killed -- the police violence on July 29 left participants with burns, broken bones, lost eyes and other injuries that can only help the cause of those who want to see a more progressive government in Armenia.
Armine Sahakyan is a human rights activist based in Armenia. A columnist with the Kyiv Post and a blogger with The Huffington Post, she writes on human rights and democracy in Russia and the former Soviet Union.
Calling all HuffPost superfans!
Sign up for membership to become a founding member and help shape HuffPost's next chapter