The man who has led Armenia for the past decade bowed to popular demand and unexpectedly resigned on Monday, only a week into his new role as prime minister.
After Serzh Sargsyan reached his two-term limit as president, the country's legislative body voted to switch his role to prime minister earlier this month. Protests erupted across the small country, with people demanding that opposition leader Nikol Pashinyan instead be given a chance to lead.
The demonstrations, which began almost two weeks ago, climaxed Sunday when Pashinyan was arrested for calling for Sargsyan's ouster. He was released Monday to the delight of the protesters.
"I was wrong," Sargsyan said in a statement about his resignation. "The street movement is against my tenure. I am fulfilling your demand."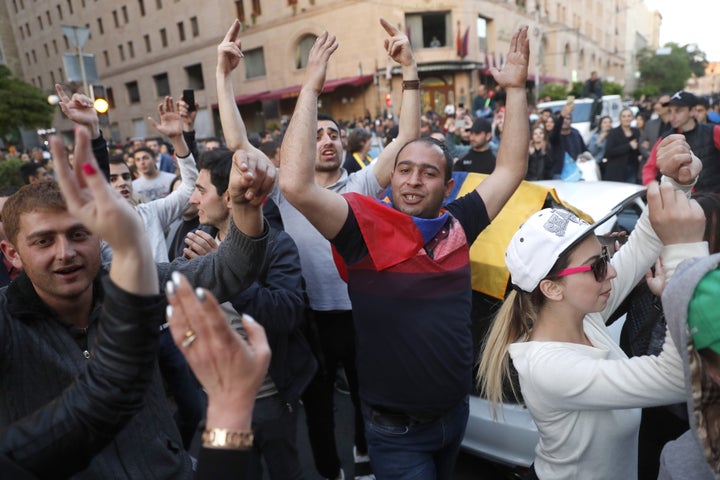 Sargsyan's spokesman, Hovhannes Nikoghosyan, called the former leader's decision a "clear demonstration of a democracy in force" in an interview with the BBC.
"It's the happiest day in my life," one protester, Karine Stepanyan, told Reuters. "We showed to the entire world that our country's destiny is in hands of Armenian people."
Former Armenian Prime Minister Karen Karapetyan will now serve as the country's acting prime minister until parliament chooses a new leader. The opposition plans to meet with Karapetyan this week, The Associated Press reported, although just how much power the government is willing to cede to the other side remains unclear.
The political upheaval also happens to coincide with the country's Genocide Remembrance Day on Tuesday, when people were already planning to take to the streets to commemorate the 1915 conflict.
Russia ― a longtime Armenian ally ― offered a muted reaction to the developments. Presidential spokesman Dmitry Peskov said Tuesday that the Kremlin was keeping an eye on the situation and was "satisfied" that protests didn't lead to any further instability.
Support HuffPost
The Stakes Have Never Been Higher
Related
Popular in the Community