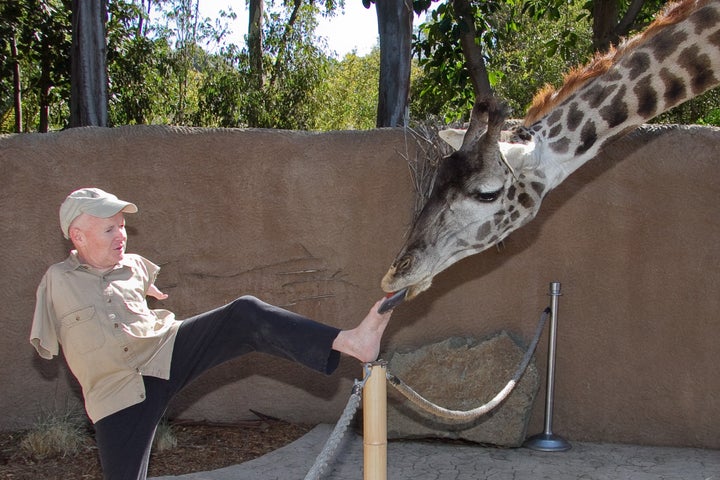 Tom Willis was born without arms or hands, but with plenty of dreams.
And he recently got a chance to fulfill one of them: Feeding a giraffe with his toes.
"They have a two-hour feeding window and for $2, you can get three biscuits," Willis told The Huffington Post. "I've wanted to do it for a while, but I was concerned how they might react."
"I pet dogs with my feet, but they can get riled up because when you lift your foot, it looks like you're going to kick them."
"We worked out a time when other people weren't there, but none of the giraffes would come near me," Willis said. "The trainer had to lure them to my foot. One finally ate the biscuit and then another did."
Willis is by no means an animal expert, but found it interesting that the females weren't afraid of his foot as much as the male was.
"The female giraffes were willing to eat the biscuit, but the bull wouldn't," Willis said. "But he was very protective and even pushed one aside before letting her eat."
If the giraffes were a little skittish about eating from Willis' foot, well, the feeling was mutual.
"A giraffe tongue is one inch for every foot of neck," Willis said. "I wasn't sure what having a salami-like tongue around my foot would feel like."
ANIMALS IN THE NEWS (Story continues below)
PHOTO GALLERY
Animals In The News: Best Photos Of 2011
Willis also had momentary fears of having his foot -- which he uses to eat, write and throw a baseball -- chomped off by the giraffe, but the keeper assured him there wasn't that much danger.
"They don't have top teeth," he said. "You know, the tongue wasn't soft and gooey, but it wasn't sandpapery like a cat's tongue. I'd describe it as firm, but moist."
"I use a sideways pitch, sort of snap the knee," he said. "Every throw I've done has made it to the catcher's mitt, although there may have been two that got there in one bounce."
So far, he's done 15 of the 30 stadiums and will add Safeco Field in Seattle to the ever-growing list later this year, but more important than completing the task is the fact he's done it at all.
"When I was born, the doctors told my mother that, if she wanted, they'd put me in an institution," he told The Huffington Post. "She didn't, and I've had a pretty exciting life because I turned obstacles into opportunities."

Calling all HuffPost superfans!
Sign up for membership to become a founding member and help shape HuffPost's next chapter