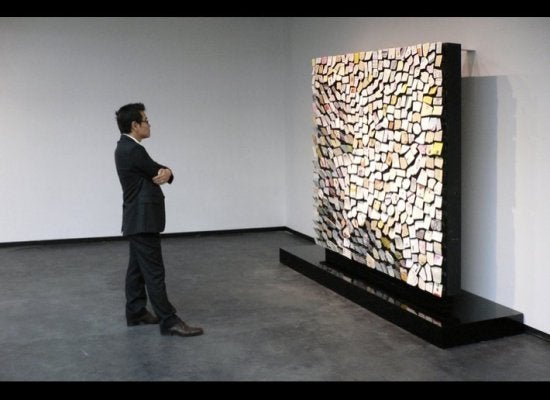 I have gone to The Art Show and The Armory Show (now with its nine satellite shows) in New York City for many years. I've worked in the Modern Painting Department at Sotheby's and in a New York City gallery both of which provided for a different perspective. I thought it would be interesting to visit these shows through the eyes of an artist. This year I was at the National Medal of Arts Awards at The White House so I missed the beginning of both shows. One either needs amazing stamina or two days to really visit both The Art Show and The Armory Show. I went on Friday visiting both and then went back again on Saturday. I like to start with The Art Show, organized by the Art Dealers Association of America. This has traditionally been more staid but over the past few years more contemporary galleries are exhibiting there as well, in fact some galleries have booths at both fairs. There are contemporary artists and heavy on the artists of the past half-century, with a few old masters. This year The Art Show seems to have more energy and more people. Not to be missed, and possibly could be missed, is a very small (4" x 6") monotype by Georgia O'Keefe of a woman painting at an easel (Hirschl and Adler). O'Keefe studied with William Merritt Chase at the Art Students League and Chase was a big proponent of monotype. It eerily reminded me of a Stieglitz photograph. As a painter who studied thirty years ago at The Art Student's League and with a mother who also took classes there over sixty years ago I could almost visualize her painting this. Across from the O'Keefe is one of Fairfield Porter's Maine paintings, "View from Upstairs." Having painted Maine/ in Maine for over thirty years and painting many of the islands close to Porters Great Spruce Head, I find he captures the feel and colors and sense of place of island life, with his muted palette. There is also an impressive selection of Joseph Cornell's boxed assemblages (L&M Arts). Perhaps the most ubiquitous artist is Charles Burchfield who seems to be getting more attention in recent years with groupings of his paintings at both fairs.

The Armory Show which features 274 blue-chip contemporary and modern art galleries from 31 countries can almost be overwhelming as there is so much art - and lots of crowds. I like to start early and do it in sections. There seems to be more painting exhibited this year, many of the foreign galleries were filled with large paintings on canvas. Gallery Arndt from Berlin was very smart to have Wim Delvoyes laser cut stainless steel "Dump Truck" out front of their space to attract attention as it is so different. It is a scaled dump truck made up of 4000 different sections replicating gothic architecture.
Both shows also offer forums. This year I visited Lindsay Pollock's panel on Past and Future: The Art of Corporate Collecting because I am working on something with JP Morgan Chase. There was such a high level of interest, I had to sit on the floor. With an admission fee of $30 per adult, I was happy to see that The Armory Show was so well attended.

Calling all HuffPost superfans!
Sign up for membership to become a founding member and help shape HuffPost's next chapter