If you live in New York City, consider yourself a fairly committed art fan, and/or have little to no plans this weekend, continue reading.
For those of you whose Twitter feeds have already been populated by the hashtag #ArmoryArtsWeek (or, maybe, #ArmoryShow2015), we needn't tell you what the next few days will bring. You're probably already aware of the fact that the blessed Armory Show has touched down on the Hudson shore, attracting gallerists and artists from across the globe to a tiny stretch of Manhattan between Piers 92 and 94. And that, with the Armory Show as its sun, the Armory Arts Week brings an entire solar system of cleverly named art fairs from Spring/Break to Volta, Scope to (Un)Scene.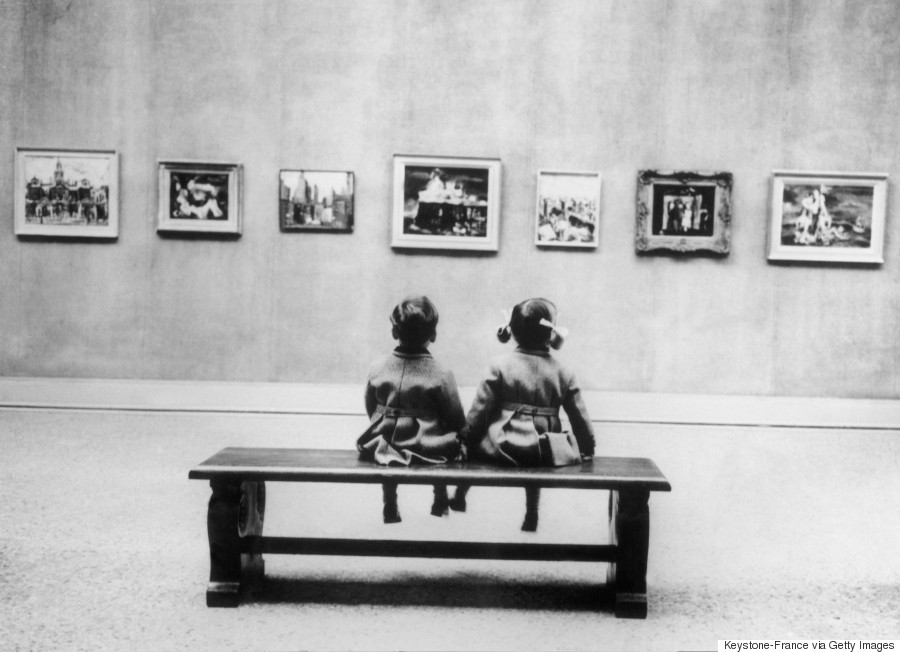 Were it not for the massive Armory spectacle (the show will play host to 199 galleries from 28 countries across North and South America, Europe, Asia and the Middle East), the island would still be pulsing with art shows. Bjork has invaded the Museum of Modern Art. The Triennial is in full swing at the New Museum. Paul Chan is hunkering down at the Guggenheim. Then there's a Keith Haring show opening at Skarstedt, Tatiana Trouvé at Gagosian and "Enigmas" at Andrea Rosen.
In summary: there's a shit ton of art to see this weekend. In honor of the bustle, we've put together a guide to navigating the sea of shows, fairs, festivals and anti-fair art fairs. Behold, the quick and dirty ABCs of Armory Art Week (scroll down for a handy map!):
What: This is the meat-and-potatoes of the week. A really, really big fair in Manhattan that spans art both modern (read: historically significant 20th century works) and contemporary (read: works by living artists). Prepare yourself for a labyrinth of booths, a swarm of extremely well-dressed people and a smattering of VIP events around the borough.
When: March 5-8
Where: Piers 92 & 94
Target audience: People who are willing to spend boat loads of money on art. That said, with nearly 200 galleries showing work, there's something for everyone, even if you just want to ogle the art/bombastically fashionable people wandering around just like you.


Selections from the Armory Show courtesy of The Huffington Post
What: A show hosted by the Art Dealers Association of America (ADAA) that's bringing 72 dealers under one roof. It's much less crowded than the Armory Show, but also less exciting. On view: everything from Henri Matisse to Tracey Emin to Nam June Paik.
When: March 4-8
Where: The Park Avenue Armory
Target audience: Again, individuals who want to spend money, but who prefer a more modest environment to do so. If you're coming off an Armory Show high, the energy levels of ADAA will be no match.
What: Spring/Break is a self-professed curator-driven fair in its fourth year that will feature 150 artists, chosen by 40 curators, all bundled together under a theme of "TRANSACTION." It is advertised as a "break from the typical art fair model" that's meant to be like an artsy playground. Already grabbing attention: Dustin Yellin, John Gordon Gauld and Bazaar Teens' shredding of $10,000 to create eight paintings.
When: March 3-8
Where: Skylight at Moynihan Station
Target audience: There will be a lot of curators and critics. But as the website proclaims, there will be "scene junkies" too.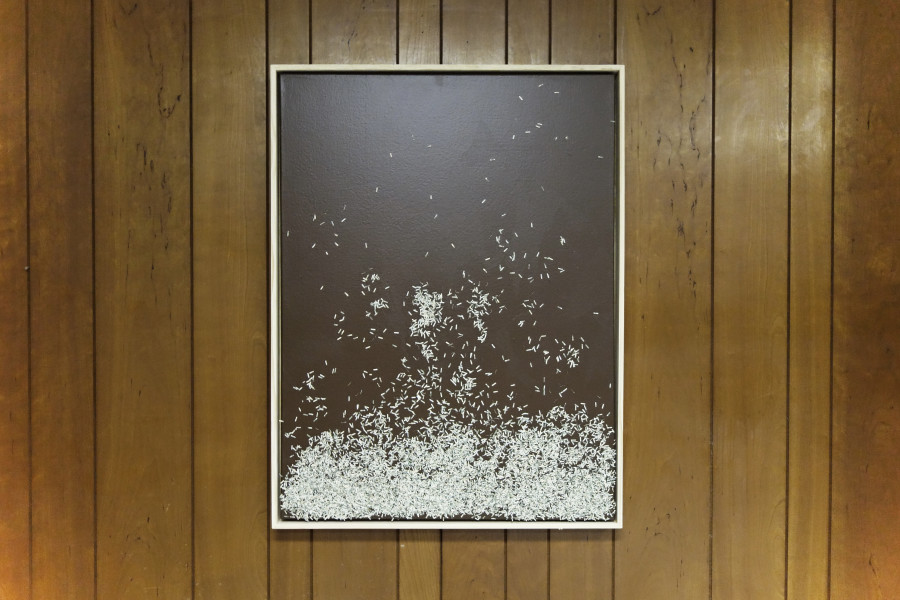 Dustin Yellin
What: Volta is an invitation only bonanza of solo-artist projects, which translates to less of a gallery focus. Words used to describe this contemporary art fair include "focused," "rigorous curation," and "boutique." It's right next to the Armory Show so it's worth checking out in you're already on the Hudson.
When: March 5-8
Where: Pier 90
Target audience: Armory Show overflow -- the collectors who are tired of sifting through galleries and just want to see big, bright single artist names.
What: Scope's claim to fame is that it employs an open-plan exhibition design. There are no cubicle-like booths, so the show's individual parts bleeds into each other to create the atmosphere of a museum show that highlights emerging artists.
When: March 6-8
Where: Metropolitan Pavilion West
Target audience: The new open plan, in theory, makes the entire ordeal less intimidating for the non-collecting folks.
6. The (un)SCENE Art Show
What: A decidedly less commercial experience that presents everything from performance art to painting, participatory installations to sculpture. The show stands in pretty clear contrast to the highly stylized Armory Show, and makes that clear with a few chosen self-descriptions: it's a celebration of "passion rather fashion," and a "spontaneous 'Happening'" rather than an established fair environment.
When: March 4-8
Where: 549 W 52nd St.
Target audience: Generally, just people who like contemporary art and actually want to find new artists to obsess over.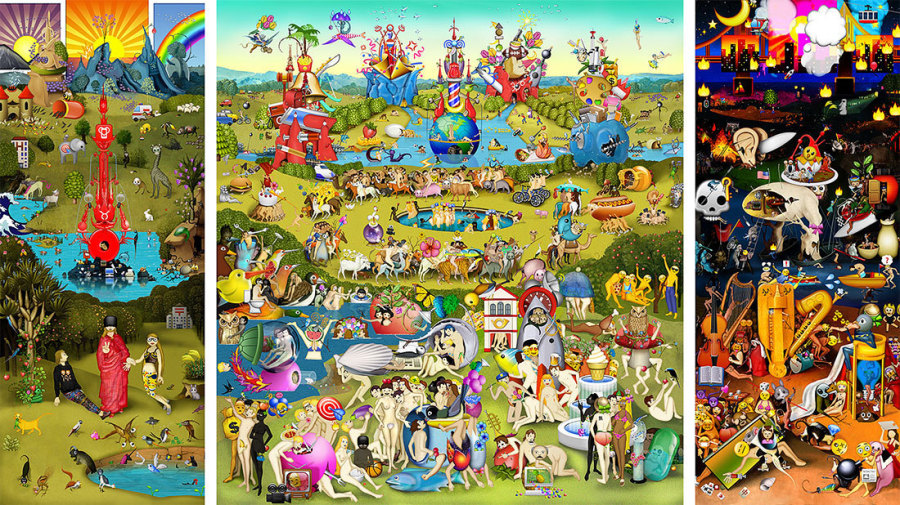 Carla Gannis' "Garden of Emoji Delights"
What: A satellite of the Armory Show that focuses on "cutting-edge" contemporary art. There's also a version of PULSE during Art Basel Miami Beach, if that gives you any indication of what to expect. We're excited about Carla Gannis' "Garden of Emoji Delights," in particular.
When: March 5-8
Where: The Metropolitan Pavilion
Target audience: Armory Show overflow, emphasis on contemporary Armory Show overflow.
What: Moving image-based art fair that includes single-channel videos, single-channel projections, video sculptures, and other larger video installations.
When: March 5-8
Where: Waterfront Tunnel
Target audience: Cinephiles/art admirers who are hungry for some international moving imagery.
What: As the title hints, this inaugural fair celebrates the influence of paper on sculptors, illustrators, painters and photographers. Bonus: Dave Eggers!
When: March 5-8
Where: Pier 36
Target audience: Drawing fiends.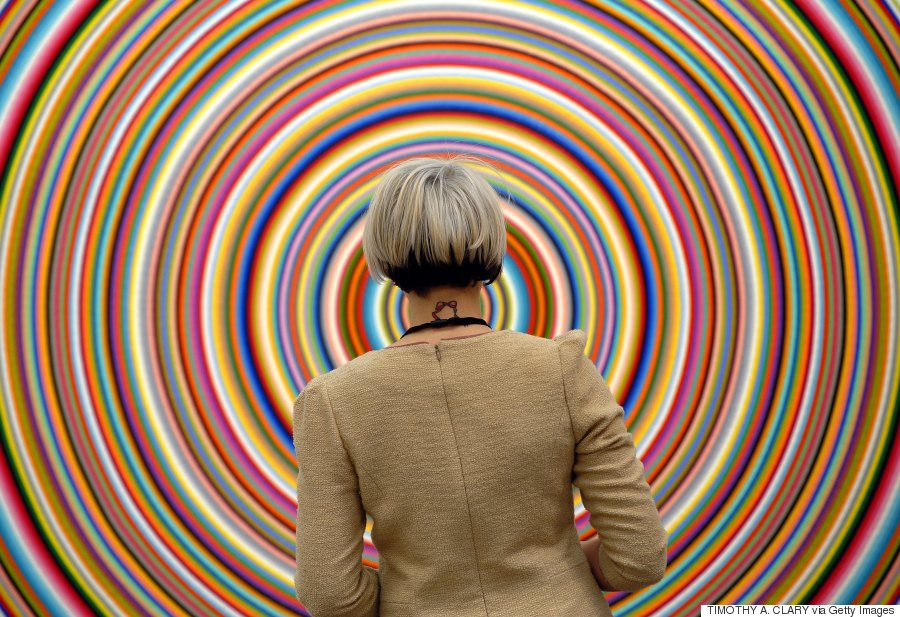 Do you feel like this yet? (A exhibitor checks out a piece of art during the media preview at the 2012 Armory Show via TIMOTHY A. CLARY/AFP/Getty Images)
What: All contemporary Japanese art that aims to bring new Asian artists to collectors in NYC.
When: March 5-8
Where: hpgrp Gallery New York
Why: Collectors who love Japanese art, duh.
What: This is a mini-fair hosted by Zurcher Paris/New York that's just a bit more intimate than all the rest. If you're visiting the Triennial this weekend, the Salon is just a hop, skip and a jump away.
When: March 2-8
Where: Zurcher Gallery
Why: Collectors who favor the Lower East Side versus the (slightly upper) west side of Manhattan, and who frankly don't like crowds.
Related
Before You Go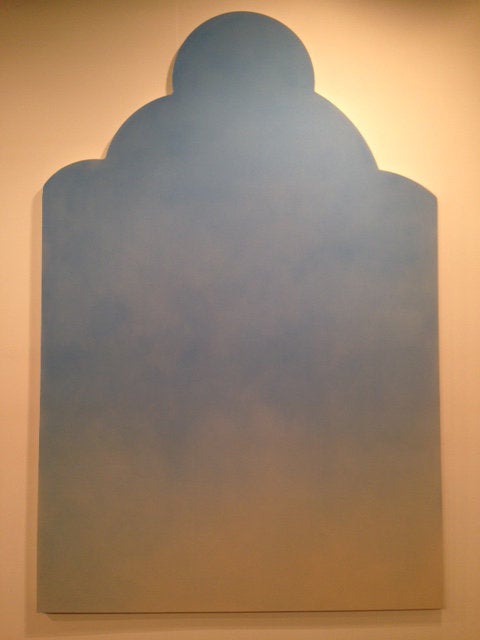 Snapshots from The Armory Show '15
Popular in the Community