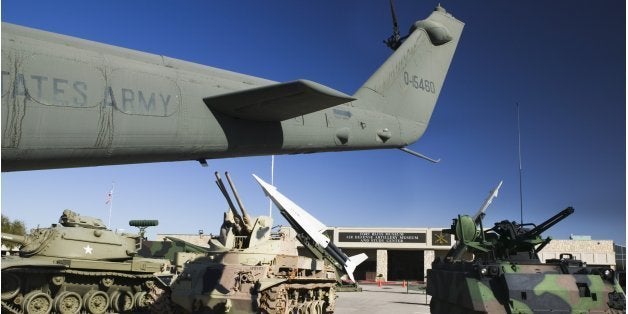 WASHINGTON, Oct 21 (Reuters) - U.S. defense budget cuts will affect the Army's plan to develop a new ground combat vehicle and most other acquisition programs, with some facing delays or cancellation, Army Secretary John McHugh said on Monday.
"I find it difficult to envision any significant number of our developmental initiatives that won't be affected," McHugh told reporters at the annual Association of the U.S. Army conference. "And some we'll have to cancel."
McHugh singled out developing a new ground combat vehicle and improving the Army's communications and computer network as priorities, but, he said, even those programs would have to be revamped if mandatory across-the-board budget cuts remained in place.
General Dynamics Corp, which built the M1A1 Abrams tank, BAE Systems Plc, maker of the Bradley fighting vehicle, and Boeing Co, which builds several different helicopters for the Army, and others were looking for clues to the impact of spending cuts.
Army Chief of Staff General Ray Odierno told reporters the Joint Light Tactical Vehicle program, which is to replace the workhorse Humvees used by the military, and replacements for the UH-60, CH-47 and Apache helicopters were also priorities.
"The bottom line is we can't afford all of that. And so we're going to have to make some tough decisions," he said, adding that analysis was underway to help make those decisions.
He said the current budget environment meant the Army might have to delay some weapons programs by four to five years.
Neither McHugh nor Odierno provided details on exactly which programs might be cancelled, revamped or delayed.
Army acquisition chief Heidi Shyu later told reporters the Ground Combat Vehicle program and the Armed Aerial Scout program, which was aimed at replacing aging OH-58 Kiowa Warrior helicopters, were at risk unless Congress reversed across-the-board budget cuts mandated by sequestration.
"Either we are going to delay it or we're going to have to terminate it or we're going to have to continue on and finish a certain phase," Shyu said of the two programs.
She said understood industry's need for more certainty, but said the Army's acquisition plans were "lurching because our budget is lurching. We have no control over that."
Acquisition programs were hardest hit because it took longer to generate savings from troop reductions, and operations and maintenance accounts were still stretched by the war in Afghanistan, Shyu said.
Decisions about future end strength and military readiness also played into acquisition decisions, Shyu said, noting that military commanders were having to weigh what capabilities they could give up, and what was "good enough."
Shyu said the Army would continue to invest in research on lighter weight armor and other promising technologies, as well as incremental upgrades to existing weapons.
She said BAE System's Paladin Integrated Management program, which enhances the reliability of the M109A6 howitzer, just won approval from the high-level Defense Acquisition Board to start low-rate initial production.
The Army planned to proceed with some procurement plans, including an integrated air missile defense and a $6 billion program for a Armored Multipurpose Vehicle to replace M113 vehicles.
Shyu said she was working to safeguard the Army's multiyear procurement agreements, including one signed in June for new CH-47 helicopters built by Boeing, but they might have to be broken or renegotiated if sequestration cuts continued through fiscal year 2017.
Calling all HuffPost superfans!
Sign up for membership to become a founding member and help shape HuffPost's next chapter
BEFORE YOU GO
PHOTO GALLERY
Drones: The Future Of Flight