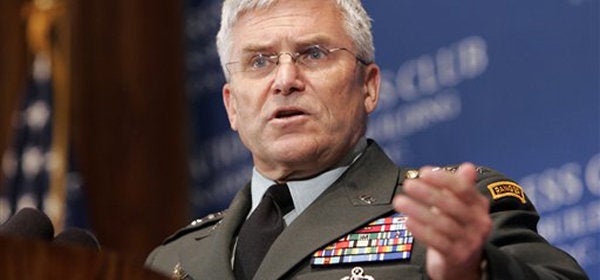 The following is excerpted from a Wall Street Journal article on General David Petraeus's indecision over Iraq troop withdrawals:

Defense Secretary Robert Gates has said he hopes to see the U.S. military presence fall below 130,000 by the end of 2008, a position shared by many senior Pentagon commanders who worry the high troop levels in Iraq are causing growing manpower strains on the army.

"The surge has sucked all of the flexibility out of the system," Army Chief of Staff George Casey said in an interview this week. "And we need to find a way of getting back into balance."

But President Bush made clear this week that additional troop withdrawals were far from a sure thing. After a meeting in Kuwait with Gen. Petraeus and Ryan Crocker, the U.S. ambassador to Iraq, Mr. Bush said he was open to slowing or stopping the withdrawal of troops to avoid jeopardizing recent security gains in Iraq. "My attitude is, if he didn't want to continue the drawdown, that's fine with me in order to make sure we succeed," Mr. Bush said, referring to Gen. Petraeus.
Support HuffPost
The Stakes Have Never Been Higher
Popular in the Community