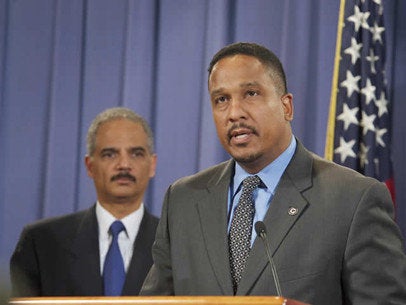 Two senior employees at the U.S. Army Corps of Engineers bilked the government out of $20 million through a "brazen" bribery and kickback scheme, federal prosecutors charged Tuesday afternoon.
Prosecutors identified the mastermind of the scheme as Kerry F. Khan, 53, of Alexandria, Va., a program manager at the Army Corps' Washington, D.C., headquarters. According to the 42-page indictment, Khan controlled a dizzying array of shell companies, which were used to mask millions of dollars being skimmed off inflated federal contracts paid to a Dulles, Va., technology firm.
Khan, who is charged with bribery, money laundering and wire fraud, pocketed roughly $18 million from the scheme over four years, prosecutors said. He allegedly spent the money on Rolex watches, BMW sports cars, designer clothes, first-class travel and properties around the globe.
The fraud was "staggering in scope," said Ronald Machen Jr., the U.S. attorney for the District of Columbia, at a news conference announcing the arrests.
"This indictment alleges one of the most brazen corruption schemes in the history of federal contracting," Machen said.
Harold F. Babb, the contracts director at Virginia tech firm EyakTek, was also charged with multiple felonies, along with Michael A. Alexander, a program director at the Army Corps, and Lee A. Khan, Kerry Khan's son, who controlled a consulting company allegedly involved in the scheme. The four men were arraigned in federal district court in Washington, D.C., where their lawyers entered pleas of not guilty to all charges.
As outlined in the indictment, the fraud scheme was simple enough, if breathtaking in scope. It began with a $1 billion Army Corps contract awarded to EyakTek, which subcontracted work out to another, unnamed Virginia tech firm. In a conspiracy with employees at the two companies, Kerry Khan and Alexander, who oversaw the contract, added millions of dollars in phony expenses to invoices sent to the government. Those funds were then allegedly skimmed from checks paid out by the agency and funneled back to the conspirators through a series of shell companies.
When arrested, the conspirators were planning a similar scheme, prosecutors said. According to recorded conversations and intercepted emails, the men were attempting to steer a $780 million technology contract to the unnamed Virginia technology firm, which could also be skimmed for profit. The only major hurdle would be clearing a government selection committee.
"Our biggest thing is being able to stack the board," Babb said during a March 2011 meeting with an unindicted co-conspirator, according to the indictment. "That's what I'm trying to do. I'm trying to stack it in our favor."
On Wednesday, several leading Democrats in Congress called on the Pentagon to improve the oversight of its more than $600 billion annual budget.
In a letter sent to Ashton Carter, Deputy Secretary of Defense, Sen. Jeanne Shaheen (D-N.H.) called the latest scam part of an ongoing pattern of fraud and waste that has drained billions of dollars from federal coffers. In particular, she pointed to a September report from the Commission on Wartime Contracting that found up to $60 billion lost to contract waste and abuse in Iraq and Afghanistan.
"We cannot allow this kind of fraud to run unchecked," Shaheen said. "This kind of waste erodes trust in our government and makes our already difficult fiscal situation that much worse."
A previous version of this article mischaracterized the allegations in a federal indictment; the defendants are not accused of steering contracts to EyakTek.

Calling all HuffPost superfans!
Sign up for membership to become a founding member and help shape HuffPost's next chapter