Opponents of the pipeline aren't even necessarily in agreement about exactly what the Army decided.
The most optimistic interpretation comes from the attorney representing the Standing Rock Sioux. Jan Hasselman can envision the Army allowing the pipeline to proceed only if it were rerouted away from the tribe's reservation. 
"It would be surprising to say the least" if the disputed section gets built beneath Lake Oahe, Hasselman said. The tribe's members fear a leaky pipeline could contaminate their water source, and they contend it violates an 1851 federal treaty.
Indeed, Sunday's statement from the Army sounds clear. The Department of the Army said it "will not approve an easement that would allow the proposed Dakota Access pipeline to cross under Lake Oahe in North Dakota," Army Assistant Secretary Jo-Ellen Darcy said Sunday.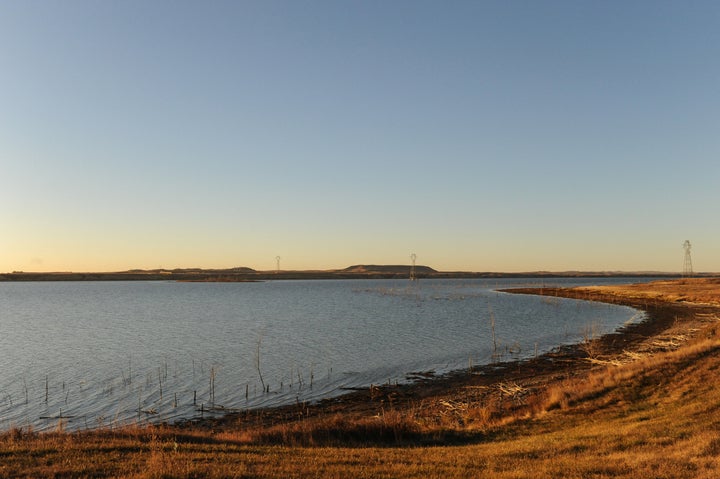 Sierra Club lawyer Doug Hayes doesn't believe the Army's statement completely ruled out using this route favored by the developer. Other options will be considered while the Army Corps of Engineers conducts an extensive study, called an environmental impact statement, or EIS.
Hayes said it's conceivable officials could still pick Lake Oahe as the best course. 
"Everything remains unclear as far as scope, process and timing," Hayes said of the environmental impact statement. "To me, that indicates that that crossing is still an option." 
Environmentalists who oppose the entire 1,172-mile project will favor an EIS that examines more than just the Lake Oahe section. The wider scope may look at other federal waterway crossings and grasslands and may uncover more potential risks that could cripple the developers' plans. Energy Transfer Partners is likely to seek an EIS that just examines the small area around Lake Oahe, according to Hayes. 
The Army Corps normally accepts public comments before setting the scope of an environmental impact study. The corps didn't respond to The Huffington Post's inquiries for clarity on the issue. 
Thousands of pipeline opponents have flocked to the area, often camping in tents, tipis and other simple lodgings for weeks or months. More than 500 activists, calling themselves water protectors, have been arrested in Morton County during repeated confrontations with law enforcement.
Some of the water protectors vow to keep up their resistance on federal land through the bitter cold, because they don't believe the Army's ruling will hold off Energy Transfer Partners. 
"That's just a ploy. It's not going to do anything to stop the corporation," said protester Billy McMaster, 49, of Boise. "They're just going to go ahead and do it, and then as soon as Trump comes in, it's just going to be a wash because he's just going to come in and pull his muscle and his might and push us out."
Before the EIS gets sorted out — a process that takes roughly six months to one year — the pipeline designed to carry up to 570,000 barrels of oil per day could be affected by court challenges. 
First up is a conference in a Washington federal court on Friday involving the developer and the Sioux tribe. After vowing to complete the pipeline despite the Army's decision, Energy Transfer Partners on Monday filed court documents asking a judge for permission to build under the pivotal Lake Oahe reservoir. 
The company said in court documents filed Monday that the Army wrongly withheld the easement because it succumbed to "political pressure" and violence orchestrated by protesters, according to Reuters.
"We don't think much of that [argument], and we don't think the government will think much of it either," said Hasselman, an attorney representing the Standing Rock Sioux. 
A decision is unlikely Friday, but Energy Transfer Partners expects to prevail.
"For more than three years now, Dakota Access Pipeline has done nothing but play by the rules," the company and Sunoco Logistics Partner said in a joint statement Sunday. "As stated all along, ETP and SXL are fully committed to ensuring that this vital project is brought to completion and fully expect to complete construction of the pipeline without any additional rerouting in and around Lake Oahe. Nothing this Administration has done… changes that in any way."
The delays are eating into the company's coffers and have cost $450 million, according to documents cited by The Wall Street Journal.
The dispute over the pipeline in North Dakota has attracted the bulk of the media's attention, but landowners in Iowa and the Sierra Club will be in an appeals court Dec. 15 contending that the Iowa Public Utilities Board misused eminent domain by condemning farmland. They will argue that creating a path for a private company to transport oil falls short of the public benefit that justifies seizing private property.
"It goes against a lot of thrifty Iowans' idea of what's a good use of money," said Carolyn Raffensperger, executive director of the Science and Environmental Health Network. "Why would you privilege one property owner over another?"
Calling all HuffPost superfans!
Sign up for membership to become a founding member and help shape HuffPost's next chapter
BEFORE YOU GO