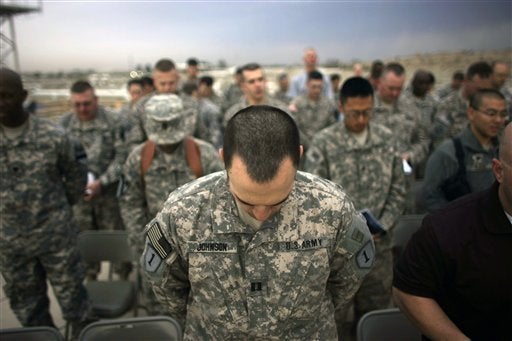 Faced with a growing number of Post-Traumatic Stress Disorder cases in the armed forces, the U.S. Army will begin a program this summer to proactively address the problem by focusing on building the mental resilience of its personnel.
In a speech before the international affairs organization the Atlantic Council on Thursday, U.S. Army Chief of Staff Gen. George Casey laid out the virtues of the newly formed initiative, which he called Comprehensive Soldier Fitness.
"We have been looking very hard at ways to develop coping skills and resilience in soldiers, and we will be coming out in July with a new program called Comprehensive Soldier Fitness," said Casey. "And what we will attempt to do is raise mental fitness to the same level that we now give to physical fitness. Because it is scientifically proven, you can build resilience."
"The whole idea here is to give soldiers the skills they need to increase their resilience and enhance their performance," he went on. "A lot of people think that everybody who goes to combat gets post-traumatic stress. That's not true. Everybody that goes to combat gets stressed. There is no doubt about it. But the vast majority of people who go to combat have a growth experience because they are exposed to something very, very difficult and they prevail. So the issue for us is how do we give more people the skills so that more people have a growth experience... We thought it was important to get started on this because everything else involves you treating the problem. We need to be more proactive."
Recent studies have estimated that anywhere between 10 and 20 percent of Iraq War veterans are currently suffering from PTSD. Casey himself said there are 13,000 cases that he knows of, a number he called "good news, bad news."
"The bad news is that's a lot," he said. "It is about double than what it was two years before. The good news is that because of the work we have done to reduce the stigma, more and more people are willing to come forward and get the treatment that they need."
The practical effects of such high stress levels are felt throughout the armed forces, including in its overseas operations. In addition to expressing worry about the mental capacity of returning soldiers, Casey's other major concern about the state of the military was that some of these soldiers might be forced back into combat. Echoing controversial remarks he made earlier in the week, in which he said that American forces were prepared to stay in Iraq for the next decade, the general warned of "some unexpected requirements of our forces in the next two years that won't allow us to get this drawdown in Iraq, that would allow us to stabilize the force."

Without sufficient time away from combat, he added, "it will get very difficult" to sustain military performance. As such, Casey outlined a rotational cycle plan for the armed forces that he predicted would allow the United States to permanently maintain an all-volunteer army. Instead of the current one-year out, one-year back model, he envisioned moving to a one-year out, two-years back model by 2011 and, eventually, a one-year out, three-years back model, which is what the Navy and Marine Corps have used for some time.
"I believe that is sustainable indefinitely," said Casey, who added, "The first thing we have to do is get ourselves on this rotational model so that we sustain the folks that are with us."
Calling all HuffPost superfans!
Sign up for membership to become a founding member and help shape HuffPost's next chapter