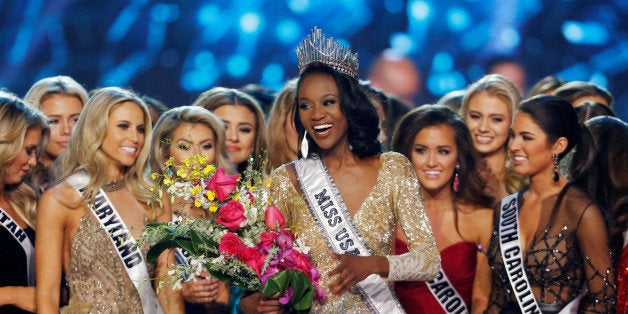 On Sunday, June 5, 2016, a 26 year-old Army reservist who serves as a Logistics Commander for the 988th Quartermaster Detachment Unit at Fort Meade was propelled into the national spotlight. First Lieutenant Deshauna Barber didn't pass the grueling Army Ranger course, she didn't outperform her male counterparts at an exercise designed to test women's grit and endurance, and neither was she promoted to a high ranking post. Instead, she donned a sparkling golden gown and made what might be one of the most compelling arguments for the full inclusion of women in combat that this country has heard yet. She was named Miss USA.
At first glance, First Lt. Barber may seem unique as a pageant contestant. But, she is not the first member of the U.S. Armed Forces to compete for a pageant crown. In 2008, Army National Guard combat medic and Afghanistan War veteran, Sargent Jill Stevens, represented Utah at the Miss America competition. During her reign, she was an eloquent spokeswoman for the strong parallels between the drive and competitiveness of pageant contestants and those who dedicate themselves to serving their country -- women like First Lt. Deshauna Barber.
When asked if the full inclusion of women in the armed forces may be placing political correctness ahead of operational readiness, First Lt. Barber responded, "As a woman in the United States Army, I think it was an amazing job by our government to allow women to integrate into every branch of the military. We are just as tough as men. As a commander of my unit, I am powerful. I am dedicated and it is important that we recognize that gender does not limit us in the United States Army."
By taking the debate over the inclusion of women in combat to the realm of pop culture, First Lt. Barber has done her sisters-at-arms a valuable service. This is a discussion in which all of America should participate. Women's full integration into the armed forces is a reflection of the evolving nature of American values, just as the integration of African-Americans into the military resulted from a complicated social and historical process. Those who continue to oppose full equality within the United States military need to wake up to the reality that the new Miss USA represents.
Having First Lt. Barber and Sgt. Stevens as public figures is important for several reasons. First, they publicly highlight the diversity of the women who serve in our armed forces. From different religious, racial and professional backgrounds, these two women have shown that our servicewomen are talented, competitive and qualified in everything they do. Second, they help bring the reality of female soldiers into our homes. More than 4 million Americans watched Sunday's broadcast of Miss USA and millions from all over the world will see First Lt. Barber represent the United States at the Miss Universe pageant later this year. Last year's Miss America competition was watched by 7 million people. By putting a glamorous face on the concept of modern servicewomen, they act as complex role models and demonstrate that women should not have to check their gender identity at the door when entering male-dominated institutions -- be it the tech industry or the military.
The United States military is not a genderless institution and will likely never become one. The existence of a "band of brothers" culture is indisputable. And yet thousands of women, including Deshauna Barber, serve in our armed forces regardless of this fact. They will continue to do so. By proudly serving, these women challenge and reshape the dominant culture of the military. By establishing public profiles for themselves, they both reflect and remake society's evolving understanding of what it means to be a woman in uniform. First Lt. Barber's win at Miss USA 2016 forces America to acknowledge that women are a force to be reckoned with, on the battlefield or in a bikini.
Popular in the Community