Talk about soldiering on.
After he caught wind that a flagpole had been knocked down at an assisted living and rehab facility in Massachusetts, Army Specialist Darren Swallow showed up at the facility's parking lot with his own flag and held it up on Memorial Day.
"He came out here on his own and stood for quite a while in the rain," Scott Schuster, chief executive officer at Wingate of Wilbraham told The Huffington Post. "The fact that a soldier would want to come here with his own flag and hold it up out of respect for veterans is really nice."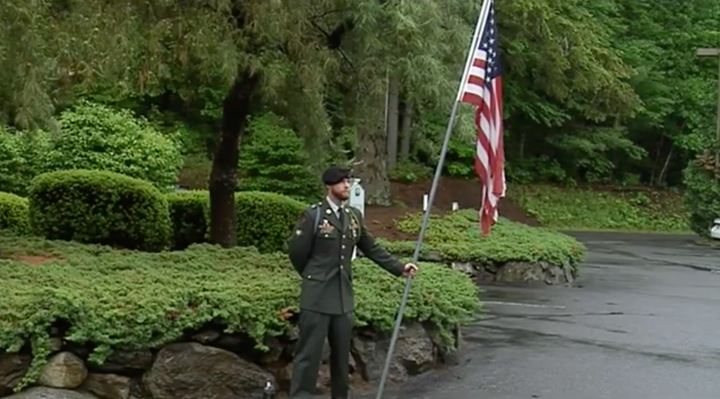 According to WWLP, Swallow, who is disabled following multiple tours in Iraq, showed up at 3:30 a.m. on Memorial Day to pay tribute to the veterans that reside in the facility.
"My girlfriend told me yesterday the flagpole behind us was taken down either during a storm or from a plow truck, so I thought I'd come down and honor our veterans, and let them know they have not been forgotten," he told WWLP on Monday.
Swallow's girlfriend, Anara Dupont, works in Wingate's kitchen and said she is touched by his beautiful homage.
"He was very passionate about it when I told him we didn't have a flag here. He is an angel, he is, he really is one of the best people I've ever met in my whole life."
As for why the flagpole, which was knocked over over the winter, hasn't been fixed, Schuster doesn't have a solid answer.
"That's a good question," he told HuffPost. "It's not the highest priority landscaping item to be repaired. We put a flag pole up there 25 years ago when we built the building, it's been standing there for a long time and we've enjoyed the use of it."
Schuster insists that the facility has already ordered a new flagpole and plan to have it in place by late June.
Well, at least it will be ready by Veteran's Day.
Calling all HuffPost superfans!
Sign up for membership to become a founding member and help shape HuffPost's next chapter
BEFORE YOU GO
PHOTO GALLERY
The Reason For Memorial Day