 There were 38 potential suicides for the month of July, 26 occurring among active-duty soldiers and the remaining 12 suicides among the reserve and Guard components. These numbers, the highest reported by the U.S. Army since IAVA started tracking in January 2009, tragically underscore that despite the best efforts of the military, we still have a long battle against suicide ahead of us.
The rise in July suicides was largely in the active-duty component, and it's a 44 percent increase from the deadliest month for suicide this year, March, whereby 18 active-duty soldiers took their lives. The number of potential suicides in the reserve component was also high at 12, which is slightly higher than the average number reported throughout 2012, but similar to the numbers we've seen over the past few months.
So far, the Army has reported 187 total potential suicides in 2012. This includes 116 potential active-duty suicides and 71 among the reserve components. According to the Navy Times, one suicide is occurring every 27 hours. The Pentagon allocates $2 billion from its budget to mental health, nearly 4% of its annual $53 billion medical bill, but as of June 2012, more U.S. military personnel have died by suicide (2,676) since the war in Afghanistan began than have died fighting there (1,950).
Over the last three years, we have seen an increase in the suicide numbers during the summer (see the graph below) -- without definitive explanation though some studies have shown a similar trend in the civilian population. We do not know whether these potential suicides have occurred at home or in-country, nor do we have enough information from the Army to attribute these potential suicides to any particular cause.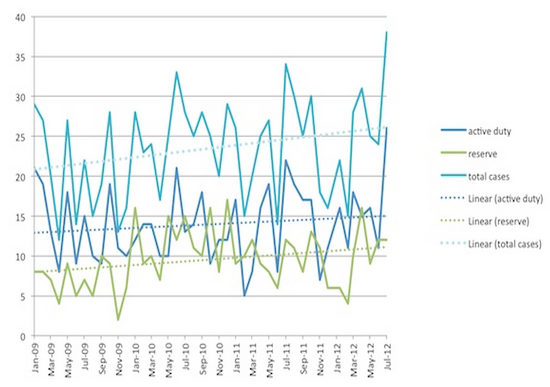 Bottom line: the OIF/OEF community at large needs more attention and research. While the Army, Marine Corps and Navy report suicide data month-to-month, the VA, which is the supposed frontline for our veterans' health care, reports only sporadically. Without regularly updated data, it's not only impossible to track how many veterans and active-duty service members are committing suicide, but also difficult to judge the effectiveness of the mental health programs in place to prevent it.
Service members and veterans who are struggling with thoughts of suicide and families who are concerned about their veteran or service member, can request help by calling the Veterans Crisis Line at 1.800.273.TALK (8255), Press 1 for veteran or www.veteranscrisisline.net. OIF/OEF veteran? Join the conversation inside IAVA's Community of Veterans for support and resources for the transition home.
Click here to watch IAVA Chief Policy Officer Tom Tarantino's talk with Charlie Rose about mental health care and military suicide prevention.
Calling all HuffPost superfans!
Sign up for membership to become a founding member and help shape HuffPost's next chapter