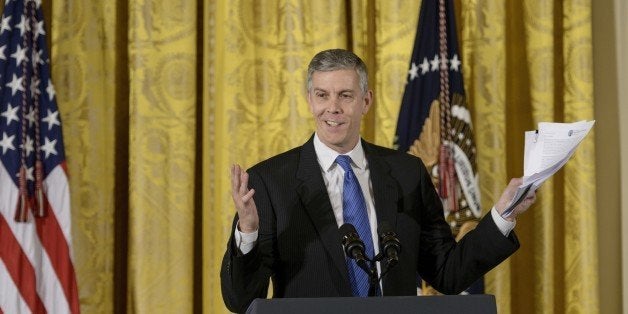 The Department of Education was "thrilled" to shut down the for-profit chain Corinthian Colleges Inc., Education Secretary Arne Duncan declared Wednesday -- a claim that stands in sharp contrast with his department's frantic efforts last year to save the company.
In fact, the Education Department bailed out the financially troubled operator of schools under the Heald, Everest and Wyotech brands; helped it find buyers for some of its campuses; and publicly worried about the cost of allowing Corinthian to fail.
Duncan's statement to MSNBC also contradicts his department's continued insistence that many former Corinthian students keep paying off their federal student loans. The department estimates that students took out more than $3 billion in federal loans in recent years to attend Corinthian-owned schools.
"Why would Secretary Duncan be thrilled to shut down Corinthian if there wasn't systemic fraud?" asked the Debt Collective, a group of volunteers working with some 200 former Corinthian students who are refusing to make those loan payments. "It tells you everything you need to know that his department continues to collect on Corinthian students' debts when he could, under current law, erase it this very moment with a stroke of the pen."
Dorie Nolt, a spokeswoman for Duncan, declined to comment.
Corinthian filed for bankruptcy in May, following a months-long disintegration amid state and federal allegations that it had systematically deceived students, luring primarily low-income Americans to take on unmanageable debt and leaving them with credentials of questionable value.
Over several months last year, while Corinthian teetered on the brink of failure, the Education Department declined to inform current or potential future students that the company faced lawsuits or pending investigations from about half of the country's state attorneys general, the U.S. Department of Justice, the Securities and Exchange Commission, and the Consumer Financial Protection Bureau. The accusations ranged from duping students into taking out unaffordable loans by advertising false graduation and job placement rates, to employing illegal debt-collection tactics.
The department apparently hoped that Americans would continue to enroll at Corinthian's schools to boost their value to potential buyers. Even as Corinthian's prospects grew dimmer, the department let it enroll as many students as it could -- ignoring the demands of a dozen Democratic senators -- and let it encourage those students to take out loans to pay a company that Duncan now claims his department was "thrilled to be able to close down."
"If Secretary Duncan is 'thrilled' Corinthian shut down, why did the department allow students to continue to enroll at the schools, and continue to provide it with federal student loan money, if they knew this school had the ethics of a payday lender?" the Debt Collective said.
Corinthian has steadfastly denied any wrongdoing. The company has blamed federal and state regulators for its abrupt closure.
The Education Department's moves culminated with a November deal it brokered between Corinthian and the Educational Credit Management Corporation, a Minnesota-based nonprofit also known as ECMC Group that derives most of its revenue from taxpayer-subsidized student loan activities. The deal sent more than 50 campuses to ECMC, and the remaining bits of Corinthian filed for bankruptcy this spring.
The department was so desperate for the sale that it gave up its right to $7.5 million in order to help ECMC and Corinthian finalize their agreement. The CFPB had sued Corinthian in September for allegedly misleading students into taking out unaffordable loans by falsely advertising their future job prospects. ECMC didn't want to be stuck with liability for that alleged lawbreaking. The Education Department agreed to pass along $7.5 million to investors that own millions in unpaid private loans taken out by Corinthian students. The money would reduce the borrowers' loan balances, which placated the CFPB.
Today, some 40,000 former Corinthian students are in default on their federal loans, a Justice Department lawyer said this week, according to Reuters.
Consumer advocates, state attorneys general, lawmakers including Sen. Elizabeth Warren (D-Mass.), and a group of former Corinthian students have urged the Education Department to forgive former Corinthian students' debts. They've pointed to the various state lawsuits against Corinthian, as well as the CFPB's pending suit, to argue that the Education Department has all the evidence it needs to act.
Instead, the department wants to review every borrower's claim and decide on the merits of the individual situation. The department made an exception for former students at the Heald campuses, after the department itself alleged that the schools systematically advertised false job placement rates. Corinthian has denied that allegation as well.
"If you've been defrauded by a school, we'll make sure that you get every penny of the debt relief you are entitled to through ... as streamlined a process as possible. We're going to make that as simple as we legally can, while also safeguarding the interest of taxpayers," Duncan said last month.
The 200 or so student protesters publicly refusing to make their monthly payments -- originally only the Corinthian 15 -- are trying to draw attention to their ongoing debt burdens, the department's lackluster oversight of Corinthian, and the disparate treatment of the company's former employees versus the company's former students. Zenith Education Group, the entity ECMC formed to house its ex-Corinthian schools, continues to employ numerous former high-ranking Corinthian executives, according to a review of resumes on LinkedIn.
The Education Department continues to collect on former Corinthian students' loans. It's fighting a request to even temporarily halt those collections, according to filings in the company's bankruptcy case.
"[Duncan] says the department is trying to provide as much relief as the law permits when it's doing everything it can to prevent students from getting relief while maintaining minimum compliance with the law. It's Orwellian," the Debt Collective said. "And it's unacceptable to continue to lie to students who have already been lied to again and again."
Popular in the Community