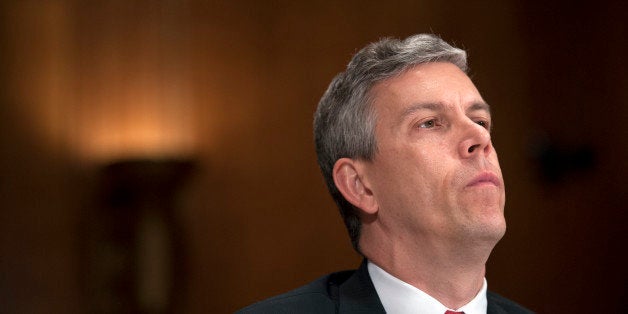 On Thursday, August 21, 2014, United States Secretary of Education Arne Duncan used his "Homeroom" blog to announce victory in his war on schools and teachers. After six years of decrying the inadequacy of education in the United States, Duncan "celebrated that "America's students have posted some unprecedented achievements in the last year." In addition, after battling against teacher tenure and seniority rights, Duncan decided, "we should celebrate America's teachers, principals, and students and their families."
After reiterating support for high-stakes testing at the center of Bush era "No Child Left Behind" requirements and the Obama administration's "Race to the Top," Duncan conceded that "in too many places, testing itself has become a distraction from the work it is meant to support" and "testing issues today are sucking the oxygen out of the room in a lot of schools."
I found three of Duncan's statements particularly ironic. He wrote about his continuing commitment to a "spirit of flexibility," flexibility that is completely lacking in Race to the Top mandates. And instead of ending the onerous requirements that are creating the "distraction" and are "sucking the oxygen," he postponed them for a year, granting states the "opportunity to request a delay in when test results matter for teacher evaluation." Curiously, one of Duncan's major partners in pushing Race to the Top, Common Core, and high-stakes testing, the Bill and Melinda Gates Foundation, is calling for a two year moratorium on using tests to evaluate teachers and students while we learn whether the testing policy actually makes sense.
Duncan also acknowledged "Too much testing can rob school buildings of joy, and cause unnecessary stress." However, I did not think the problem was that buildings are unhappy and what did he think would happen to teachers and students being evaluated by high-stakes tests -- they would become relaxed?
Finally Duncan expressed concern that "adults are gaming tests, rather than using them to help students." Isn't that what politicians and business do in the United States? Why should teachers and parents be any different? Perhaps Duncan should pay more attention to speeches by his boss President Barak Obama? In July 2014 President Obama called for a new "economic patriotism" and denounced "corporate deserters" who game the tax code by renouncing their United States "citizenship to shield profits." Since the 1980s over 40 U.S. corporations have switched their addresses to low-tax nations without really moving and according to Bloomberg News at least eight more companies are in the process of gaming the tax system.
Duncan's blog is reminiscent of the famous George W. Bush May 1, 2003 "Mission Accomplished" speech on the aircraft carrier USS Abraham Lincoln where the President celebrated the end of major combat operations by the United States in Iraq, a declaration that now appears to have been at least twelve years too early. The vast majority of casualties in the Iraq war occurred after the Bush speech and unfortunately the dismantling of education in the United States and the high-stakes testing war on schools and teachers will continue long after the Duncan blog.
The U.S. Department of Education website where Duncan post's his blogs welcomes comments. My comment was that Duncan should resign. Either they were flooded with comments or they did not like mine, because as of this writing it does not appear.
Calling all HuffPost superfans!
Sign up for membership to become a founding member and help shape HuffPost's next chapter