 In his 2013 State of the Union Address, President Barack Obama promised to bring America's high schools into the future.
"I'm announcing a new challenge to redesign America's high schools so they better equip graduates for the demands of a high-tech economy," Obama said at the time. "We'll reward schools that develop new partnerships with colleges and employers, and create classes that focus on science, technology, engineering, and math –- the skills today's employers are looking for to fill jobs right now and in the future."
Now, after months of questions over what form that competition would take, U.S. Secretary of Education Arne Duncan is announcing the details. According to an administration memo provided Friday to The Huffington Post, the competition will "promote a rethinking of the high school learning experience." The "High School Redesign" would have school districts partner up with other institutions, such as colleges, non-profits, businesses and government agencies, to apply for $300 million in competitive grants that would allow them to implement their overhaul visions.
The High School Redesign plan is included in the administration's 2014 budget. It is unclear, though, whether Congress would fund such an initiative, especially in such a tight fiscal climate.
Duncan's plan would have schools "redesign academic content and instructional practices" to match up with the expectations of colleges and the workforce; encourage "personalized learning," a catch phrase that often refers to digital tools that help teachers know where each student is during a lesson and help them move along at their own pace; provide special tutoring to students with special needs; offer college counseling; provide opportunities to earn college credits and participate in internships; and overhaul school calendars.
Duncan will discuss the proposal at a roundtable with students in New York City's Aviation High School today. The hope is to get high schools to "move away from the traditional notion of seat time and focus instead on getting each student the knowledge they need," according to the memo. The memo seems to imply that high schools could be encouraged to throw away ideas about grade level -- things that define the American high school experience -- in an effort to make sure kids who are falling behind get extra help, but students progressing at higher speeds aren't entirely tuned out.
The administration is already pointing to some potential models for what the high school of the future could look like. Reynoldsburg High School in Ohio lets students choose from specific technology-oriented learning programs. High Tech High, a school network based in San Diego, Calif., has partnered with Qualcomm and the Business Roundtable on things like internships. Loving High School in rural New Mexico has a much-lauded career and technical education program that teaches high school students architecture and even lets them build homes.
The announcement comes one day after Obama's visit to a high-tech middle school in Mooresville, N.C., to kick off "ConnectED," a drive to get all schools high-speed internet by expanding the Federal Communications Commission's E-Rate program.
Before You Go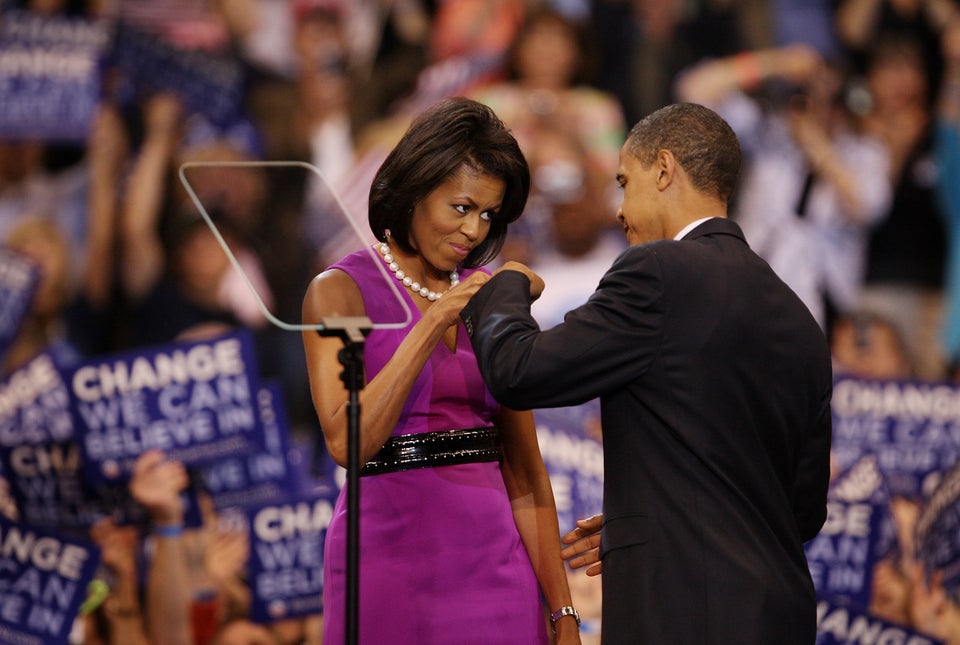 Obama's Fist Bumps
Popular in the Community