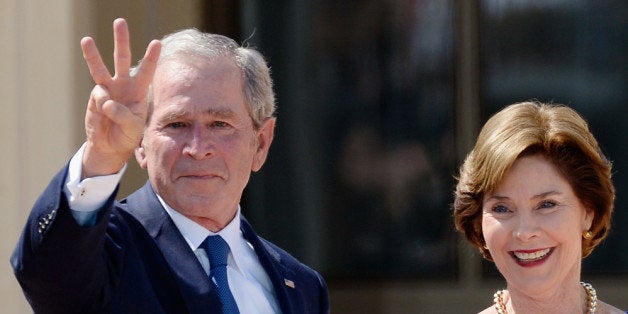 Kansas, Oregon, and Washington -- Arne Duncan is putting you on notice.
On Wednesday, Deb Delisle, the U.S. Secretary of Education's assistant, wrote letters to the three states saying their waiver from the No Child Left Behind Act was on "high-risk status," according to correspondence provided to The Huffington Post. Their waivers have been approved for the new school year, but might not get renewed in 2014-2015, it said.
Because of the waiver system, for the most part, NCLB is no longer the law in 40 states. To avoid being subjected to the NCLB law, the states have one month to give the feds a plan describing how they will come into compliance by May 1. If they don't, 100 percent of their schools would eventually have to reach NCLB performance goals, or they'll face consequences.
Since the Obama administration embarked on the process of giving states waivers from the much-maligned No Child Left Behind Act, advocates have worried that some of NCLB's strengths have been watered down. They also worry that the waivers create an incoherent system of measuring student, school and teacher performance, and that a federal agency would have trouble enforcing it.
The letters could signal more serious enforcement and yet another piecemeal approach to school governance. "They have created a situation where everything is a one-off and they don't ‪have the mid-level capacity to manage it all," said Andy Rotherham, a former Clinton administration education adviser. "‬It's times like this when the bill for all that comes due. The capacity to do much about going forward is the big question."
The No Child Left Behind Act, signed by President George W. Bush in 2001, ties federal education funding to schools' annual performance goals based on standardized tests. But the performance goals, known as Adequate Yearly Progress, were quickly criticized for being too blunt, deeming too many schools as failing. The law expired in 2007, but Congress has so far failed to reauthorize it. The House passed an overhaul earlier this summer, but it differs from the Senate's prevailing thought and it is unlikely lawmakers will reach consensus.
In 2011, President Barack Obama essentially ended NCLB through executive order. Duncan invited states to apply for waivers for the law's toughest pieces -- like the AYP measurement system -- in exchange for agreeing to adopt some of the administration's favored education reforms. To get waivers, states would have to create new student performance measurement systems and adopt new evaluations for teachers and principals that take student performance into account. The waivers would last for the duration of the 2012-2013 school year, and states have to request renewal for the next year. Most states applied, and 40 states, Washington, D.C., and a group of California school districts have been approved.
Some, like Kansas, Oregon and Washington, had their waivers approved on a "conditional" basis, meaning they had to fulfill certain conditions, such as implementing teacher evaluations, in order to get the waiver.
Kansas' teacher evaluation component is problematic, the letter says. "Although Kansas has provided a method for including student growth in these systems; it did not pilot this method for including student growth," Delisle wrote.
Instead, she continues, the state convened a task force. "At this time, Kansas has not demonstrated that the method it has selected actually results in including student growth as a significant factor and that the system as proposed meaningfully differentiates among teachers."
Reached in her office Thursday morning, Kansas' schools commissioner Diane DeBacker said her staff had not yet gone over the letter, so she had no comment on its contents. She did, however, say that the waiver Kansas received last school year was extremely helpful.
"We were already well on our way to implementing the higher standards," she said. "We were also redesigning the way we look at student achievement, success for schools. We moved away from a one-dimensional model with AYP to a multi-dimensional model," she said. And even though the state has had trouble fulfilling its promises on teacher evaluations, she said, the process of creating new evaluations has helped move away from a system which had "286 different ways of evaluating teachers and principals."
Oregon got dinged for not showing how student performance was included in teacher evaluations. Delisle wrote that Oregon "is unable to submit final guidelines for teacher and principal evaluation and support systems that meet the requirements of [the Elementary and Secondary Education Act] flexibility. Instead, Oregon proposes to continue its piloting and analyses of various methods of including student growth as a significant factor in educator evaluations."
Washington got in trouble for changing its teacher evaluation law. On a call with reporters, a federal education department official said that Washington is not meeting the federal government's definition of measuring student performance for teacher evaluations.
"In accordance with state law, a local educational agency (LEA) has discretion over whether or not to include data from statewide assessments in determining a teacher's student growth rating," Delisle wrote. Washington allows student growth to be measured by teams across classrooms -- the official said the state needs to prove that the method doesn't mask the performance of individual teachers.
Calling all HuffPost superfans!
Sign up for membership to become a founding member and help shape HuffPost's next chapter
BEFORE YOU GO
PHOTO GALLERY
U.S. State Capitol Buildings