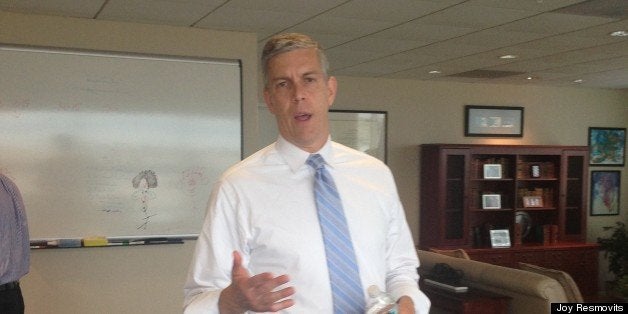 WASHINGTON -- U.S. Secretary of Education Arne Duncan deplored Philadelphia's decision to fire thousands of school staff members this week as "ultimately bad for our country."
Duncan, in a wide-ranging interview in his office Tuesday, said he has personally been in contact with Pennsylvania Gov. Tom Corbin's (R) chief of staff, Philadelphia Schools Superintendent William Hite, and the local teachers union leader. Philadelphia failed to close its $304 million schools budget shortfall and imposed massive cuts, including this week's layoffs of school employees and an earlier decision closing more than 20 schools.
"I'm really really worried about the education that children in Philly are going to receive this upcoming school year," Duncan said.
"I'm concerned about a lack of commitment, a lack of investment in public education," Duncan said. "We're looking at the kinds of massive cuts and a loss to basic curricular offerings. … It's bad for kids, it's bad for education, it's bad for the city, it's bad for the state, it's ultimately bad for our country. When you see all counselors, social workers, assistant principals, drama, art, music -- everything being eliminated, what's left? What's left is not something that folks can feel proud of or good about."
Many of the schools Philadelphia is closing are being replaced by charter school management organizations, which are mostly privately run.
That's what's happening to Stephen Flemming, who has taught sixth grade for six years in a public school in Philadelphia's Germantown neighborhood. A charter school company is taking over his school's middle school, so next year, he'll be bumped down to fifth grade. "We really don't know why," Flemming said. "Our test scores have increased every single year. Not once have they gone down."
His school has also been cut to the bone. "It's dire," Flemming said. He's losing a vice principal, two secretaries, "virtually all of our support staff," lunch aides, counselors, and full-time nurses. Flemming has come to rely on the counselors in particular. "I've had kids burst out crying in the middle of class; it was helpful to know that there are people who are trained in helping them," he said. "Now I'll have to stop class to prevent an emotional breakdown."
Safety worker Justin Hale was among those laid off. Hale worked in three years in Motivation High School, working on bullying prevention and helping contain potentially violent spats. "They told us they didn't have the money in the budget for us," he said. His school also lost a nurse, a music teacher, a gym teacher, a secretary and an operations officer. "I was disheartened to know that they feel free to lay off teachers, lay off the safety staff, lay me off. We play a pivotal role in helping dissolve violent situations that enter the building. I was a little bit shocked."
Helen Gym, a public schools mother and advocate, is skeptical. "The crisis is so bad, it's impossible to explain," she said. "It's like at the state level, it's nothing but a deliberate starvation of one of the nation's largest school districts."
"I'm still hopeful and confident Congress will come together and fix it," Duncan said, "But the fact is they left yesterday without it being fixed." When pressed, Duncan didn't specify which of several legislative fixes proposed in the House and Senate the administration prefers.
Duncan said he found "fascinating" a Connecticut judge's ruling that ousted Paul Vallas, the superintendent of schools in Bridgeport, Conn. Vallas, a former Philadelphia superintendent, was ordered to step down from his job because he doesn't have the proper credentials.
"Student loan interest rates -- that doesn't get fixed," Duncan said. "The crisis in terms of quality and perhaps alarmingly inferior education in Philly -- that doesn't get fixed. But the one thing that does happen yesterday is that a superintendent is told he can't hold his job. That's fascinating to me."
Before You Go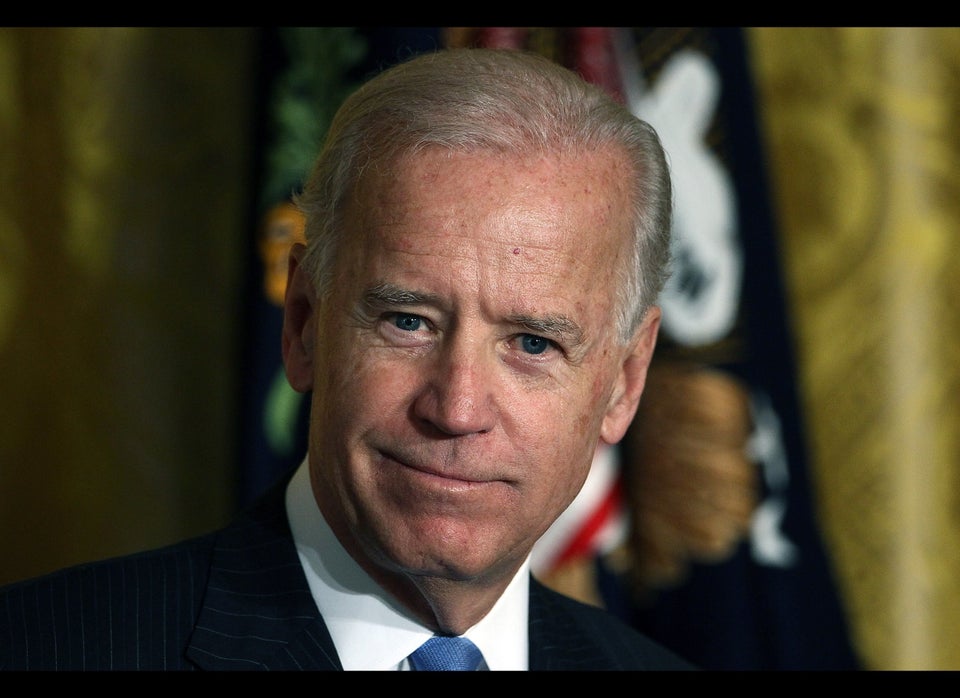 The Obama Cabinet
Popular in the Community