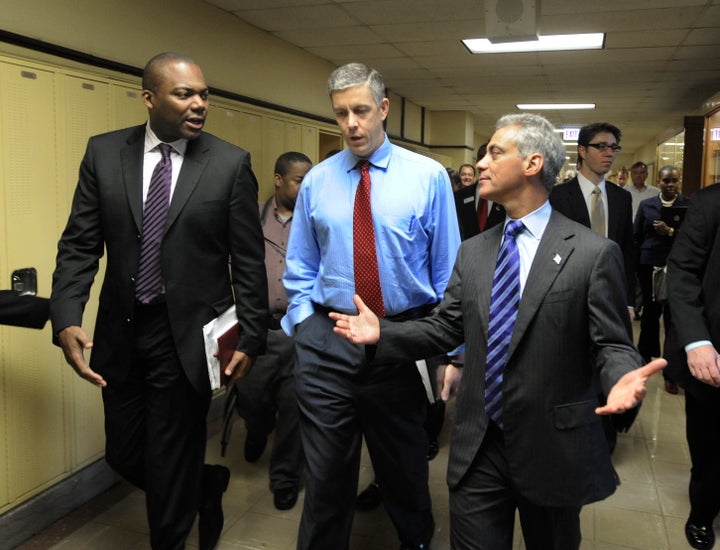 CHICAGO -- Stopping in areas notorious for volatile labor relations this year, U.S. Secretary of Education Arne Duncan wrapped up his Great Lakes bus tour in Milwaukee and Chicago on Friday with little talk of teachers union battles.
In Milwaukee, Duncan was joined by Republican Gov. Scott Walker, who outraged educators by signing a budget in June that severely limited their collective bargaining rights, at a town hall event focused on connecting learning to career skills.
"All of us feel your presence today but appreciate your interest in Milwaukee and particularly the Milwaukee Public School system," Walker said in the library of Milwaukee's School of Career and Technical Education.
"You've done some things we agree with, and you've done some things that we don't agree with," Duncan said, addressing Walker. "Limiting collective bargaining rights is not the right way to go," he added, garnering applause.
Duncan did not further address Walker's union-busting laws, except to laud Senate Bill 7, legislation Illinois passed in May with limited union collaboration that makes teacher tenure harder to obtain, gives districts the ability to fire teachers for poor performance and allows Chicago to lengthen its school day. "They made it much much tougher to get tenure," Duncan said.
The Chicago Teachers Union pulled its support for the measure at the last minute, and is currently at war with district management over the school day issue. Chicago Mayor Rahm Emanuel had four schools lengthen their school days by getting teachers in each school vote to waive their union contracts. On Friday, CTU filed an unfair labor lawsuit against the school board, saying Emanuel's work extending the school day was tantamount to declaring "war" on the union. The suit claimed that Emanuel's tactics, which included offering raises to teachers that accepted the increase, constituted bribery.
At a panel event about SB7 with Duncan Friday afternoon at Schurz High School in Chicago, Emanuel did not address his falling-out with CTU until a reporter presented him with allegations that he exploded at CTU president Karen Lewis at a recent meeting. In response, he told reporters that he didn't want to get into a shouting match, but that the meeting ended in a hug.
CTU representatives did not attend the Chicago event, nor did Illinois Federation of Teachers president Dan Montgomery. Montgomery was originally scheduled to sit on the SB7 panel with Duncan and Emanuel. He did not return phone calls seeking comment.
Without acknowledging that CTU pulled its support of the bill, Duncan lauded SB7 as a model the rest of the nation should follow. "The wrong way is to shut people out of the process," he said. "This is about elevating the profession, this is about strengthening the profession, this is about educating our way to a better economy."
Now that SB7 has passed, Illinois has to develop the details of the implementation process, including devising a new teacher evaluation process. It is unclear how that process will be hampered by an unanticipated $500,000 funding gap.
Duncan also used his pulpit to trot out the details of Obama's jobs bill. "Hopefully all of you saw the president's speech last night," he said. Illinois would receive $1.24 billion for saving teacher jobs and $1.1 billion for school construction. "To see his commitment on education is just extraordinary."
Calling all HuffPost superfans!
Sign up for membership to become a founding member and help shape HuffPost's next chapter