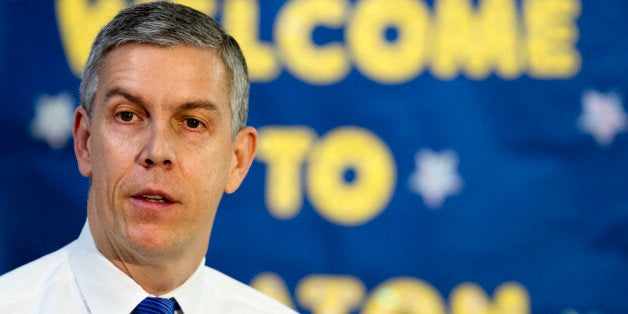 Many school systems remain "fundamentally separate and unequal," U.S. Education Secretary Arne Duncan said Friday, with 23 states spending more per pupil in affluent school districts than they do in high-poverty districts. What's more, Duncan said on a call with reporters, the inequality may be getting worse.
Duncan on Friday said some Republicans are pushing what he called a "Robin Hood in reverse" funding proposal that "would exacerbate the existing problem by allowing even greater cuts to districts that need the most help."
As it stands, Duncan said, about 6.6 million students from low-income families in 23 states are harmed by local and state funding disparities. The funding inequality data comes from National Center for Education Statistics, a branch of the U.S. Department of Education that collects information on schools.
"The point of that money was to supplement, recognizing that poor children, and English language-learners, and students with disabilities come to school with additional challenges," Duncan told the newspaper. "This is about trying to get additional resources to children and communities who everyone knows need additional help."
The maps below show where funding inequalities are the worst. The first map shows areas affected by state and local funding differences. Negative percentages indicate that high-poverty schools receive less funding than low-poverty schools. The second graph shows funding disparities after federal dollars are taken into consideration.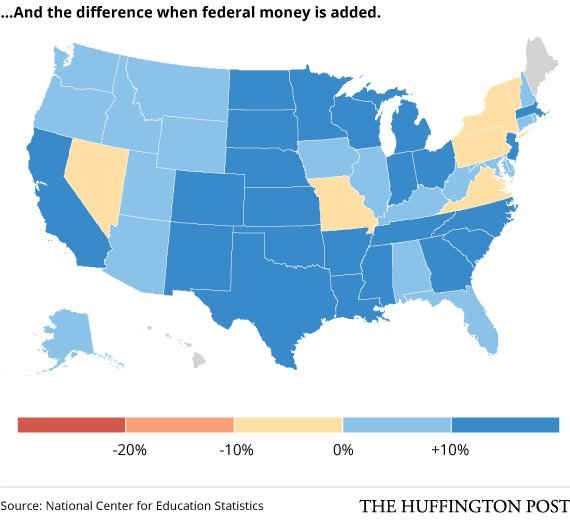 Pennsylvania has the worst funding disparities between low-income and high-income schools. The state's poorest school districts receive 33 percent less state and local funding than the richest schools. This inequality is currently the subject of a lawsuit brought by a group of school districts and parents.
"The problem you have in Pennsylvania is not atypical of the problems you have in many states, which is a reluctance to raise enough revenues to send to the districts," Michael Churchill, a lawyer representing the plaintiffs, told The Huffington Post. "The revenues they do send, they send in a progressive manner -- they just don't send enough to overcome the huge differences in wealth in the districts," said Churchill.
Churchill noted that Pennsylvania relies heavily on local property taxes for school district funding, meaning that wealthier areas, with a larger tax base, have more money.
A Pennsylvania Department of Education spokesman didn't reply to The Huffington Post's request for comment.
On the other end of the spectrum, states like Indiana and Minnesota spend significantly more on their low-income students than they do other groups.
Still, Duncan said state and local funding disparities are worse than they were at the turn of the century.
"The children who need the most seem to be getting less and less, and the children who need the least are getting more and more," he said.
Popular in the Community