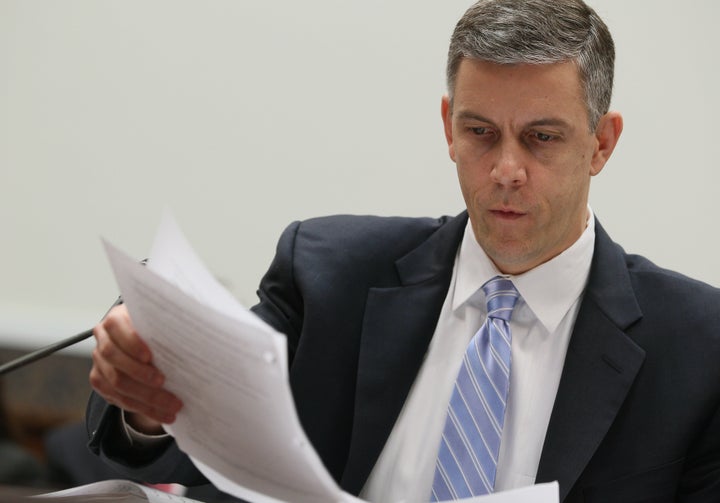 It may be Teacher Appreciation Week, but if online comments and blog posts indicate anything, some public school teachers don't feel the love from their employer, the federal government.
On Monday, U.S. Secretary of Education Arne Duncan penned an open letter to teachers, published in Education Week and on the Department of Education website, expressing his thoughts about why educators "deserve to be respected, valued and supported."
But many teachers weren't moved. "If you truly hear us, you'll recognize the fact that we are not opposed to honing our craft in ways that foster student learning for all students," one educator, who identified herself as "Tracie," wrote in the comments below the letter.
In his note, Duncan wrote that No Child Left Behind legislation prompted schools to teach to the test and narrow curricula, that teachers "are not afraid of hard work," that expectations for teachers have become higher.
"You want real feedback in a professional setting rather than drive-by visits from principals or a single score on a bubble test," he wrote, acknowledging teachers' complaints that the Duncan/Obama administration has been too much testing and too much emphasis on judging educators by test scores.
Outlining his hopes for the future, Duncan added:
Working together, we can transform teaching from the factory model designed over a century ago to one built for the information age. We can build an accountability system based on data we trust and a standard that is honest—one that recognizes and rewards great teaching, gives new or struggling teachers the support they need to succeed, and deals fairly, efficiently, and compassionately with teachers who are simply not up to the job. With your input and leadership, we can restore the status of the teaching profession so more of America's top college students choose to teach because no other job is more important or more fulfilling.
As secretary, Duncan has championed top-down reform efforts embraced by the business sect, such as rapid closure of failing schools; the creation of charter schools; and teacher accountability based on test scores. Vocal educators oppose such means, saying they don't address the heart of the problem.
Diane Ravitch, a New York University education historian and former U.S. Assistant Secretary of Education not in favor of Duncan-led reforms, tweeted a link to his letter before criticizing him on Twitter, with messages such as "Show us a successful nation that relies on free-market strategies that you are promoting."
When elementary-school teacher-turned-advocate Sabrina Stevens Shupe saw Duncan's letter, she was dismayed, saying she felt it did not reflect his policies.
"There were so many things going wrong in terms of false assumptions and things that are not consistent with his actions," she told The Huffington Post. "If you're somebody who's reading it, and you're not aware of the whole back story, it sounds very nice. It's so duplicitous."
So Stevens Shupe wrote a letter back to Duncan in the form of a blog post, saying that "actions speak louder than words." She took issue especially with his message about testing because, as she wrote, "you have elevated and increased high-stakes." She said Duncan's letter struck her as a public-relations stunt.
"It's disappointing to hear that someone feels that way, but we don't think that's how the broader teaching community feels about it," said Justin Hamilton, a spokesman for the Education Department.
Anthony Cody, a former teacher who now works as a teacher mentor in Oakland, Calif.'s public schools, reacted similarly to Stevens Shupe and crafted his own response to Duncan, which he posted on Education Week. Cody wrote that he was "confused" by Duncan's message to teachers. For example, he asked, if No Child Left Behind standards are so narrow, why use them as the basis for closing down schools?
"Restating grievances doesn't redress them," he told HuffPost. "It acknowledges them. The nice things he says don't comport with his policies."
Hamilton said the Education Department is aware of frustrations regarding the guidelines of No Child Left Behind, and "we're trying to address them in a way that is beneficial to teachers students and parents."
Similar comments to Cody's surfaced below Duncan's letter at ed.gov, most of which were negative. Someone named Jan wrote, for example, "I'm sorry Arne -- your actions speak so loudly, I cannot hear your words."
Those who appreciated Duncan's effort still expressed doubts. "My first reaction was that the letter was commendable," said Tom White a third-grade teacher at Lynnwood Elementary School, near Seattle, Wa. He also wrote his thoughts down. "The whole working together thing, I'm not totally sure what he means by that."
In response to teachers' claims that Duncan was disingenuous in saying he intended to work together with students, Hamilton noted that the Education Secretary has visited 169 schools in close to 45 states. "Everywhere he goes he sits down with parents, educators, education stakeholders, community members," Hamilton said.
He added that while the Education Department feels that tests are a useful measure of achievement, "We think we need better tests. We think tests aren't a silver bullet. We need better measures for student's success."

Related
Popular in the Community