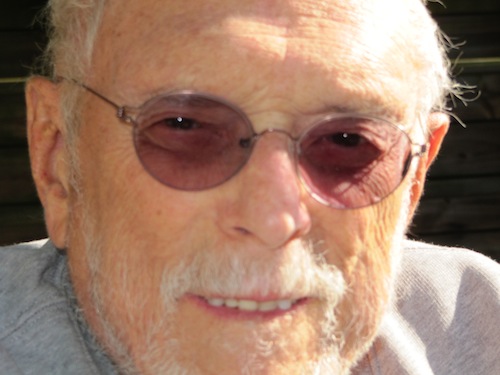 Arnold Mesches, turning 90 years old this month, is still doing the same thing he was doing nearly 70 years ago: making art. This is the common thread Mesches carries that binds him to the canvas of his long life. Although his work has been displayed and can be found in permanent collections of The Whitney Museum of American Art, The National Gallery, The Metropolitan Museum of Art among others, and in private collections, awareness of his work exists in the minds of relatively few in contrast to those artists who are regarded on a single-name basis. Yet to see the work of this non-stop artist is to be struck by the power of his visual commentary and painterly strength. His paintings, spanning from 1944 through the present, leave an indelible mark on anyone who has the opportunity to stand before them, not only because of his mastery of the medium, but for the compelling political, social, and environmental content and context of his individual and series work. Above all, he is still at it.
Essentially self-taught, Mesches' road to his recent honorary doctorate degree at the University of Florida at Gainesville is not one of privilege, early direction, or initial family encouragement. His life, lived in the shadow of war, the glare of hardship and prejudice, along with his insatiable drive to beat the odds of this crazy, unfair world shows in every brush stroke. In a recent interview in his Brooklyn studio, he recalled in great detail the journey of his life and art.
"I'm a late bloomer. I didn't start painting till I was a young adult."
Arnold Mesches was born in 1923 in Bronx, New York. He and his family soon moved to the upstate New York town of Dunkirk before moving again, five years later, this time to a working-class section of Buffalo where he spent his childhood. Mesches grew up in a deeply Jewish orthodox family. His grandfather, a religious man who only spoke Yiddish upon coming to the America, was superintendent at a Lithuanian hospital, but became a marked man after defending his wife from an attack by the Cossacks. The family fled as immigrants to the United States.
When Mesches was a young boy, his father managed his sister Gustie's successful haberdashery store in Dunkirk. "I was the darling child of the family," says Mesches with a gleam in his eye, " I had all of the adults' attention. They would sit me up on the counter of the store after it closed and I'd sing Al Jolson songs for them. Aunt Gustie, the matriarch of the family, took care of me until I was six. Our extended family - aunts, uncles, and cousins - lived in her house. The housekeeper, Valentine Rich, also took care of me. My mother couldn't handle me. Before the Great Depression, we were happy, but when the Wall Street crash hit, it crippled the business. My father had to decide what to do, where to go to take care of the family. We moved to Buffalo where my father who took odd jobs. He couldn't eek out a living, so we were forced to live with different aunts at different times. Times were rough. No one could get work."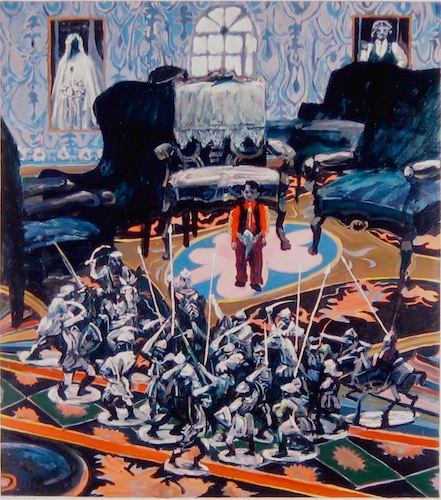 Mesches is an only child. "You are always thinking you are missing the party," he confides. "I always felt like I was missing something. As an only child, I learned how to do things on my own, make up things, invent things, how to come from myself for things I needed to do, how to take care of my time, how to excel among others so I was accepted. I learned how to train myself to do things, how to rely on myself."
In grade school on a trip to a local Buffalo museum, Mesches was struck by a Rembrandt painting, entitled, Woman Cutting Her Nails. The image later became and a source of inspiration for him.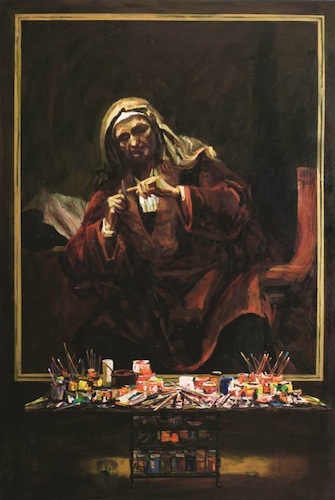 In his mid-teens, Mesches got involved in the Zionist Movement. "The group was all very Jewish. We went to temple together, were involved in pro-Israel issues, we heard lectures on Marxism and attended parties and group events." Among the counselors were "left-wingers" with the goal "to help Israel become a progressive Marxist state." While attending, he made a drawing of Theodore Herzl, the father of Zionism. " This was my first major work, my first experience getting a pat on my back for my art, the first time my art was recognized. I signed it." Despite his obvious talent at a young age, his parents never really looked at what he was drawing or doing. "My mother was too busy plucking chickens."


Mesches went from being an Orthodox Jew to Zionist Jew to eventually breaking from religion. "I thought it was nonsense. Even at my Bar Mitzvah, I thought it was ridiculous. It didn't make sense to me. It was just not for me. All I wanted from the Bar Mitzvah was to get a wrist watch."
As a Buffalo teen, Mesches continued to display talent in art. His Uncle Joe, his mother's older brother, had impressive art careers as both an ad man and a prominent leader in New York in the field of public school art education. "He was quite Americanized. He went to Pratt Institute for advertising design but he really wanted to be a fine artist." By then, Mesches' mother had come to notice the talent in her son and insisted that he contact her brother. "I wrote him a letter at fourteen years old and my uncle wrote back: If you want to be a fine artist, you can only be one if you must be an artist. If you don't have that drive, take up something else - like engineering, or advertising design. I had the choice to go to an academic high school or Buffalo Technical High School. My uncle suggested the tech school so I went there."
As a freshman in high school, and evident throughout his life, Mesches has always displayed a fearless tenacity to do his best and get things accomplished. He signed up for the school band to study drums but he didn't do well. He tried his hand at baseball. "I was very fast, a great outfielder. I was becoming a good athletic, a muscular guy. At fourteen, I hung out with twenty year olds." Mesches had a lot of energy to go around. He was scrappy, getting himself in many fights. "They called me, 'Dirty Jeans;' I beat the hell out of them." His art talent shone brightly in high school and he was rewarded with scholarships, a state prize, and other awards and acknowledgements while at Buffalo Tech. But while Mesches reminisced about this time in his life, he also recalled the stark bronze plaques in the school hallway that listed the names of the dead from WWI and made an impression on him.

Upon graduating high school in 1941, Mesches became a freelance advertising designer assigned various projects for a short time including filmstrips, with still no real thought of being a fine artist. He secured a job in a machine gun factory to help the war effort and to at least have a job with regular pay. A year later, when war came on, his friend Bill said, 'Let's sign up!' He quit making machine guns and they enlisted in a Signal Corps class for two weeks. "We had to know math and I wasn't very good at it. At the physical, I was rejected: 4F for migraines." He didn't find out until ten years later when he visited his friend Bill in Chicago, that eighty-two of their Signal Corps classmates were torpedoed and died enroute to Europe. Bill and five others had instead been shipped to Hawaii.
Mesches got his job back at the machine gun factory on the assembly line but was soon asked, because of his design skills, to create war-related materials including posters for War Bonds. Mesches made friends with one of the personnel administrators there who told him, "This conversation never took place, but you need to resign from this job. Do not come back. In the next three days, your job will be frozen - you'll be stuck in this job for the duration of the war. You want to go to art school in LA? Get the hell out of here now."
In 1943, Mesches was dating his future wife when he left for Los Angeles on scholarship at the Art Center School. "We continued our relationship long distance. In LA I stayed in an apartment with one of my aunts who had moved there three months before school started. During that time I saw my young female cousin killed in an auto crash. It affected me the rest of my life. At art school, I ran the arts supply store. I also worked at a machine shop at night while in school. The war was still on." While on the West Coast, he found out that his Uncle Joe had died, the uncle who had inspired Mesches to be an artist. "It hit me. I didn't want to die at age fifty-four as he did - I wanted to be an artist. So I quit art design school and lost my scholarship in pursuit of being an artist." However, Mesches remembers fondly a teacher named Mr. Lorser Feitelson, who, in his drawing class, would lecture on the Great Masters. As Mesches recalls, "He really influenced me. He validated me as an artist. I exhibited my first work in 1945." Mesches returned to Buffalo in the spring of '45 to marry his girlfriend, Sylvia Sibby Snetzky and headed by train to Los Angeles to live. Mesches' mother traveled with the newly-weds out to the West Coast to visit her sister. Soon after Mesches was introduced to the art of Ben Shahn.
"When I looked at the work of Ben Shahn, I got it. He was a poster maker, a graphic artist, but also a true painter. What I learned from him as well as from Feitelson was how to study art. They were my earliest mentors."
A year after they were married his father-in-law, "Hymie the redhead, a peddler of vegetables" showed up in a Ford Coupe, drove cross-country to visit the couple. "I'll draw you for my car," Hymie proposed. "You win, you get the car! You lose, I take the car back." Mesches took the gamble and won, Hymie went back on the train, and Mesches learned to drive. When he wasn't traveling in the car, he'd go for a drive and sit in the rumble seat outdoors and paint.
Mesches landed a job as a set and storyboard illustrator at the Sol Lesser Studios at RKO in Culver City, California in Los Angeles County. He learned watercolor techniques by watching other painters he met through the film industry. After three months on the job, while working on a Tarzan film, a Hollywood studio strike erupted and Mesches joined the picket lines. He was arrested with eight-hundred other strikers. "I thought film work had to do with Fine Art, but it didn't." There were bills to pay. He got his first teaching job at the Los Angeles People's Education Center. He was also commissioned to paint murals in public and private buildings and continued to look for work teaching.

In the fall of 1948, Mesches got a job teaching art in Salt Lake City. "We drove there but only stayed for twenty months. I got fired for my political activities. My wife was pregnant, I had no work, so I took fifty students from where I was fired and taught them in my own studio. I tried all over to get a job teaching. I finally got a summer semester teaching position at University of Southern California, so we headed back to Los Angeles where I reconnected with my left-wing friends and got involved in the left-wing movement." He met other painters and they formed various art clubs. Mesches started studying painting on his own while finding other art-related jobs. In the 1950's, Mesches worked on a filmstrip on Negro history, designed an album cover for folksinger and activist Pete Seeger, and juggled the life of artist, husband and family man. His son was born in 1950 in Los Angeles and named after Paul Robeson, a friend of Mesches.
Mesches' first solo museum exhibit took place in 1953 at the Pasadena Art Museum. During that same time, he was creating paintings and drawings from sketches he had done while driving a coffee truck around town, selling lunches to make extra money. His daughter, Susan, was born that same year.
In the mid-fifties, he began to win prestigious national awards for his art, but family, heritage, and injustice seemed to still be on his mind. In 1955, he created a series entitled,
Family Background, inspired by the similarities between his own history and heritage and that of Julius and Ethel Rosenberg. This husband and wife were charged with conspiracy to commit espionage. In March of 1951, the Rosenbergs were tried, found guilty, and executed in early April.
It was 1956, when many of Mesches' works from the Rosenberg series were stolen from his studio along with two hundred other works of art. Mesches felt certain the FBI were the culprits who broke in. Later events in his life in connection to the FBI give this assumption weight. Mesches decided to head south of the border on a study-tour to rejuvenate himself with the works of the Great Mexican muralists, another group that significantly influenced his work.
From around 1958 to the 1960's, Mesches created works with grave detail focusing on the horrors of the Holocaust.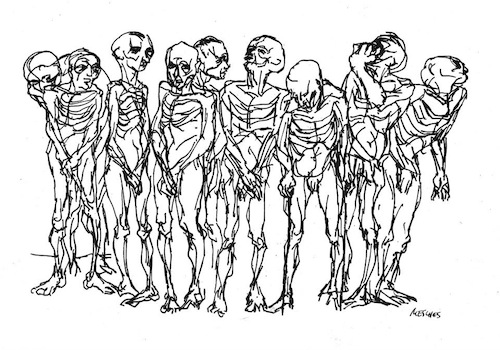 In the mid-nineteen sixties, Mesches became involved in the Vietnam anti-war movement. He helped organize and raise funds for the controversial construction of the Los Angeles Peace Tower designed by artist Mark di Suvero, which exhibited four-hundred anti-war works by international artists. His figurative work continued, inspired by childhood memories and tinged with familial and social statements.

Mesches' studies of the European Great Masters and the Renaissance and its artistic tradition, were gleaned from museums, books and the guidance of others, but he had never been to Europe to observe these works in the environment of their history first-hand. In 1966 he took his first trip abroad.
In 1968, Mesches also worked as a court artist for the Walter Cronkite program with CBS, drawing scenes of various Los Angeles trials including the Charles Manson murder trial, The Pueblo Hearings, and the trial of Sirhan-Sirhan - assassin of Robert F. Kennedy, among others.
During the late 1960's until 1974, Mesches made a sharp turn and a weighty decision. He decided not to paint but make prints instead. He also tried his hand at creative writing and wrote two novels. According to Mesches, "My work was going in the wrong direction, my marriage was failing...I needed to re-evaluate everything. And I did." By 1972, his marriage was over. He began living with Jill Ciment, an artist, years younger than him, whom he married in 1983. "I lost friends who were part of unhappy marriages, because I made the change by divorcing and they didn't. Jill and I were artist to artist. I had to find my own way."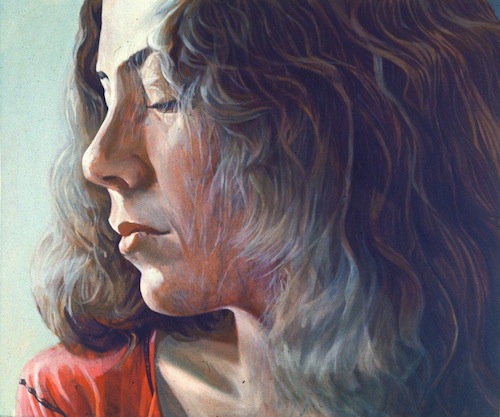 In the early 1980s', Mesches returned to New York City where his life began. He created reconstructed works of the Old Masters, juxtaposed with surreal, historic, social and sardonic images from his personal perspective on the world. In the 1990's, Mesches returned to a reoccurring subject in his work - the iconic images of Coney Island, a Brooklyn, New York landmark he had often visited as a child with his parents. This series of large works has a dark, macabre mood, but there is also whimsy and humor to be found on these canvases. It is as if Mesches wants us to laugh and cringe at the same time at what he sees as metaphor for the madness in the world.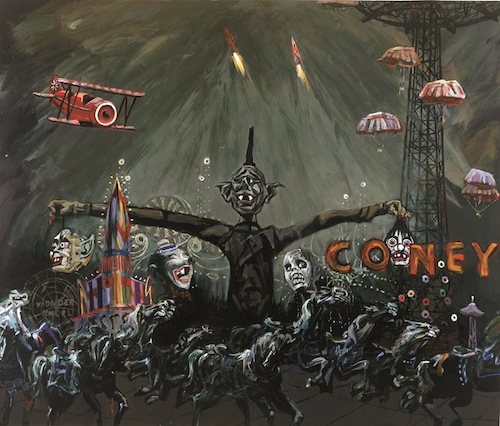 In 1999, through the Freedom of Information Act, Mesches gained access to seven-hundred eighty pages of an FBI file on him that included twenty-six years of surveillance from 1946 though the Vietnam War era. Two years later, during his anti-Iraq involvement, he began a mixed media series entitled, The FBI Files, using copies of the actual documents incorporating with historic and pop culture visual references, along with images from his personal life. Reminiscent of Persian miniatures with ornate borders and sectioned interiors, these works highlight the FBI documents where lines and passages of information are partially blacked out with marker by the government.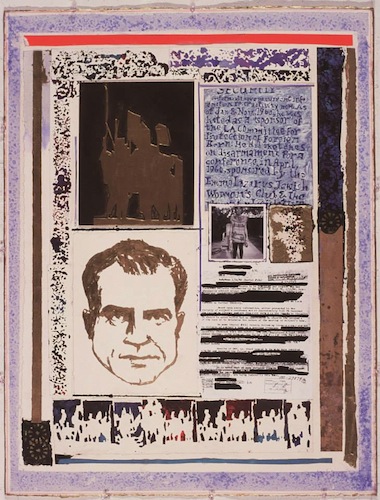 In the 21st century, Mesches continues to teach, guest lecture, and show his art throughout the Untied States. Most of his past and present works can be found at www.ArnoldMesches.com including Coming Attractions, It's a Circus, Shock and Awe, Weather Patterns, and his latest work, Eternal Return 2 (Tower of Babel).
His connection to religion and war as a young man, his family and the clash of joys and challenges that everyday life and an art life bring, and his fearless way when facing the older kids in the school yard or the powers that be in the political/social circus ring, have all found their way into the narrative, cinematic nature of the work of Arnold Mesches.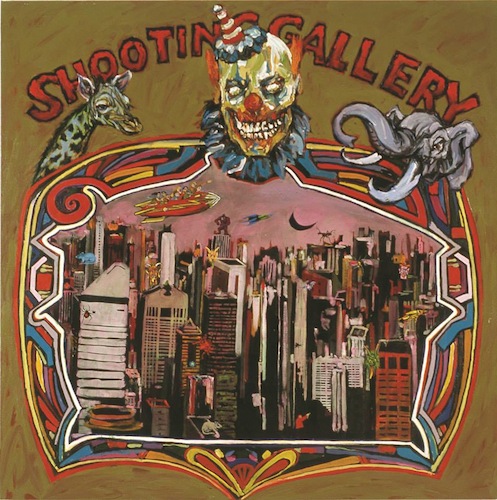 Besides Mesches' over one hundred and twenty five solo exhibitions and his numerous group shows, he has been awarded a National Endowment for the Arts, along with a New York State Fellowship and Florida State Fellowship, and in 2013, a major retrospect of his work entitled,
Arnold Mesches: A Life's Work. This retrospect was exhibited at the Museum of Art and Design at Miami Dade College, spanning over sixty years of his art.
Schools of painting have come and gone in Mesches' lifetime. His influences are many but a single vision and style has sustained as his own. The Occupy movement would get it. The Freedom Fighters would have understood. Anyone who has ever faced a challenge, an injustice, had their right to exist questioned, and even those who have the luxury of not facing struggles but carry a consciousness that there are many who do, will comprehend the works of this artist. Still, even without an understanding of any of those things, the attention the visual power of his work commands is undeniable. Approaching his ninth decade, Mesches currently lives in Gainesville, Florida and Brooklyn, New York with his wife of thirty years, novelist Jill Ciment.
Our interview in his Brooklyn loft went on for almost two hours. Before it was over, I asked Arnold: If you were to tell your grandchildren one thing, what would it be? He sat up tall and replied, "Stick to your guns. Think of the tangents you go on, as you try to find your way. Those tangents themselves are part of the learning process. You make mistakes, we all do. I learned a lot by starting late. I made up for lost time. I'd tell them, when you look at my life, see if you can learn something from my life. That's the best thing they can learn, to learn from my mistakes and benefit from them. There are really no mistakes, they're training processes. Everyone has his or her own road. The road is different for each of us. This is my road. Would I have done it differently? Sure. If I had different parents, if they were more aware, different people. If Uncle Joe were my father, I'd be an artist twenty years earlier, because he was an educated man. My father was a nice guy, but he was uneducated; he was afraid of everything."
"Go where you fear most. And do the best you can."
With that, he took off the beige cap he wears most of the time these days, stood up and said, "Now, where are we going for dinner?"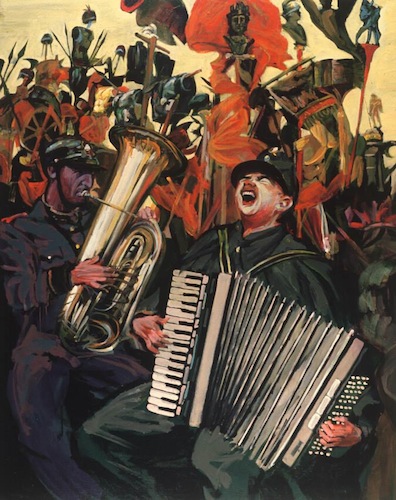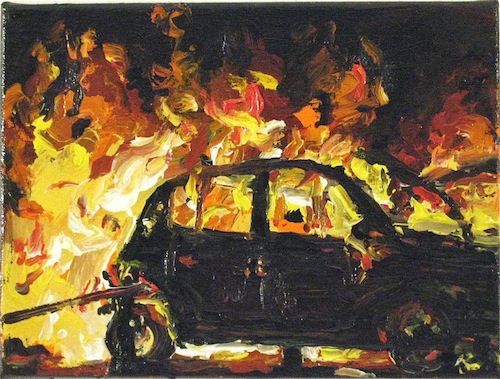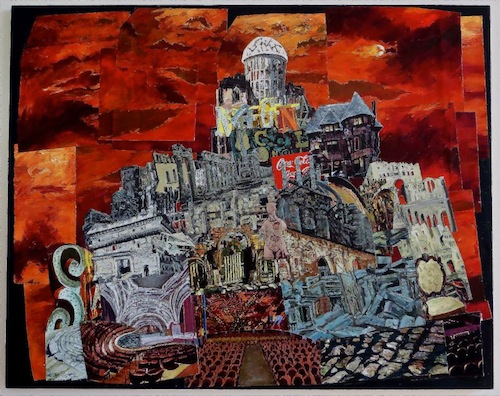 Popular in the Community