Arnold Palmer was my father's favorite golfer. When I was young, my Dad and I loved to watch the broadcast of the Pebble Beach golf tourney ("The Clambake"), and inevitably we rooted for Arnie. They called Arnie the King, and despite the incredible successes of Tiger Woods many more other golfers before and after, there are millions of longtime fans of the game of golf who share in my absolute conviction that Arnold Palmer, despite his passing today, is still the King. His successes on the PGA Tour and specifically in the Masters and Open Championship are legendary, and sure, he has a drink named after him, but you probably already know that I'm talking about Arnie's decades-long achievement as a warm and generous man who loved people as much as much as he loved the game.
I didn't know Mr. Palmer well - I only met him a few times - but in each of those I felt as if our time together was as important to Arnie as it was to me. And some of these encounters were extremely important to me.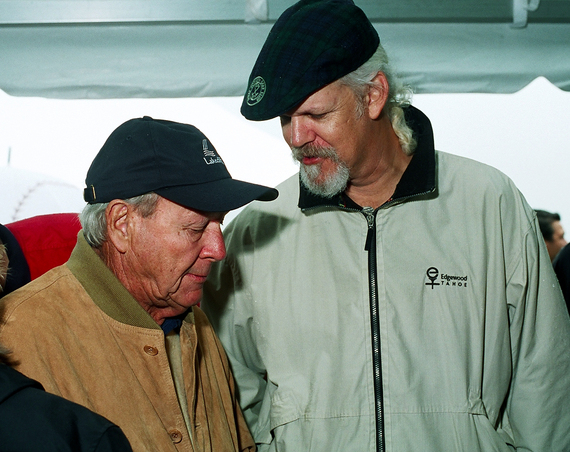 After many years of challenging health issues, my father passed away and I was seized by regret that I hadn't found more time in my adult years for us to play golf together. To honor my dad's memory and our shared love of golf, I went to Pebble Beach to play one round of quality golf, the kind of round my dad would have been proud of. But Pebble is tough, I played terrible and left feeling as if I'd failed.
A few weeks later, I was introducing the great Arnold Palmer at the grand opening of Austin's Lakecliff Golf Club, which was built by my friend Bobby Day and designed by his longtime friend Arnold Palmer. Arnie and I had a little time to talk about equipment (he thought I should start playing a 7-wood as he was doing to great success), and I finally worked up my nerve to tell him about my failed round at Pebble (where he'd recently become an owner). My new plan, I explained, was to take lessons from the best in the game, spend a year trying to become the kind of golfer my dad would have admired, then return to Pebble Beach and replay my failed round.
"Do you think I could take ten strokes off my game and break 80 at Pebble Beach," I asked Arnie. "Ten strokes in a year?"
Having listened intently to my every word, Arnie thought about my story and question for a moment, then looked at the golf calluses on my hands.
"Ten strokes?" he repeated.
Finally he lifted his gaze to mine and said, "You can do it." Then he gave my hand a firm squeeze of encouragement, and added, "I know you can."
And he was right. A year later when I shot 78 at Pebble, Arnie's confidence was part of what made it possible.
Another year later when my book, "The Old Man and the Tee" was published by St. Martin's Press, the official book release was at a Pebble Beach tourney. I had a signing table on the porch of the pro shop, and the great Arnold Palmer stopped by to congratulate me.
"Would you sign a book for me?" I asked the King. And he said, "If you'll sign one for me."
Arnie had recently lost his wife Winnie to cancer. We would soon lose the great Bobby Day to cancer, too. When you live to be 87 and know as many people as Arnie, chances are you will lose more loved ones than you could ever have thought possible. You can spend your life in mourning for these losses, or you can do as Arnie did, continue to go out and share his love for golf and life and other people in every opportunity that presents itself.
So many years later, I finally see that I didn't have to get over losing my dad, that he is still with me. So is my mom. And so are my golf friends Harvey Penick and Bud Shrake. And many others that I've loved and lost. They'll always be with me - in one way or another for they all took my hand.
I'm not sure there are new revelations in any of this, but there may be something that is worth remembering - when your path crosses with someone who needs a word of encouragement, a gesture of confidence or a touch of the hand, the true meaning of your place on earth is never clear.
I'm not sure how much I care about the quality of my golf game anymore, but I will always love the game for what it has taught me. And whenever some wild and wonderful endeavor I want to undertake seems too much of a challenge, I think back to Arnie saying, "You can do it. I know you can."
Calling all HuffPost superfans!
Sign up for membership to become a founding member and help shape HuffPost's next chapter