Arnold Schwarzenegger says he was so "horrified by weekend images of Nazis and white supremacists marching" in Charlottesville, Virginia, that he's donating $100,000 to an anti-hate organization.
The former California governor announced his contribution to the Simon Wiesenthal Center in a Facebook post on Sunday.
"While these so-called 'white nationalists' are lucky to live a country that defends their right to voice their awful, incorrect, hateful opinions, the rest of us must use our voices and resources to condemn hate and teach tolerance at every opportunity," Schwarzenegger wrote.
Schwarzenegger's pledge followed deadly clashes on Saturday stemming from a rally of white nationalists ostensibly to protest the removal of a statue of a Confederate general. Heather Heyer, 32, was killed and at least 19 others were injured when Nazi sympathizer James Alex Fields, 20, allegedly rammed his car into a crowd of counter-protesters. Two state troopers died in a helicopter crash.
"My message to them is simple: you will not win," Schwarzenegger, whose long Hollywood career included the "Terminator" movies, wrote in his post. "Our voices are louder and stronger. There is no white America ― there is only the United States of America."
The Simon Wiesenthal Center's founder, Rabbi Marvin Hier, said in a statement that Schwarzenegger has supported the organization for years, but "we've never been prouder of his leadership than when we saw his tweet last night challenging everyone to do more in the fight against hate."
Donations supporting anti-hate organizations and victims of Saturday's violence have poured in from across the country.
The Charlottesville chapter of Showing Up for Racial Justice, a civil rights advocacy network, has more than doubled its $5,000 goal for a GoFundMe page since Saturday. A GoFundMe page to support Heyer's family raised more than $200,000 in less than a day.
For ways to donate, volunteer and act following the Charlottesville clashes, check here.
Before You Go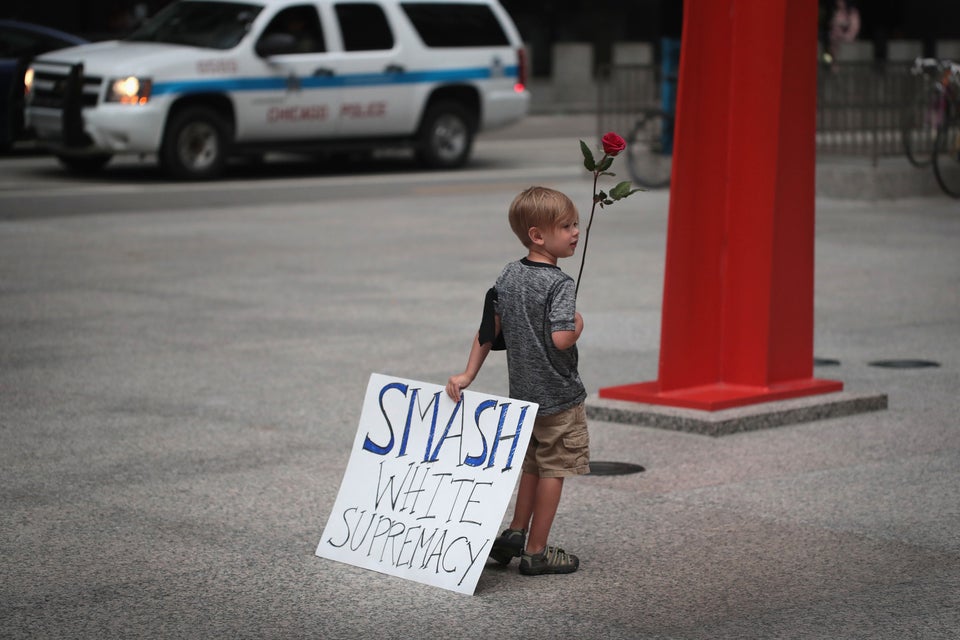 Powerful Signs From Charlottesville Protests Across The U.S.
Popular in the Community