Smokey the Bear is going to be miffed.
Contradicting Arnold Schwarzenegger's public image as an environmental superstar, allegations leveled this week against the "Terminator" actor, who recently was named honorary ranger of the U.S. Forest Service, claim that he's been profiting handsomely from the widespread destruction of our planet's forests.
As governor of California, Schwarzenegger spearheaded the state's efforts to lead the world in ending global warming; and over the years, he's supported many efforts to reduce deforestation at home and abroad, advocating for more sustainable forestry practices everywhere. But, according to a report released Tuesday by United Kingdom-based advocacy group Global Witness, Schwarzenegger may not be putting his money where his mouth is.
Schwarzenegger, the report says, is a major shareholder of Dimensional Fund Advisors (DFA), an investment company said to finance some of the world's most destructive and unsustainable logging companies.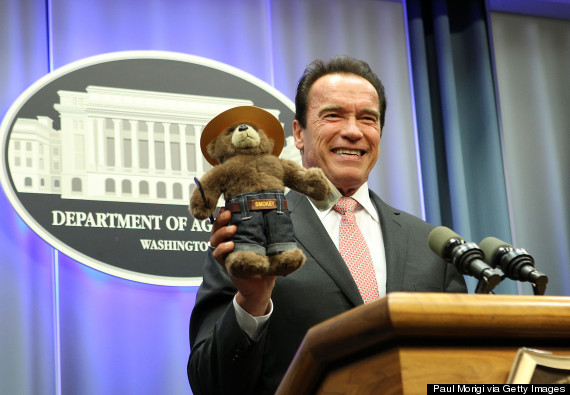 Arnold Schwarzenegger holds up a Smokey the Bear doll after being named an Honorary Forest Ranger for his leadership on climate change.
The report, which is part of a larger investigative study into the links between private financial institutions and 50 of the world's biggest tropical forestry companies involved in logging and the paper/pulp industry, found that DFA "holds shares totaling US$ 174 million in 20 of the 50 companies chosen for the study," per a press release. "That's more than any other financial institution."
Moreover, Tom Picken, a policy advisor at Global Witness, told The Huffington Post that these 20 companies were some of the worst forestry companies examined. Many of them had been implicated in "unsustainable, unethical and sometimes illegal activities" that have led to the wiping out of swathes of forests in Southeast Asia, Congo and elsewhere, he said. Some have also been accused of human rights violations.
DFA, for example, has invested millions into Ta Ann and WTK Holdings, two Malaysian forestry companies that have been blacklisted by the Norwegian government for causing "severe environmental damage" to the forests of Borneo, home to a rich diversity of fauna, including the endangered orangutan. According to Global Witness, both Ta Ann and WTK Holdings have been accused of illegal logging and other unethical practices.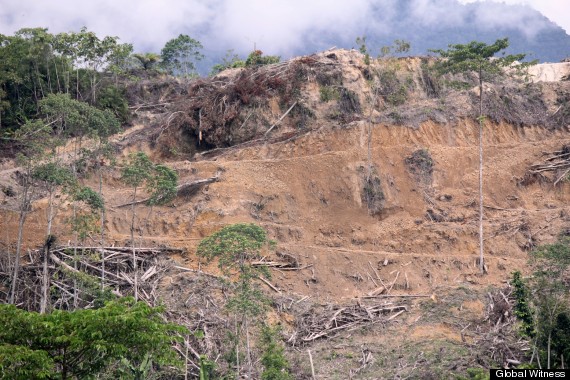 Decimated landscape in Borneo caused by the logging activity of forestry company Rimbunan Hijau, which has ties with DFA. Said to be the world's largest tropical logging company, Rimbunan Hijau has previously been accused of a slew of illegal and unethical practices.
When asked whether he thought DFA knew about the unsavory details of these forestry companies before investing its money, Pickens said: "It's quite evident that the company has either not done due diligence or they have, and they've chosen to ignore the findings. With a simple Google search, you can find a lot of these major concerns."
Ultimately, "DFA's trading algorithms seem devoid of any regard for tropical forests or the people that depend on them," said Andrew Simms, Global Witness' chief analyst of environment, in a statement on the new report. "At the moment, when the computer says yes, you can almost hear the sound of chainsaws whirring. Clients of DFA that do not wish to be associated with tropical deforestation and the havoc it causes should divest unless DFA commits immediately to implement robust forestry policies."
Green advocate Arnold Schwarzenegger is estimated to have a 5 percent stake in the company, per a 2003 report by Index Fund Advisors. According to a 2011 Statement of Economic Interests, Schwarzenegger's stock in DFA is listed in the highest category ("more than US$ 1 million"), and his annual dividends are listed as "more than US$100,000" (also the highest category). Global Witness says that the former governor's stock is probably worth more.
"The industrial-scale deforestation caused by some of the companies that Mr. Schwarzenegger profits from accelerates the climate change that he wants to stop. In environmental terms, it's a weaponized contradiction," Simms said in the statement. "The world is losing fifty soccer fields of forest every minute and private finance is fueling the destruction. To put his money where his mouth is, he needs to get DFA to cut its investment in these companies or get out of DFA himself."
To fight deforestation, environmentalists say public figures like Schwarzenegger need to put pressure on companies like DFA to screen their investments based on social, ethical and environmental grounds.
"It's really important for public personalities like him to make sure they're not part of the the problem and to use their influence in companies to help implement better policies, especially companies which are widely known to be responsible for environmental degradation and human rights abuses and other illegal activities," said Pickens.
When asked for comment, a rep for DFA told the HuffPost in an email that "publicly traded companies are subject to full disclosure of their business activities which must meet established rules and regulations," adding that the company "understands that some clients have perspectives and preferences related to social, sustainability and/or environmental issues" and that it works to "accommodate those preferences."
Schwarzenegger's lawyer has yet to respond to HuffPost's requests for comment.
Related
Popular in the Community