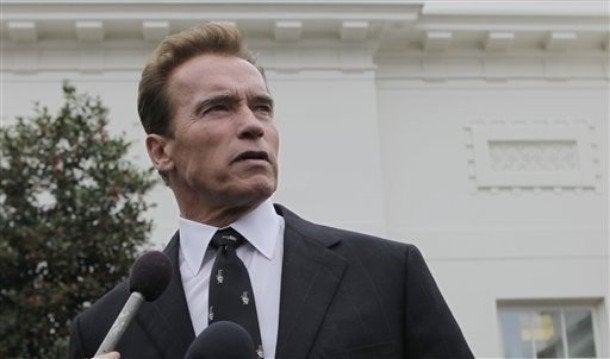 California Governor Arnold Schwarzenegger told Greta Van Susteren Tuesday night that he expects the tea party to "twinkle and disappear" as the economy improves.
Van Susteren tried to get Schwarzenegger to walk back his earlier criticisms of the tea party, suggesting that he might have been misquoted. In response, Schwarzenegger called the tea party "an expression of anger and disappointment" but derided its lack of momentum or solutions.
People meet. They talk about it. What can we change? How? And it's all healthy and it's all good. But I'm just saying they're not going anywhere with it because nobody is coming up and saying, Here's our candidate, here's our solution, here's what we're going to do, and have a whole policy debate over the various different issues.

So this is why I think, in the end, when the economy comes back, I think that the tea party will disappear again. It will, you know, twinkle and disappear, and that will be it. So that's exactly what I feel about it.
Van Susteren tried to push the governor to bash the stimulus: What about people who are slow to benefit from the results of America's first steps toward an uneven recovery?
Schwarzenegger didn't take the bait.
SCHWARZENEGGER: Well, to give you an example, in 2008, we passed redistricting reform. Do you see any effect of it today in California? Absolutely not. It's two years later and we still see no effect because the district lines will be drawn in 2010 now and they would have an effect maybe in 2012, a little effect. In 2014, then you will see more effect. You don't go and have changes like that and have an effect from one day to the next.

VAN SUSTEREN: So give me an idea -- so...

SCHWARZENEGGER: It doesn't happen. Sometimes those things take a long time. There's people that have treatments for an illness over a period of a year, of two years and three years. So you can't expect (ph) and just say, Those doctors are all no good. Forget about it. Go to a different team because they haven't helped, and so on. There's certain things that take a long time.

To move government, to move this big thing, it's like the Titanic. You know, you see the iceberg there, so sometimes you cannot move fast enough. In better times, you have, you know, some movement and people change their minds and then something else becomes very important. I think that the most important thing, no matter what state you're in, or if you're in charge of the federal government, you got to concentrate on one thing and it is creating jobs and bringing the economy back. That's the most important thing right now.

All the other stuff, people don't even want to focus on it. We can talk about it and I think it's important to talk about. But I think people want to see action. And I think what we have to do is -- and that's why I say every governor in a state, if you're a Democrat or a Republican, every Senator, every congressman, everyone out there in politics has to work together to get the economy back.

What is unhealthy is to fight each other continuously because it does not make the country move forward. If you have all the debates, you have all the arguments, maybe it's good for politics, but it is definitely not good to get people back to work and to get the economy going.
Popular in the Community