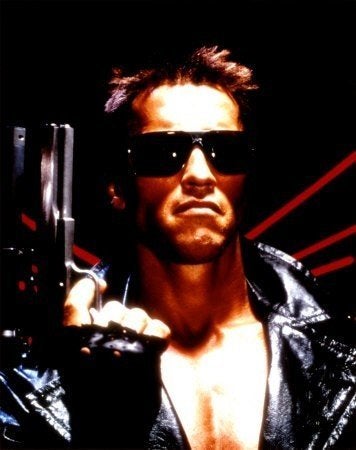 Well, he said that he'd be back.
Arnold Schwarzenegger will reclaim his iconic role as The Terminator in a new film to be directed by "Fast Five" helmer Justin Lin, Deadline reports. Hollywood agency CAA is shopping the rights to the film on behalf of a hedge fund that bought them in a bankruptcy auction last year. The new round of rights shopping should solicit bids from major Hollywood studios.
Schwarzenegger rocketed to movie superstardom after starring in the original, 1984 "Terminator" film, which was directed by James Cameron. Playing a cyborg sent from the post-apocalyptic year 2029 to kill Sarah Connor, the future mother of resistance leader John Connor, the Austrian body builder helped define the action genre of the 1980s.
A sequel, "Terminator 2: Judgment Day," followed in 1991; Schwarzenegger's Terminator played the good guy in that one, defending Sarah and a now-born John against a more advanced cyborg. He again reprised the role for 2003's "Terminator 3: Rise of the Machines." A fourth film, "Terminator Salvation," starring Sam Worthington and Christian Bale, was released in 2009.
While he's made bit appearances in a number of films in recent years, the new Terminator movie will mark Schwarzenegger's return to movie stardom following his stint as Governor of California. He has publicly and privately flirted with a number of different opportunities to return to the big screen, remarking in January that he's closely considering what a future in film will look like.
"In the future I have to adapt my roles to my age," he told Austrian newspaper Kronen Zeitung. "Clint Eastwood also has done it in the same way. Extreme fighting or shooting is not possible anymore. I want to be more encouraged as an actor and I believe that I can manage this challenge. I am like a sponge, which is absorbing all the knowledge and always be willing to learn all new things."
That said, the Terminator franchise is best known for its extreme fighting and shooting.