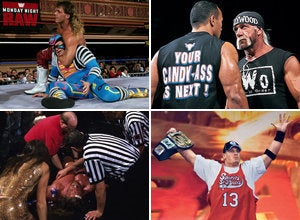 It's quite ironic that The Wrestler, the buzzworthy film with Mickey Rourke playing an aging wrestler trying to survive life outside the ring, is the best and easily most honest film about the wrestling industry. It was made by a man who barely watched it.
"A lot of guys my age had sort of an eight-month romance with wrestling when we were kids," director Darren Aronofsky said during a press junket in NYC last weekend. The love affair didn't last long.
"I went to one match at Madison Square Garden and Hulk Hogan was a bad guy. He was wrestling against Tony Atlas, and he was trying to drop [him] on his balls on the top rope and he missed. Then Tony Atlas pulled down Hogan's pants, picked [him up] and dropped him on his balls. We went crazy, and I lost my voice for three months," the Brooklyn-native explained of his one night of shear wrestling bliss.
While he doesn't consider himself a fan, Aronofsky, who now sports a mustache a la former grappler Raymond Rougeau, couldn't help but to be sucked into the sports entertainment. "It's something you can't escape growing up in the states, because it was such a phenomenon," he said. "Yet, no one has ever done a serious film about it. I think that's because most people hear it's fake, think it's a joke, and then they write it off."
"If you're jumping ten feet off the top rope and you're 300 pounds -- even if you're trying to protect yourself or your opponent, you're going to feel it," added the auteur, who makes a complete 180 turn with this film when compared to his previous ones like Pi, The Fountain and Requiem for a Dream.
With that in mind, Aronofsky set out to make an honest movie about the industry -- no holds barred. From the get go, he signed up a one of a kind "authentic" actor: Rourke. Not the most popular choice ever, which has been well-documented by just about every film blogger.
"Every single financier in the world said no to Mickey, because they didn't think Mickey could be sympathetic," Aronofsky said.
While studios wouldn't touch the project initially with Rourke in the main event, Aronofsky fought to the end, and made the film he envisioned.
"If anything it reinforced... if you've got some gut feeling no matter how outside it is and how different it is you've got to just stick with it," he explained. "[Rourke's] a live, open wound. He comes from tough times," he said of the troubled actor arguably best known for '80's gems like "Diner," "9 1/2 Weeks," and "Angel Heart."
And getting that actor to open those wounds for a character with a large supply of them worked wonders. The film exposes the pains wrestlers face past their prime and outside the ring. With a script by former Onion scribe Rob Siegel, the two did their homework, interviewing past legends like "Superfly" Jimmy Snuka and Nikolai Volkoff, and discovering that grapplers who once headlined main events at large arenas were now restricted to contending in gymnasiums and VFWs and popping pills to fight off nagging injuries.
"[Some] sold out the LA Forum and Madison Square Garden, and now they're out at $200 a night to make ends meet. There's something dramatic about that," Aronofsky explained.
Adding to that, Siegel noted, "Guys bodies are broken. They're messed up. The '70's and '80' guys are still out there wrestling. It's a pretty dark world to explore though [there's] still this sweet moving side that the love for [wrestling] is still there."
Aronofsky said his goal was never to judge anyone in the business, but just to be "honest to it." That's why he chose not to include any legendary or notable wrestlers in the film, because he didn't want to take away from the story.
"I just thought it'd be more interesting to stay away from all that -- just ignore it all, and never mention the WWE. I think it just pulls you out of the film," he explained.
So what's the reaction thus far from the wrestling industry? It's too early to tell, but Aronofsky said former WWE main eventer "Rowdy" Roddy Piper took in a BAFTA screening a week or two ago, and he wept. As Aronofsky remembered, "[He said] look, it's not my story, but it is my story... no one's ever told it and I thank you."
On the flipside, Rourke himself said he now has a deep appreciation for wrestlers that he didn't have before signing on for the film.
"I probably didn't have any respect [for wrestling] because I was ignorant to what it was really about," the one-time boxer said. "I had some hang up about wrestling, because it was prearranged, pre-choreographed almost like a dance instead of combat."
He added, "After I started getting hurt doing it, I started to realize these guys are really suffering, and I kind of gained a respect for their sport."
The Wrestler opens in limited release on December 17.


REAL LIFE. REAL NEWS. REAL VOICES.
Help us tell more of the stories that matter from voices that too often remain unheard.