It's going to happen.  You know how they say darkest before the dawn?  Well, February is here and that means that next month we get ready to welcome spring.  Seed orders and crop plans are being finalized, and we are starting to plan our specialty Mexican herb garden for '11 and figuring out how many pounds of tomatoes we will need to satisfy the unquenchable demand for Katchkie Ketchup. What sort of cucumbers will be grown for this year's Thunder Pickles?
 

I love the final stretch of winter and the inventiveness required when planning a meal based on Greenmarket shopping.  Actually, we hardly have cause to complain as more farmers are growing in greenhouses, infusing the market with bright shades of greens and red tomatoes.  The seafood is abundant and the selections of meat seem to increase with demand.  I made duck egg omelets today, a first!  I am figuring out what I am going to make with the cipollini onions and the tiny potatoes.  And before I relax tonight, I will put my root veggies into a big pot and make a rich vegetable stock.  
 

This is the time of year when we focus on the CSA once again, reaching out to last year's members and recruiting new ones.  We are excited to 'grow' our CSA program to include a "Corporate CSA", allowing companies to buy small shares of fresh organic produce for employees on a flexible basis and accompany the deliveries with a class on how to cook the weekly bounty!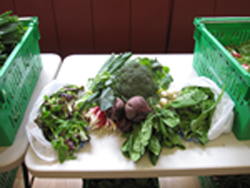 Erin Barnett wrote a thoughtful post about CSA's for localharvest.org, their challenges and how to continue to make them beneficial to consumers and farmers.  This is an important dialogue.  If you don't already subscribe to this helpful site, now's the time.  Use it to locate farmers markets and local foods across the country.  
 

We can enjoy this next few weeks of nesting and winter schedules - in fact, if you haven't yet escaped, now's the time!  Start dreaming of seedlings and sunshine.
 
Welcome back to the LocalHarvest newsletter.


I spent the weekend thinking about what motivates people to join CSAs. 'Tis the sign-up season, after all, and tens of thousands of you are coming to LocalHarvest to look for a CSA farm near you. Researchers say that most people joining a CSA anticipate that their dinner menus will change as a result, and they are up for the challenge. "Veggies we've never heard of? Bring them on!" This is brave. There are few things as personal as our habitual eating patterns, and to consciously turn over some portion of the control for what you'll cook night after night for some months is a big deal.


Often it goes swimmingly. I cannot tell you how many times I have heard people compare opening their weekly CSA box to Christmas morning. Whether it's the freshness and flavor of the food, the feeling of belonging to a farm, the knowledge that their children are eating better, the satisfaction of eating locally, or all of the above, many people simply love being part of a CSA.


And it's not for everyone. Many CSAs lose 10-40% of their members at year's end. For some members the necessary culinary creativity becomes a burden instead of a joy. Others find they don't actually cook as much as they thought, or hoped to. Still others get a bad case of greens fatigue. For all of us interested in seeing the CSA movement thrive, it is as important to pay attention to the rationale of people who decide not to re-join a CSA as it is to take in the praise of the enthusiasts.


If CSAs are to keep up their impressive growth trajectory, farms will need to attract more and more "mainstream eaters". That, in turn, requires CSA farmers and CSA members to work together to find the right balance of unfamiliar items and old standbys, the right quantity of food so members don't waste, and where feasible, giving members some level of choice.


We would love to hear about your experiences with CSA. If you've been a CSA member for years, what do you like best about it? If you tried CSA but decided not to join again, what was your reason? For both groups, what do you wish you'd have known about CSA before you joined? If you'd like to share your thoughts, please do so here.


As always, take good care and eat well, 


Erin Barnett 


Director 


LocalHarvest
Calling all HuffPost superfans!
Sign up for membership to become a founding member and help shape HuffPost's next chapter