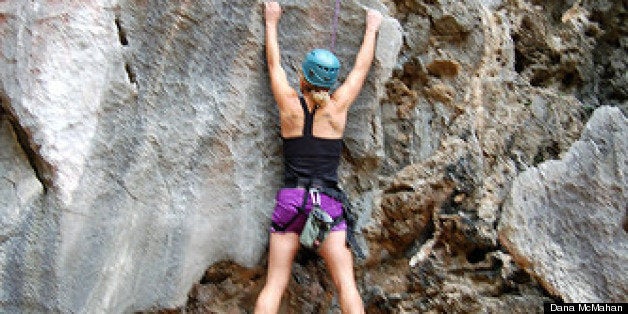 Vietnam, Thanksgiving 2012
Since falling in love with climbing last summer I thought and talked ceaselessly about climbing in Vietnam. The fairytale HaLong Bay, home to some 2,000 (or 3,000 depending who you ask) islands in the Gulf of Tonkin, is a neverland dream for climbers. Even newbies like me. Seriously, will you look at it?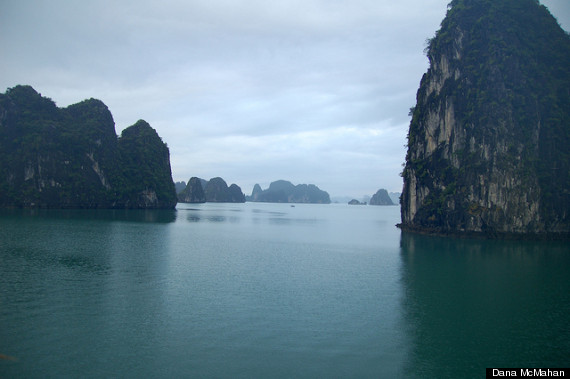 I started writing the folks at Asia Outdoors months ahead of the trip, freakishly excited to get onto one of their climbing tours. When the day finally came to get to their headquarters on Cat Ba Island, everything that could go wrong did. But although a trip I expected to take an hour took seven, we swooped into their office just before they closed their doors to sign up for the next day's trip. I could barely sleep (and not just because of the karaoke bar across the street from our $10 a night hotel). Even amidst the chaos and beauty and craziness that is Vietnam (not to mention my first-ever case of food poisoning) I was consumed with excitement to take on the mysterious rocks.
We boarded a little boat the next morning and set out from Cat Ba to cruise through a floating village en route to a stop for lunch. I picked at rice while I enviously watched climbers on a nearby island. Could we CLIMB already? Though I was more than a little hesitant that the two guides had only one year of climbing experience between them, and put together were barely as old as me, I couldn't wait to start.
At last we set out for Moody Beach, an impossibly perfect little island featuring some beautiful -- and imposing -- walls. Tom and Than, our trusty guides, set up the first climb and asked our little band of travelers who wanted to go first. You can probably guess who leaped up immediately.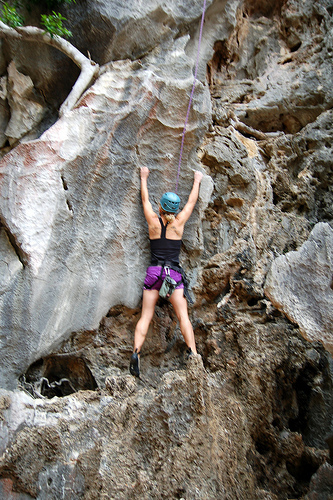 The first route was an easy one, they said, meant just to give us some confidence and serve as a refresher for those of us who hadn't climbed in a while. Though in fact it wasn't difficult, even an easy climb is still an adrenaline rush, and my heart was racing when I landed back on the beach after the first climb. Each of the next three were more exciting than the last -- all 5.8s, the same grade I'd climbed in the Gorge last summer. A 5.9 remained as the light began to wane and the clock ticked toward time to leave. Tom turned to me with a grin. He knew 5.8 was my max.
"Do you want to try the 5.9?" he asked. He needn't have even asked -- I was already harnessing up. "It's not about finishing the route, it's about making the moves," he said. And it was a long climb -- the tallest of any that day. Two independent climbers had failed to ascend.
I went straight at it. The difference that I could immediately see between the easier climbs and this was that it was pretty much non-stop hard all the way up. Never mind the red ants and the rock that crumbles in your hand -- the holds were few and far between and I'd hardly call any of them good. It was a long, long climb -- the further I went, the further away the top anchor appeared. I was afraid I'd run out of time, but I didn't want to rush. I talked to myself the entire way up -- I like the pep talks -- and just kept going. Shaky arms meant I had to take one rest up high, but I was pleased to not fall.
It seemed to take ages, but I just kept climbing and climbing. "You're going to get it!" called my husband when I got near the top. "I know," I thought. "I never planned not to." And I did, hitting the anchor with a grin that stayed on my face all the way down -- and the rest of the day.