On Sept 30, 2010, University of Montana students Jack Hyer and Rebecca Strellnauer went on their first date.
It went so well that afterwards, Hyer wrote in his travel journal, "I'm going to marry this girl eventually."
Hyer spent the last four years building a proposal video (watch above), which features him lip-syncing The Proclaimers' "I'm Gonna Be (500 Miles)" from 26 countries around the world, including Cambodia, Israel, China, Greece, France and Turkey.
(Sidenote: The lip-syncing is kind of off, but Hyer is so irresistibly cute that we couldn't possibly knock him for that.)
On the night of the couple's college graduation, Hyer fooled Strellnauer into thinking that they were going to be watching his "graduation slideshow" -- a ploy to get her to watch the proposal video he had made for her.
"I've been on many adventures. I've traveled on elephant, on camelback, hiked to the lowest point on the earth and I've gotten to see some of the highest," he said right before pulling out the ring. "But the best adventure I've had is loving Becca."
Before You Go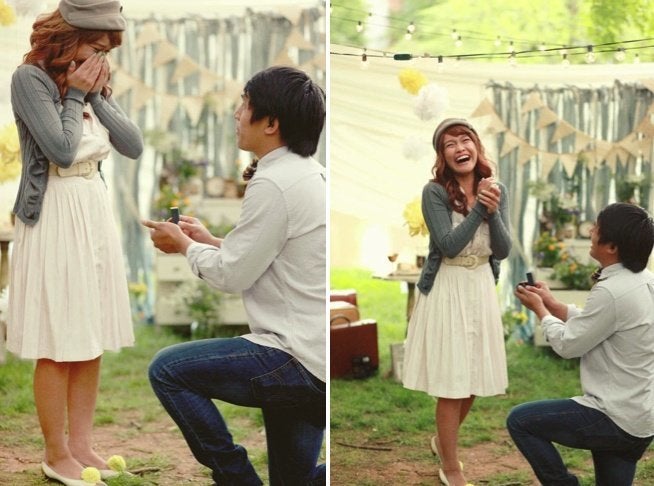 Emotional Proposal Photos
Popular in the Community