It was just past midnight when Indian police hauled two Greenpeace India activists out of their sleep and arrested them this week as a crackdown on protests against a planned coal mine in the Mahan forest intensified.
The timing of the arrests is far from coincidental. The local community was due to hold a Gram Sabha, or village council, sometime between 16-22 August to vote on the proposed coal mine development by partners Essar and Hindalco.
The police also seized a mobile signal booster and solar panels that Greenpeace India had set up in Amelia village to help spread the news from the community meeting to more than a million people who have signed a petition opposing the coal mine.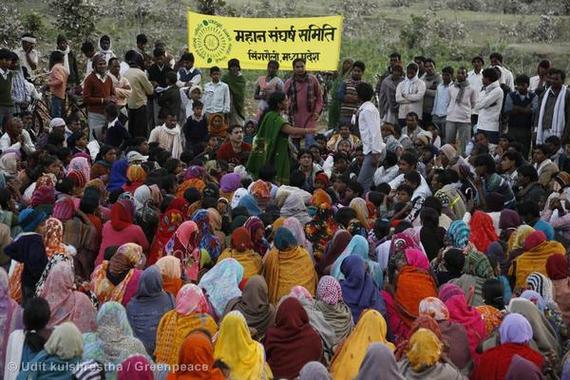 Forged votes

Under India's Forest Rights Act, the authorities are required to obtain community consent from forest-dwellers for industrial developments in forests, such as Essar's coal mine.
A village council was held last year that gave a go-ahead to the mine, but the majority of signatures on its resolution were forged. A new vote was scheduled following widespread pressure and a highly visible Greenpeace India campaign.
The vote seems to have Indian authorities worried.
Less than two months ago, four other forest rights activists were arrested at a Greenpeace India guesthouse for peacefully protesting against Essar and Hindalco's proposed coal mine.
Local authorities are trying to intimidate people to cater to the interests of corporate giants, but it does not end there.
It prompted the new Indian government, with its mantra of economic development at all costs, to tighten controls on foreign funding for Greenpeace India.
On the contrary, Greenpeace India is promoting renewable energy, and has just launched a solar-powered microgrid in Dharnai, a village in the state of Bihar that had been without electricity for 30 years.
Global problem

Greenpeace India attracts global funding to tackle the global problem of climate change, but its opposition to coal mining and nuclear power projects has led to an attempt by Indian authorities to silence its voice.
The villagers have organised themselves in MSS, Mahan Sangharsh Samiti (Mahan Struggle Organisation) to protest against the mine and Greenpeace India has been supporting them for three years.
Essar, clearly disgruntled, filed a Rs. 500 crore (about 60 million euros) lawsuit to gag both MSS and Greenpeace India, calling for a ban on criticisms of the mine project or the company.
India and the international community have a short window of opportunity to keep global warming under the UN-agreed target of 2 degrees Celsius and Greenpeace India refuses to be silenced.
As the world's third largest emitter of carbon dioxide after China and the US, India can still take the lead in a renewable energy revolution.
There is still time and Greenpeace India is calling on Prime Minister Narendra Modi to hear our voice and re-shape India into a 21st century climate leader. We hope he will listen.
Related
Popular in the Community