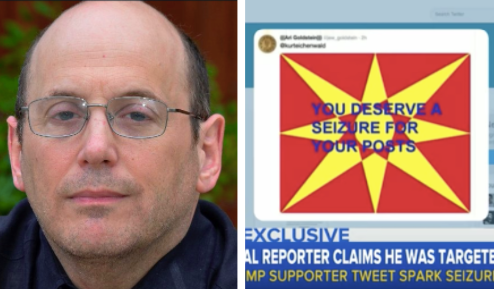 A Twitter message that caused a Dallas journalist with epilepsy to suffer a seizure led to assault charges against a Maryland man on Tuesday. It also exposed a terrifying way people with epilepsy can be attacked online.
John Rayne Rivello, 29, of Salisbury, Maryland, was charged with aggravated assault with a deadly weapon, which carries a hate-crime enhancement, The Dallas Morning News reported. He was booked at a Dallas jail Monday night and has been released on bond.
The Dallas grand jury said Rivello "knowingly and recklessly caused bodily injury to Kurt Eichenwald, a disabled person, ... by inducing a seizure with an animated strobe image, knowing that the complainant was susceptible to seizures and that such animations are capable of causing seizures," according to indictment documents shared by Eichenwald, a Newsweek political reporter who has written about his epilepsy.
The grand jury said Rivello's "deadly weapon" included a tweet, a GIF image and an electronic device.
He told "GMA" that his wife captured a still image from the seizure-triggering animation. GMA shared the still version on air, which appears at 2:38 in the video below.
According to the affidavit, Rivello's Twitter account contained direct messages written by Rivello that included statements including, "I hope this sends him into a seizure," "Spammed this at [victim] let's see if he dies," and "I know he has epilepsy," the Department of Justice said in the statement.
The FBI arrested Rivello on Friday after its investigation, the agency said in a statement.
Eichenwald said Friday that more than 40 people have sent him strobing images knowing they could affect his epilepsy and trigger a seizure. He said that their "identifying information" was with the FBI.
Eichenwald's case is different from other online stalking or bullying lawsuits because the tweet Eichenwald received wasn't just sent to harm him emotionally, it was designed to target his medical condition, The New York Times pointed out in a report. The attack was also completed in a relatively simple way.
Richard Spencer, a white nationalist who is credited with coining the term "alt-right," called Rivello a "hero of the meme war" and proposed to start a legal fund for the suspect.
Epilepsy is a brain disorder that causes recurring seizures which could also lead to violent muscle spasms and loss of consciousness. According to the Epilepsy Foundation in Michigan, 1 percent of Americans suffer from the disorder.