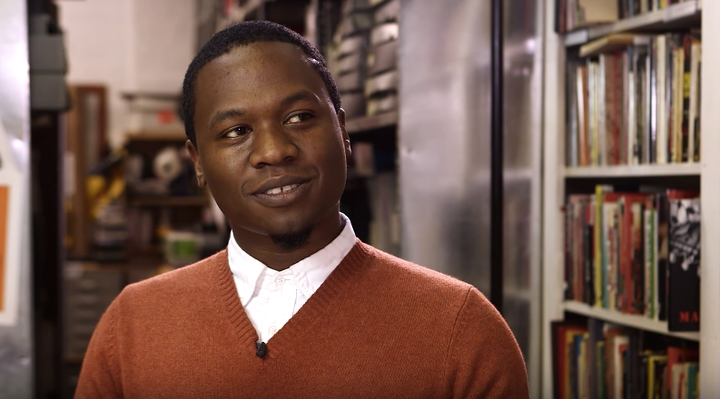 Juan M. Thompson was arrested in Missouri on a federal cyberstalking charge.
He allegedly made eight bomb threats to Jewish institutions. The FBI is still looking for suspects in dozens of other incidents.
In February 2016, he was fired as a reporter from The Intercept for falsifying sources and quotes.
A former journalist is accused of making eight bomb threats to Jewish institutions in an attempt to harass a former girlfriend, according to the FBI and the publication.
The FBI is still investigating the waves of calls to Jewish community centers across the country, spokeswoman Samantha Shero told The Huffington Post. They have not identified the suspect or suspects who made the more than 100 threats.
Thompson's first alleged threat came nine days after the first wave of bomb threats hit JCCs across the country. The majority of those bomb threats ― which as of Friday add up to at least 103 at 77 Jewish community centers and nine Jewish schools ― have come in five waves. Thompson made his final threat on Feb. 20, according to court documents. Twelve centers received threats that same day, but authorities consider the cases unrelated.
Thompson originally began harassing the woman in July, after she ended their relationship, according to the FBI's allegations. On July 27, Thompson allegedly sent an email to the victim's employer at a social service organization in the greater New York area, claiming that she'd been pulled over for drunk driving and was being sued for spreading sexually transmitted diseases.
In October, anonymous emails sent to the woman's employer, and later traced to Thompson, said she had sexually transmitted diseases and accused her of having child pornography, the FBI complaint said. As early as November, investigators with the St. Louis Police Department and the NYPD began interviewing Thompson about the accusations.
Thompson then made eight bomb threats to Jewish institutions over the course of a month, authorities said. Sometimes he'd make threats in his own name; other times, he'd make them in the victim's name and then claim she was trying to frame him. According to the FBI, he sent the first threat via email to the Jewish History Museum in Manhattan on Jan. 28.
On Feb. 1, he allegedly threatened a Jewish school in Manhattan twice, and another Jewish school in Farmington Hills, Michigan, once. He allegedly threatened a JCC in Manhattan on Feb. 7; a JCC in San Diego on Feb. 20; and sent an email to the Council on American-Islamic Relations to threaten a Jewish center in Dallas on Feb. 21.
Thompson is also accused of sending an email to the ADL on Feb. 21 saying the woman "is behind the bomb threats against Jews. She lives in NYC and is making more bomb threats tomorrow." The next day, the ADL got a phone call from a person claiming that "explosive material" had been placed at its office in Manhattan, according to the FBI.
Court documents mentioned a tweet from Feb. 24, in which Thompson accuses "this nasty/racist #whitegirl" of sending "a bomb threat in my name."
"The defendant allegedly caused havoc, expending hundreds of hours of police and law enforcement resources to respond and investigate these threats," New York Police Commissioner James P. O'Neill said.
In February of 2016, Thompson was fired from his job as a reporter at The Intercept, an online investigative news publication launched in 2014, after the outlet discovered he had fabricated quotes.
"An investigation into Thompson's reporting turned up three instances in which quotes were attributed to people who said they had not been interviewed," Editor-in-Chief Betsy Reed said in a statement at the time.
The man Thompson claimed to have quoted ― Scott Roof ― doesn't exist. A retraction at the top of Thompson's article now reads:
"After speaking with two members of Dylann Roof's family, The Intercept can no longer stand by the premise of this story. Both individuals said that they do not know of a cousin named Scott Roof."
In a statement Friday, The Intercept said it was "horrified" to learn of the charges against a former employee. "These actions are heinous should be fully investigated and prosecuted," the publication said.
The ADL and Jewish Community Center Association of North America both praised the FBI for its arrest, noting that they're planning a wider probe into the rest of the threats. FBI Director James Comey reportedly met with Jewish leaders Friday morning to reassure them that the agency is still pounding the pavement.
"[We're] gratified by the arrest made in connection with the large number of anti-Semitic threats that have targeted JCCs and other Jewish institutions over the past two months," JCC Association CEO Doron Krakow said in a news release. "We trust that the perpetrators behind all of the threats will be swiftly identified and brought to justice."
Thompson's arrest comes after groups including the ADL called for the federal government to broaden its investigation into the threats. The FBI and the Department of Justice told HuffPost previously that they are investigating possible civil rights violations in connection with the threats, but officials refused to comment any further.
There have been more than 100 bomb threats made to over 80 Jewish institutions since January. HuffPost is tracking the threats here:
Popular in the Community