"When I look back on it, I wish I was able to gather myself, to not be afraid to speak out more and realize that I wouldn't be hurting anybody — but actually helping," Shawkat said in an extensive interview with Vice's Broadly. The comments, published Thursday, were her first since the cast's Times sit-down sparked a firestorm of anger and outrage.
"I know I said a little, but what I wish I had said was, 'Stop talking. Stop. Jessica, go on.'"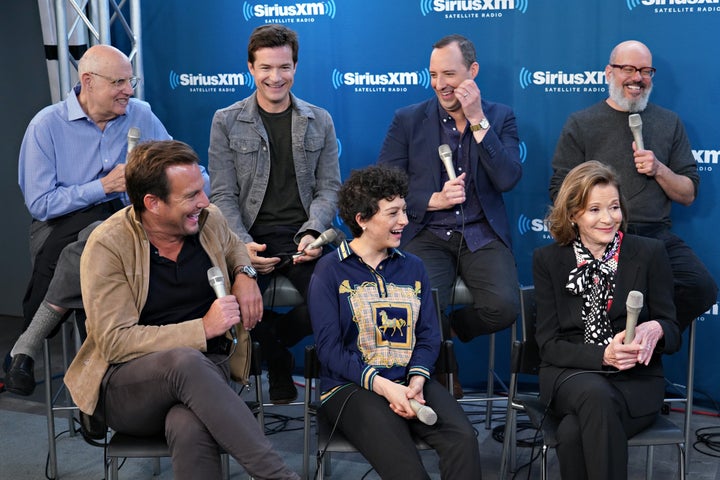 Most of the "Arrested Development" main cast ― five men and two women ― had gathered for the Times to promote the show's new season. Shawkat was the only person to defend Walter when the veteran actress brought up an incident in which Jeffrey Tambor, who plays her husband on the sitcom, verbally abused her on set.
Jason Bateman repeatedly talked over Walter. He, David Cross and Tony Hale all sought to dismiss her account and downplay the incident.
Walter, for her part, tried to accommodate the men's feelings, even saying that she just had to "let go" of the bad memory and forgive Tambor. At one point, she began crying.
After the interview was published and the public erupted, Bateman, Cross and Hale apologized ― to varying degrees.
Shawkat told Broadly that she wished she had been more assertive during the interview. She feared that no one heard her attempt to intervene, noting that "women's voices need to be heard and, ironically enough, I wasn't able to be heard."
"I'm guilty of not realizing how deeply upsetting that was for Jessica," Hurwitz told Deadline. "I misinterpreted what I understood to have played out, and more importantly the depth of Jessica's pain about it. I feel so bad about that." 
Shawkat also had thoughts on where the Me Too movement needs to go, arguing that men need to scrutinize their own behavior and demeanor with women — something that women have long done in their interactions with men. She said that while men must be involved in the conversation, they should often "defer to the women in the room."
"What's most important to me is that these men — whether they've been accused of anything or not — need to start looking at this movement and realizing it has a lot to do with them," Shawkat said.
"I hope that the guys on the show and now all these men of all different ages start to communicate with the women in their lives, the women they work with, and just ask openly with no shame, 'What can I do to be better?'"
Calling all HuffPost superfans!
Sign up for membership to become a founding member and help shape HuffPost's next chapter