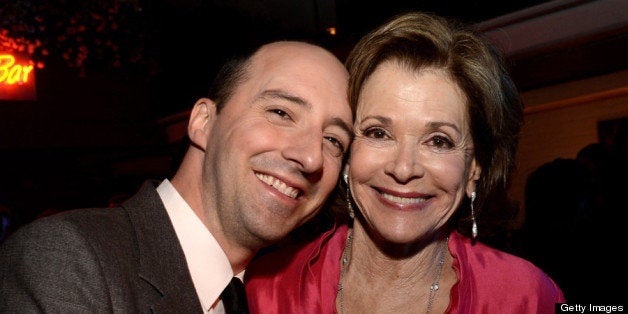 The "Arrested Development" cast were out in full force for the Los Angeles premiere of Season 4, which not only reunited the Bluth clan and their various supporting characters (including Andy Richter, Judy Greer and Mae Whitman) for a photo op, but also featured an imposing ostrich who strutted the red carpet and offered pecks to any unsuspecting reporters who got too close.
Star Tony Hale (Buster Bluth) told The Huffington Post that "As many surprises as there were the first time around, there's gonna be that and more this time around. We're just as messed up -- there's clearly an ostrich walking around the carpet, so I don't know if that's providing some kind of sign."
Hale admitted that the biggest change from the show's original run was that "each episode is one character, so it was like a big puzzle [Creator Mitch Hurwitz] is putting together." Because of the unusual structure, Hale said that he's "just as in the dark as everyone else. I'll read the press and be like, 'oh, Kristen Wiig's in it? Oh, John Krasinski?' It's all about surprises, so I'm excited to be as surprised as everybody else is. Even doing the show, it was like, 'okay, your hand's gonna be eaten off by a seal, you're dating Liza Minnelli.' We're all just kinda like 'Okay ... let's do it!'"
Hale and co-star Jessica Walter (Lucille Bluth) are the focus of the first clip to be released from "Arrested Development" Season 4, and he's apparently still scarred by the scene. "No man should ever be asked to do that, take smoke and blow it out -- that was rough," he told The Huffington Post on the red carpet.
One of the show's newest additions is "Expendables" star Terry Crews, who thinks he'll appear in four or five episodes, depending on the editing. "My character's name is Herbert Love, I'm a politician," he previewed. "Tony and I had some really great times, and Portia [de Rossi] and I had a very funny storyline," which may or may not involve a romantic element.
Crews expressed his admiration for the Netflix model, noting, "it's really changing how television's put out. We're talking about all at once, a whole season, fifteen episodes streamed back-to-back. It's the new way of doing it. I've done it before where I got a bunch of DVDs where you sit and you watch a whole bunch of shows. I think it's the future of television."
"Seven years in the waiting, as they say," Walter told USA Today on the carpet. She admitted that the first day of shooting "was emotional, for me ... I care about this show a lot. It meant a lot for me in my career."
Jason Bateman told USA Today that every character's story picks up in "real time ... It's been what, seven years, and time has not been kind to him or anyone else in the family. So we're all kind of a little banged up."
As the stars have pointed out, things haven't changed much in the past seven years -- and that includes Tobias' (David Cross) ambiguous sexuality. In a recent interview with Out Magazine, de Rossi admitted, "I remember David Cross asking Mitch, 'Am I gay? Or is this just like this running joke?' ... I can't imagine that he would ever think of himself as anything but this guy who is in an unfortunate marriage to a woman that doesn't really love him. I don't think that Tobias would ever think of himself as gay, and that's what makes it funny. It is a huge credit to the writing and to David [that it's not offensive]."
"Arrested Development" returns with 15 new episodes Sunday, May 26 in North America, the UK, Ireland, Latin America and the Nordics on Netflix.
PHOTO GALLERY
"Arrested Development" Premiere
REAL LIFE. REAL NEWS. REAL VOICES.
Help us tell more of the stories that matter from voices that too often remain unheard.
BEFORE YOU GO