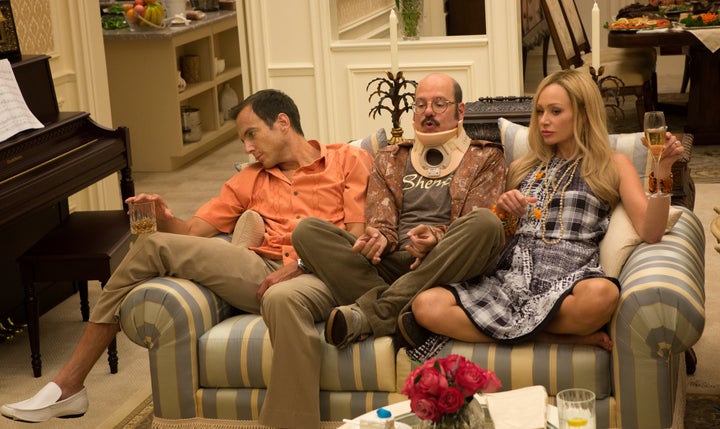 For some reason, "Arrested Development" creator Mitch Hurwitz has remixed the fourth season of his own show, ahead of the much-anticipated debut of Season 5, and on Tuesday he tweeted its imminent release.
"Arrested Development Season 4 Remix: Fateful Consequences" will present the events of that season in chronological order on Netflix beginning Friday, May 4 ― which also happens to be a Bluth universe holiday known as Cinco de Cuatro.
In his lengthy message to fans, Hurwitz noted that the show had followed a nontraditional format throughout Season 4, to some viewers' frustrations. Many of the original cast members were not able to film together for the 2013 season due to scheduling conflicts, and so episodes focused on individual characters and jumped forward and backward in time.
It was, Hurwitz wrote, "in some ways to be an experience for that viewer, perhaps, akin to eating some toast, then some bacon ― maybe a sliced tomato followed by some turkey and realizing 'Hey I think I just had a BLT.'" (He later changed that to "Hey I think I just had a club sandwich," after a reader pointed out what happens to a BLT when you add turkey.) 
At times during Season 4, producers relied on green screens to artificially insert actors into scenes ― which some viewers found awkward. 
Hurwitz's announcement comes about three-and-a-half years after he first mentioned his odd recutting project ― and hopefully does not signal how long it took him to accomplish the feat.
Although he tweeted that Season 5 will drop "soon" ― "[l]ike really soon" ― Hurwitz neglected to mention precisely when to expect it.
In the remix, the series creator shuffled footage "from 15 individualized stories into 22 interwoven stories the length of the original series." He said he pursued it not only as a blatant cash grab but "as a comedic experiment to see if new jokes and a new perspective would emerge from a remix that features all the Bluths in every episode. ... And I'm really excited about the final result."
Calling all HuffPost superfans!
Sign up for membership to become a founding member and help shape HuffPost's next chapter