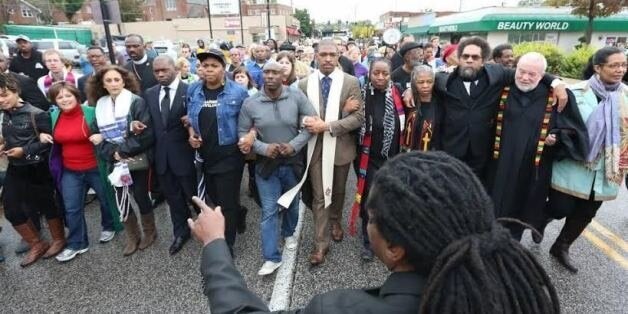 Thousands of people from around the country came to Ferguson, Missouri, for a "weekend of resistance." But for faith leaders it was a weekend of repentance. Twenty of us were arrested in Ferguson yesterday for an act of repentance.
I went to Ferguson as a faith leader but, in particular, as a white faith leader. Because the great disparity between how differently young black lives are treated in our criminal justice system than young white lives is a fundamental injustice that must not only be left to black faith leaders to raise up. Repentance must begin in the white Christian community for tolerating this offense to our black brothers and sisters and, ultimately, this offense to God. Let me be as honest as I can be: If white Christians in America were more Christian than white, black parents could feel safer about their children. It's time for us white Christians to repent -- turn around and go in a new direction.
Repentance is a powerful theme throughout the Bible. But its meaning is often not well understood. Repentance is not about being sorry or just feeling guilty. It is about turning in a new direction. The biblical word for repentance in the original Greek is metanoia, which means you are going in the wrong direction, and it's time to turn right around.
In the case of Ferguson, repentance means more than merely acknowledging the tragic death of an unarmed 18-year-old African-African man named Michael Brown on August 9 -- shot and killed by a white police officer named Darren Wilson. Repentance means more than lamenting the loss of another young black man or being sympathetic to his grieving mother. True repentance means changing the direction of the practices and policies that led to his death and so many others. But thus far, there is little evidence that public officials in Ferguson and St. Louis County have the courage to alter their behavior and their systematic responses to young men and women of color in their communities. So faith leaders came to help begin the process of repentance.
We began with ourselves. Many of the young people in such jeopardy in America have either left the churches or were never there in the first place -- and few of our churches have reached out to them. Clergy in Ferguson repented of that and promised to change that reality. Many young people have been left alone, subject to educational failures and economic forces that have marginalized them, a judicial system that disproportionately punishes them, and police departments that regularly brutalize them. They won't come back to church, so we need to come to them.
After much confessing, praying, and singing in a Ferguson church, we marched to the Ferguson police station that has been the headquarters for much brutality against the young black people in their community. Two hundred of us processed to police headquarters where we were met by the Ferguson police. A young black man lay down on the ground right in front of the police station and chalk was drawn around him so that when he got up a dramatic picture remained -- a memorial to Mike Brown and so many other young black men who have been shot and killed, their names read in a painful but powerful liturgy as we silently prayed. The image was stark and brought many tears to those who had lost family members, loved ones, and young friends to the kind of police violence that is undeniably racial in its implementation. We repented those losses and pledged to hold police accountable for moving in new directions.
Then the clergy, one by one, went forward to the police officers who were blocking our path to the police station and began to speak quietly and personally to them face to face, asking them to become part of repentance. In all my previous arrests for peace or justice, I had never asked a police officer to join in repentance. My officer was a 36-year veteran of the police force. We got to talking. He admitted he was a Christian too and said these last two months have been the hardest time he's ever had in his almost four decades of service. "I didn't want it to end like this," he told me. He so hoped this could all "end" and end "peacefully." I said that would take a lot of big changes. He nodded his head.
We then asked to see the Ferguson chief of police and began to move forward to do so. That's when we were arrested. We spent the next five hours in police custody being processed where we had more time to speak to police officers. Several officers, especially some of the African-American officers in St. Louis, admitted there are some real problems in local police departments. As faith leaders we were, of course, treated very well -- in sharp contrast to the ways young black men are often treated in those same facilities. We were eventually released without bond or bail, while young kids have to pay hundreds of dollars to get out of jail.
The big question is what happens next, especially when the news fades in Ferguson. Repentance means changed behaviors, and that change must happen around the country from the local to the national level. It will and must be a very big change. Ferguson must now be transformed from a moment to a movement.
Racial policing is a sin -- against our brothers and sisters, against genuine American democracy, and finally against God. Quite simply, this American sin must be repented of and turned around. The American faith community cannot rest until that repentance is done.
Reversing the sins of a racialized criminal justice system is becoming an agenda for a new generation -- including a new generation of believers from every race and faith community in America. I marched together with that new generation in Ferguson yesterday, and we were arrested together -- in repentance. Thanks be to God.
Related
Popular in the Community