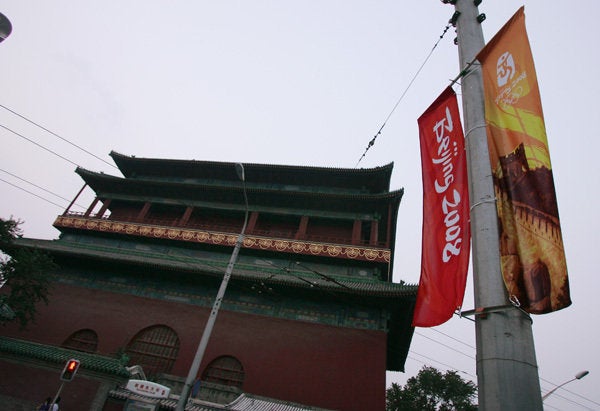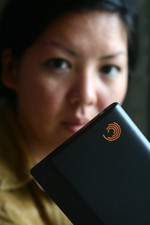 Wen-Yan King listens to Devendra Banhart, The Temptations and The Beatles. She likes hash browns. She drinks too much coffee. The Lion King is her all time favorite feel-good movie. Her hobby is photography.
Born in Taipei, Taiwan, her parents moved to Minneapollis, Minnesota, when she was six. As a young woman, she went to the University of Minnesota studying Cultural Studies and Comparative Literature. She wasn't a great student by her own admission. She couldn't get serious about anything. To her friends she was 'goofy Wen' -- until she went to Tibet in the summer of 2004 at the age of twenty. In a Tibetan stall in the main square in Lhasa, she asked the price of something in Chinese. The Tibetan shopkeeper ignored her, then muttered bitterly in English, "No good Chinese." Wen wanted to find out what lay at the root of that sentiment.
Over the next four years, she became serious about something for the first time in her life -- the Tibetan cause. She visited Dharamsala, India, numerous times and became increasingly involved with the exiled Tibetan community there. "None of my friends would have imagined me as an activist," she says, "but that's what I became."
This summer, Wen decided to return to Tibet. Frustrated at how few eyewitness reports were getting out, she was determined to find out what everyday life was like for Tibetan people after the spring protests and China's crackdown. She had no idea how close she would come to knowing the worst first-hand.
Wen decided to travel on her Taiwanese passport instead of her American one so that she wouldn't need a visa. People who seemed to know what they were talking about assured her that she would still be protected as an American Citizen. In Chengdu, the staff at the American Embassy told her in no uncertain terms that she'd been misinformed. "They told me that even though I was an American citizen, the Chinese government doesn't recognize dual citizenship, so I have no rights as an American by traveling on my Taiwanese documents in China. The Chinese authorities have the right to detain me and to subject me to the full extent of Chinese law." In fact, they told her that three Taiwanese-Americans had been arrested in China in the past two years. The Embassy had no power to find out where they were being held or how they were being treated.
"It was scary because they warned me if I was low profile now, I will be high-profile, and I will be followed once I enter Tibetan regions. They told me to watch out for guys who look too comfortable smoking a cigarette. They told me to not trust anyone. They advised me to memorize the angle of my computer and cell phone when I leave my hotel room, so I can tell if they've been moved when I return. They said to be especially careful with my camera. The tech specialist at the Embassy said that she strongly suspects that Chinese intelligence has some kind of deal with Google because gmail appears not to be safe in China. They said, 'It's safe to assume that everything you do is being watched.'"
Wen began to have second thoughts about the trip "but I felt that I couldn't let my fear stop me." So she left Chengdu and traveled West into Sichuan province, into regions of Eastern Tibet known as the Tibetan Autonomous Prefecture. As she passed through towns that been sites of popular protest only a few months prior, Wen began to notice a marked increase in armed forces. "The further West I went, the more intense it got, until I was very, very scared."
In Lithang, in the Tibetan area of Kham, at an altitude of 13,000 feet, she counted as many as seven police stations in a half-mile radius. "The local Tibetans told me that these police stations had sprung up after the protests in March. If there's a way to instill fear in people, this is the way to do it. You're not going to go out in the street and protest when you see fifty armed police to the left and right of you." Tibetans in Lithang also told her that five people had recently disappeared and no one knew what happened to them.
But even though it was illegal to do so, Wen noticed that people were still displaying photos of the Dalai Lama in their homes, businesses, and temples. One woman was told by the police that her guest-house would be closed down if she didn't remove the large photo of the Dalai Lama up in the reception. She complied, but then replaced it with a smaller one. "My heart doesn't feel right if his photo isn't up somewhere," she said. Wen also saw a lot of people wearing Dalai Lama pendants around their necks. "If you put up a photo in a temple, that act can't necessarily be traced back to you. But wearing a pendant is a very personal thing. The Tibetans take so many risks for this small freedom."
Even so, it was hard to find Tibetans who would trust her, particularly because she only spoke Chinese. But she was also interested in hearing from the Chinese people who lived in these areas. "It was really difficult for me to hear what they had to say. The spectrum is just so far apart from what the Tibetans believe and what the Chinese believe. The Chinese say, 'We developed this region. We built these roads. Look at that hospital.' When you confront them with the bad things, they focus on the good things. They would say 'we' referring to me as well. I wanted to scream, 'No, no. I'm not Chinese!' They get to send their kids to school for free because they're in a minority region and they make more money there, but it really seems they're taking over the economy and pushing Tibetans further aside. I'd heard about this, I'd read about it, I'd even talked about it, but it wasn't until I was there that I could feel what occupation was actually like."
Wen was now entering regions that hadn't seen a foreign journalist in months. A number of places she went were officially off-limits to all foreigners, but because Chinese people are taught that Taiwan is part of China from grade school the local authorities tended to regard her as a Chinese national. Still, her driver took back roads to avoid the checkpoints that became more numerous the further West she went. But it was in Kardze (Chinese: Ganzi) where the atmosphere of intimidation that Wen had experienced earlier took on a whole new dimension.

"There's a good reason that foreigners aren't allowed in these places. It looks like a war zone. In Kardze the police are in the middle of the sidewalks. They're sitting in helmets holding their guns and riot shields in rows of 10 or 15. They are outside convenience stores under blue tarps every half a block, on both sides of the road--watching. They're up on raised metal posts with cutout windows--watching. I couldn't walk anywhere without dozens of armed police staring at me. I've never seen so many police and military personnel in one town in my life. Nor have I experienced this kind of heart pounding fear before."
Wen arrived in the town of Kardze on July 30th. This area has seen some of the most active and persistent protests in March and April. Small-scale protests continued into July, and as late as July 17th a 19 year old girl was arrested after staging a solo demonstration outside Kardze County Police Headquarters. A number of reports indicate that Beijing had ramped up security in these areas to ensure that their Olympic Games wouldn't be spoiled by discontented Tibetans. Back in April, Zhou Yongkang, a member of the Politburo Standing Committee and former Minister of Public Security, held a national telephone conference with local leaders. According to a report by the Epoch Times, Yongkang said, "We must create more battlefields and united battle fronts. Each leader must re-educate, re-plan pre-Olympics stability work, and strictly prevent any incidents from happening." Over the months, Beijing has been flooding Tibet with military hardware and personnel.
The week that Wen was there, a directive reminiscent of the Cultural Revolution was leaked from local Kardze authorities that revealed plans to purge the monasteries of monks and heavily restrict religious freedom. "I can't imagine anyone protesting here any more because as soon as they do anything suspicious they'll be swept away. We talk about freedom of speech, but when you're under such heavy surveillance you can't even think about saying anything that these armed police don't want you to say.
If I were having lunch in a cafe, I would casually ask a Chinese person, "When you see all these police, are you scared?" And they would all say, "No. They're here to protect us. Why should we be scared?" Back in March, Chinese state media had repeatedly aired video footage of Tibetans in Lhasa running down the streets brandishing knives. That's what the Chinese thought the armed police were there to protect them from. "If the Tibetans went wild and pulled out their swords again, then these police would keep them in line. It's funny though because the Tibetans and Chinese are friends. They say "Hi". They eat together. But they talk about everything but politics. It's a clear line for both parties. I think that when we hear 'Free Tibet' not many people think about the implications of those words or the potential for bloodshed. These are integrated communities now. It's a very intricate situation."
The feeling of tension and paranoia in Kardze was so great that Wen decided that she would be putting Tibetans in too much danger by talking to them. "As soon as I arrived, I went to check my email at an Internet cafe. I opened something from Google Notifications and found a message in broken English."
---------- Forwarded message ----------
From: Gmail Team

These days,we are detect unusual account,so some unexpected problems may happen.Depending on the behaviour detected by our system, we may temporarily disabled your access to the account.

Thanks,
The Gmail Team
Wen was now convinced that the Chinese intelligence was reading her email. Back in Dharamsala, India, she had helped to start an organization called Raise Tibetan Flags Campaign. "We're trying to promote awareness and dialogue about what's going on in Tibet by raising Tibetan flags worldwide. I'd been in contact with people in Dharamsala about the campaign. It's just become a part of the dialogue. After I received this email from Google, I seriously considered going back for the first time. I seriously feared for my safety.
It was such a foreign feeling because I grew up in Minnesota, where I could say whatever I want, read whatever I want, and write whatever I want without thinking anything of it. And all of a sudden this freedom was taken away and I was always looking over my shoulder. If it's something you grew up with, you don't think, 'Oh, I'm so lucky because I can write whatever I want today', or, 'I'm so lucky because I can log onto whatever website I want today'. This isn't just about Tibet. This is about a sixth of the world that don't even know what they're missing because state propaganda is just that good."
At 11:40 that same night the police raided Wen's hotel. "They pounded and yelled at every single door until they got to mine. They looked around the room and warned me, 'If you do anything suspicious, there'll be consequences'. After they left, I was shaking."
Wen decided to return to Chengdu, and the next morning she bought a bus ticket bound to leave the next day. "I was chain-smoking by this point. The combination of the email, the hotel raid, and the tense atmosphere was emotionally draining. I honestly don't know how people live in that kind of fear."
What Wen didn't know at the time was that her Tibetan colleagues in India had just received a very strange email from her that she had never sent. She was also the only one who had the password to her account.

-----------------------------------------------------
Date: Thursday, July 31, 2008, 1:29 AM

Subject: We got some foreigners in the mainland of PRC that was interested in the plan of RTFC.

the list contains details of 6 foreigners and 2 chinese.
-----------------------------------------------------
Wen decided to walk up to the local monastery to calm her mind. "It's quite a steep climb and I went all the way to the rooftop. From there you get a panoramic view of Kardze. These regions are really beautiful. You can see the valley, the distant grasslands, and the snow-capped mountains in the background that surround the town. So I took pictures, but I couldn't help myself--I took a few zoomed-in shots of the military base. I didn't know that I was playing with fire."
A plain-clothed Chinese man was holding up his cell phone unusually high in her direction. Wen didn't think anything of it, but as she was walking down, the police officer who had come to her room and threatened her the night before, stopped her and told her to follow him to the police station. "I thought, this is it. I can't believe I took those pictures."
At the station, two plain-clothed police filmed her with hand-held camcorders, getting close in to her face. "It was very intimidating. I kept asking them 'What's wrong. What's going on?' All they would say was 'Wait and see.' I kept thinking, wait and see for what?" After a while, they drove Wen to her hotel where they confiscated her phone and her passports, including her American passport. I found myself saying, 'I'm an American citizen. I have a right to call the US Embassy.' I knew they weren't going to let me call, but I said it anyway."
Ten plain clothed Public Security Bureau officers were now in Wen's hotel room. "The first thing they did was look through the photos on my camera. Of course, they found the shots of the military camp. They started whispering to each other. I said, 'I'm sorry. I take pictures of everything. Look at the photos of the mountains and the valleys and the houses.' But I knew I was in a lot of trouble."
"They flipped through my journal and filmed everything -- every sheet of paper that I had, front and back. I told them, 'I'm going back to Chengdu tomorrow morning. Look, here's my bus ticket'. But they said, 'We're going to return your bus ticket and take you to Kangding for further investigation.' Apparently, it wasn't in their jurisdiction to process my case where we were. I kept telling them, 'I need to call the US Embassy', but they very simply clarified, 'You are a Chinese citizen traveling in China on your Chinese documents. You'll be prosecuted according to Chinese law.' I didn't have any rights as an American at that point."
One word came into Wen's mind. Prison. "China throws human rights activists into prison. I remembered a documentary I'd seen in which one of China's top lawyers said that he lost 99% of his cases dealing with human rights activists. It takes months, even years for people to even get a trial in China." Wen was more aware than most about how political prisoners in China are treated. "I'd heard first-hand testimonies for years from Tibetan former political prisoners -- nuns getting electric cattle prods inserted into their vaginas; people told to stand barefoot on blocks of ice and then pushed off an hour later so that the skin of their heels would peel off; monks who have to use plastic cups because the electric shocks caused so much nerve damage to their fingers that they keep dropping glasses. I never imagined that I'd be in a position where it was conceivable that I'd receive that kind of treatment."
The police assured her that if she had a clean background then most likely nothing would happen to her. But Wen knew that any background check would reveal her history of Tibetan activism. She also realized that she had accidentally packed her external hard-drive, which was filled with what Chinese police would consider incriminating material. "That hard-drive contained photos of me speaking in front of Tibetan flags, me handing out Tibetan flags, me waving Tibetan flags, press releases that had my name under the header co-founder of the Raise Tibetan Flags Campaign, the whole Raise Tibetan Flags Campaign website that I put together from Illustrator. They could see everything I've been doing for the last few years."
Wen was then formally arrested and charged with the crime of 'illegally possessing state secrets'. I thought, 'How did I get myself into this? I took a few photos from the monastery rooftop and I now illegally possess state secrets?'"
Before they left Kardze, the police stopped at a Chinese restaurant and put Wen at a table with mostly Tibetan public security police officers. She found herself in the surreal situation of being taken out to dinner by her captors. "They saw my long face, and that I wasn't eating. They tried to joke with me, especially the policewoman who had followed me to the bathroom at the hotel. I was thinking, what's going on? She just watched me pee and now she's telling me to please 'Eat, eat, eat.'"
After dinner they started the 12-hour drive to Kangding. "I was in the back seat in between two police officers; a Tibetan policewoman who kept regurgitating patriotic Communist propaganda and the officer who had arrested me. He told me that he really wanted to practice his English. He asked me to teach him English proverbs. I taught him 'Don't cry over spilt milk.' He kept asking questions like 'What's your favorite color?' 'What do you want to do with your life?' 'What do you believe in?' I tried to ask him questions back, but he held up his hand and said, 'I'm just the pinkie. We're taking you to talk to the thumb.'"
The police officers eventually nodded off on Wen's shoulders. Wen didn't feel like sleeping. "All sorts of things kept drifting in and out of my head. If they gave me 15 years, I'd be 39 when I was released. I wondered how many years it would take before I'd want to kill myself. How would I do it? I'd read about people killing themselves underneath their blankets and I wondered how they managed it. It was the first time in my life that I actually thought about committing suicide." It was on the drive that Wen came up with the idea to create an alternate personality. "I meet these people in Dharamsala all the time -- the hippies who smoke Indian cigarettes and don't wear shoes because they love nature. I decided that I was going to be tree-hugging, Buddhist-seeker Wen. I couldn't tell them the truth. If I did, I would be exposing a lot of people and I would be sending myself to prison."
In Kangding, the police took Wen to a room in the fourth story of a nice hotel where she sat across from the boss -- the thumb. "He was older than the others, in his forties, gray hair, also not in uniform. He was really nice to me but I got the feeling that he wasn't nice to everyone.
During the interrogation I became 'Hippie Wen'. When he asked me if I'd ever been to Dharamsala, I said, 'Oh, yes. I went to take the Vipassana meditation course where for ten days I didn't speak to anyone at all and we weren't even allowed to look anyone in the eyes.' This was all from stuff I'd heard from other people. In all the years I've been coming to Dharamsala, I've never found the time to take a meditation course."
Wen chatted away, thinking that the more she talked the less time the police would have to question her. "I went into great detail about meditating in the Indian Himalayas, how it really spoke to me and how spiritually developed I became. I tried to turn the interrogation into a conversation. I asked the officer in charge, "What do you think you would discover if you really looked into yourself and listened to your heart?' This made him laugh really loudly. All Communist officials are required to be atheist. They're not supposed to have any religion."
"I've never been good at lying or being put on the spot. But I wasn't nervous at all. If I needed more time to think about a question I would pick out specific Chinese words and ask, 'What does that mean again?' Because they knew I grew up in the US and that my Chinese isn't perfect. Or in my answer, I would use an English word, and say, 'What is that in Chinese?' When they asked me about the photographs I took, I went into length about the magic of photography and composition and capturing the perfect subject. I guess it was a pretty good performance because they seemed to believe me."
When they asked Wen about her emails she knew she had to come up with something good fast. This implicated the people she'd been emailing, some of whom planned to return to Tibet. So she made up a story that she hoped would stick. "I told them that I recently broke up with my boyfriend and it was just too hard to keep in contact with him, so I decided to cancel my email account altogether. I went on and on about my broken heart and they were like, 'Okay, okay, okay.'"
After about two hours the police officers seemed to be satisfied. "They told me, 'We'll just take a quick look through your stuff again and then we'll send you back to your hotel in Chengdu.' Then one of the officers said, "What's this?" He was holding up Wen's external hard-drive. Wen's slim hope that that she wouldn't be sent to prison began to fade.
While the police were out of the room checking the contents of her hard-drive, she decided to use the time to try to get to know the two police officers who she'd traveled with from Kardze. "I wanted them to feel guilty about putting me away. I wanted to show them that I'm not a bad person and that I don't deserve to go to prison. They gave me cigarettes and told me how much they envied me for being so young and having traveled all over the world. They kept asking me questions about America, what my parents were like, things like that. I asked them the same kinds of questions; how old they were, their kids' names. The female officer played me a Britney Spears song on her pink cell phone and had me guess which one it was. I got it right. It was Oops, I did it again. We were all just hanging out laying on the bed or sitting in the recliner like we were on a road trip." The only difference was that Wen couldn't leave.
"Four and a half hours later, someone came in and said, 'Let's go. Pick up the bags'. I thought, okay this is it, they're sending me to prison. People in Dharamsala had joked, 'Be careful or we'll have to start a 'Save Wen' campaign'. I'd been like, 'Ha ha ha.'"
Wen was put in a car with four new people. The police who she'd been talking with were sent back to Kardze. "They actually looked worried as I was being swept away with these other officers. I kept asking them, 'You guys aren't coming with me?' On the drive, I kept asking questions to try to figure out what was going on. I even straight up asked them, 'Can I relax? Am I really out of trouble? You wouldn't lie to me, would you?' All they would say is, 'We were told to take to you to Chengdu. You know what you did wrong.' That wasn't very reassuring."
After about five hours, the policeman who was driving turned around to Wen and asked her what street her hotel was on. "I instantly perked up. Why would he ask me where my hotel was if he wasn't going to take me to it? On August 1st last year, 2007, I was driving on a bridge and it fell down. It was the 35W bridge in Minneapolis. My car fell 60 feet, landed upside down, and 13 people died. That was at 6 PM. When I went to the impound lot, the guy hugged me because he'd been sure I was dead by the looks of my car. And here I was at 6 PM August 1st 2008, facing another miracle escape after Chinese police had found everything they needed to convict me; everything that they put people away for. They hadn't asked me a single question about it. I couldn't comprehend it."
Wen now thinks that it was the Olympics that saved her -- that it would have looked too bad for China to put away an American Citizen on the eve of its coming out party. At the hotel, the police told her she was free to go but could she write a letter explaining why she came to China, where she went and what she did wrong? After this they invited her to dinner. "I was thinking, please just give me back my passport. But I went to dinner with them even though I didn't have an appetite." The police got a little drunk on beer and seemed to be having a jolly time. This was now approaching 30 hours of Wen being detained. She hadn't slept or eaten and she still didn't know for sure if she was going to be released.
But after dinner, the police officers took Wen back to the hotel where finally they returned her passports and cell phone. They even asked to have their picture taken with her as a memento. Her ordeal was almost over but there was one more hitch -- they needed to delete (and most likely copy) the contents of her hard-drive. They said that it was going to take all night to do this and that she should come to pick it up the next morning at nine. Wen turned up at the appointed time, after deciding that to leave without it would have looked too suspicious. "The policeman came, gave me back my hard-drive and said, 'Goodbye. It was good to meet you.' And I walked away."
As Wen put more and more distance between herself and Chengdu she slowly began to relax. By the time she arrived in India, she had convinced herself that she was safe. But she still isn't sleeping well. She can't help going over what happened in her mind, and wondering if she did the right thing. "People do stand up for what they believe in and they die for it. I didn't do that. I told them what they wanted to hear to get out of the situation. But would I have gained more insight in prison? I don't know. I lied about my involvement and what I believe in to take the easy way out. I'll never be proud of that."

Wen had vowed that if she got out of Tibet she would dedicate herself to human rights. "Human rights in Tibet have to begin with human rights in China. It's very unlikely that human rights in Tibet are going to improve on their own. Since I'm ethnically Chinese I feel like this is what I need to work on. I'm not a superstitious person but part of me feels that I've been given more than just a chance to do this work and that this is now the purpose of my life."
Rebecca Novick is a writer and Executive Producer of The Tibet Connection radio program. She is currently based in Dharamsala, India.

Popular in the Community