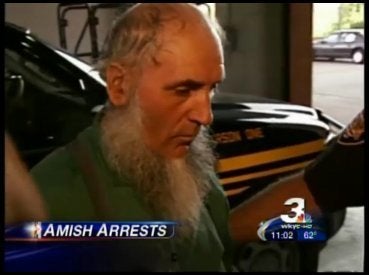 After several Amish people were held down against their will and given unwanted haircuts, police have arrested four members of a rival Amish group.
Ohio police have detained Johnny Mullet, 38, Lester Mullet, 26, Levi Miller, 53, and Lester Miller, whose age was not released, for allegedly cutting a 74-year-old's hair and beard with scissors in Holmes County, WFMJ reports.
Jefferson County Sheriff Fred Abdallah told WKYC that his deputies expect to arrest two more suspects for their roles in the beard-cuttings, which have swept through Ohio's Amish communities since September.
Amish do not shave or cut their hair for religious reasons, and many have considered these incidents an attack on the victims' religious identity.
"This message is going to be sent, Amish people are not going to tolerate this," Abdallah told the station.
Last week, Abdallah told HuffPost Crime that the suspects were members of an Amish splinter group lead by bishop Sam Mullet.
Mullet was not described as a suspect in the attacks, which count two Amish bishops among the victims.
But Abdallah said Mullet "calls all the shots" for his followers in the community of Bergholz.
In an interview before the arrests, Mullet denied involvement in the beard-cuttings and told WKYC that they are a religious matter, not a criminal matter.
"It's all religion -- that's why we can't figure out why the sheriff has his nose in it," Mullet told the station. "It started with us ex-communicating members that weren't listening or obeying our laws. That's where it all started."
The suspects are reportedly being held on $250,000 bond.
WATCH: Local news coverage of the arrests
(EDITOR'S NOTE: In this WKYC video, a reporter says police will use an officer who speaks "Dutch" in order to communicate with the Amish suspects. Many members of Amish communities speaks a dialect of German known as Pennsylvania Dutch.)



VIDEO: Amish Infighting Leads to Beard Cutting
Related
Popular in the Community