North Dakota authorities on Wednesday said they arrested 76 Dakota Access Pipeline protesters who staked out a new encampment on land owned by the company building the project.
Morton County sheriff's deputies said "rogue protesters" were seized without injury after twice refusing warnings to leave the property, known as Cannonball Ranch.
"We said, 'It's private property. The owner does not want you here. It's against the law,'" sheriff's spokesman Rob Keller said. "We said, 'It's your responsibility now. We have warned you.'"
Most were being charged with criminal trespassing. They were still being booked Wednesday evening and being shipped to jails around the state, Keller said.
The new camp, which protesters called "Last Child Camp," is near Oceti Sakowin camp, the largest settlement of pipeline opponents. That encampment, however, is on federal land.
The Standing Rock Sioux, which for months encouraged supporters to join the fight against the 1,172-mile pipeline, asked campers to leave to avoid spring flooding and offered those who stayed an alternate location on their reservation.
The tribe has argued that the $3.7-billion pipeline, which is nearly complete, threatens drinking water and violates tribal rights established under an 1857 treaty.
One person arrested Wednesday was former congressional candidate Chase Iron Eyes, a member of the Standing Rock Sioux.
Protesters called the encounter a "raid" on social media. Photos showed a snowy landscape with protesters, or "water protectors" as many prefer to be called, squaring off against officers in riot gear.
President Donald Trump signed an executive action last week that might nullify Obama's decisions regarding the pipeline and allow the company to resume construction. The Standing Rock Sioux tribe has vowed to challenge Trump in court.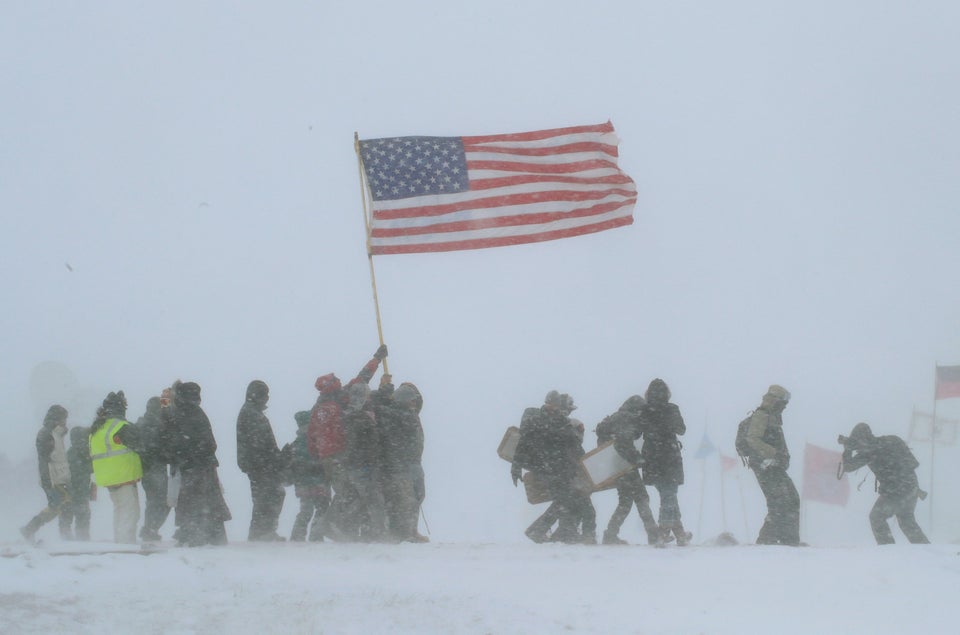 Blizzard In Standing Rock
Popular in the Community