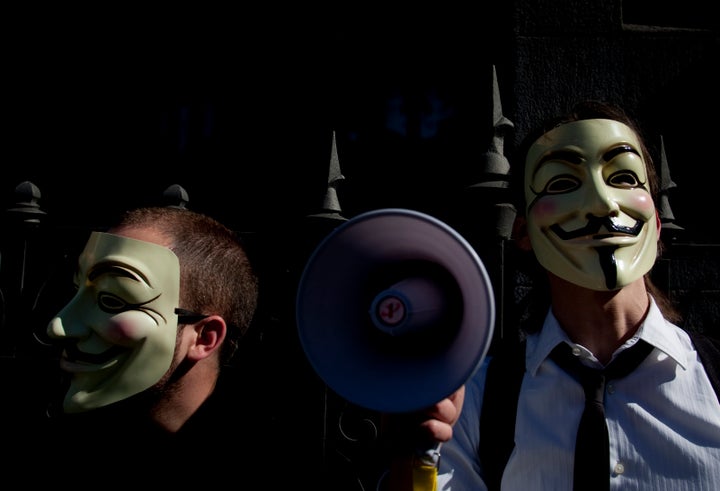 The arrests of 14 suspected members of the hacker group Anonymous on Tuesday could help authorities make inroads in the shadowy hacker collective, but don't expect the group's high-profile cyber attacks to end anytime soon, experts say.
The arrests of the suspected male and female hackers, ranging from 20 to 42 years old, could ratchet up pressure against Anonymous, causing divergent reactions from its remaining members, said Gabriella Coleman, an assistant professor at New York University who studies Anonymous and other hacker groups.
"Some people surely will get scared off," Coleman said. "Others will feel more emboldened to fight the fight."
"But I don't think at the moment it's going to slow things down," she added.
The charges announced Tuesday of conspiracy and intentional damage to a protected computer date back to December, when Anonymous members brought down PayPal's website for four days in retaliation for the company suspending payments to the whistle-blower site Wikileaks. The group called the attack "Operation Avenge Assange," in reference to the Wikileaks founder, authorities said.
The arrests took place in Alabama, Arizona, California, Colorado, Washington D.C., Florida, Massachusetts, Nevada, New Mexico and Ohio, according to the U.S. Department of Justice. Two other arrests were made unrelated to the PayPal attack, authorities said.
The arrests were part of a widening probe of cyber attacks aimed at major corporations and government agencies. The coordinated sting included another arrest in Britain, four arrests by the Dutch National Police Agency and more than 35 search warrants executed by the FBI in the United States, authorities said.
Experts said those arrested Tuesday did not appear to be high-level members of Anonymous or members of the splinter hacker group LulzSec.
LulzSec claimed to disband last month, but made noise again this week by hacking into the website for The Sun, a tabloid owned by News Corp., and publishing a fake story claiming the media company's owner, Rupert Murdoch, was dead. Earlier this week, LulzSec said it also planned to release emails stolen from a server belonging to News Corp., which has been engulfed in a phone hacking scandal.
After hacking The Sun, the group challenged Murdoch on Twitter: "Arrest us. We dare you. We are the unstoppable hacking generation."
Chris Wysopal, the chief technology officer of the security firm Veracode, said those arrested were likely inexperienced hackers who simply downloaded software causing PayPal's site to crash by flooding it with traffic -- a technique known as "distributed denial of service."
"They're just cannon fodder," Wysopal said. "There are probably hundreds more just like them who aren't very sophisticated but want to be associated with the group."
Wysopal said the arrests could have "a chilling effect" on lower-level members who now might think twice about following orders from Anonymous. But he predicted the sting would have little effect on the group's overall operations, "except that people might be a little more cautious."
Experts said the hackers likely carried out the attacks against PayPal from their home computers, making it easier for authorities to trace.
Authorities will likely try to use the arrests to glean more information about other attacks carried out by the group. But because Anonymous members know almost nothing about each other, they may not be able to lead authorities to the group's more experienced hackers, experts say.
"They are less likely to posses actual intelligence because of the layers of anonymity involved," said Michael Tiffany, chief architect at Recursion Ventures, a security technologies company.
Matt Harrigan, chief executive of the security firm Critical Assets, said it was inevitable that authorities would catch members of the hacker collective, which he described as "a lot of very young people who have very strong opinions on social, political and economic situations."
"If you piss off the same people frequently enough you'll put yourself in a position to be compromised," Harrigan said.
What may have pushed authorities to action was the group's announcement this week that they planned to create their own social network after their account was suspended on Google's new social network Google Plus. Harrigan called the announcement "a slap in the face" to authorities.
"It was just one more way of saying, 'We know you're not going to catch us,'" Harrigan said.
In coming months, Harrigan said he expected activity from Anonymous to occur sporadically, at least "until they find something else they're really angry about."
Popular in the Community