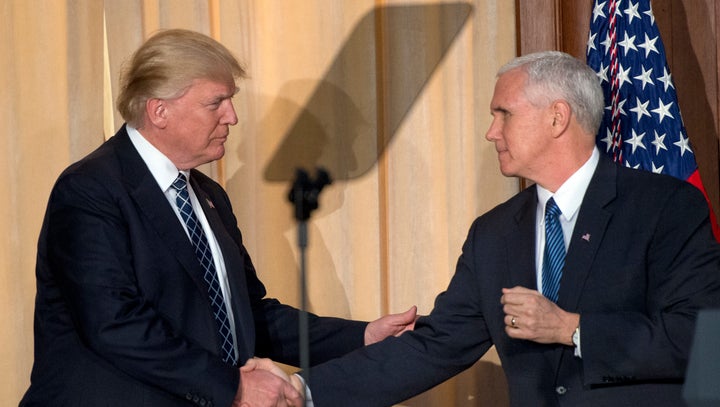 Mike Pence, the fundamentalist Christian whose views are so extreme that he cannot be alone with a woman other than his wife, and Donald Trump, who brags about sexually assaulting women and famously stumbled over an attempt to quote a biblical passage while on the campaign trail, seem to hold wildly divergent religious views. Yet both adhere to variations of Christianity inflected with arrogance. Together they represent two troubling trends in American Christianity, trends which appear to prove all the complaints secular liberals ever leveled against Christians.
Pence adheres to biblical literalism. Put simply, this view asserts that the Bible is a transparent document, one that prescribes specific behavioral guidelines. Glossing over the fact that the Bible is a complex text built of ancient fragments brought together by human hands, that it does not speak directly to many modern issues, and that even on its own terms it encompasses numerous contradictions, these Christians confidently declare that the Bible provides clear guidance for every Christian. Literalists arrived at this position only relatively late in Christian history, in response to various challenges from many quarters, including biblical scholarship, advances in science, and a rise in unbelief. Cutting through the complexities and the need to make choices, literalists declared all choice to be false and all discussion to be error. It was a comforting if simplistic and authoritarian solution to the problem of uncertainty.
Its arrogance lies in the hubris of those who believe that only their chosen answers are correct. Its potential to harm others comes when adherents gain political power and force their mandates on nonbelievers. One of the many dangers emanating out of the Trump White House is the power of Pence to impose not his religion but the behaviors his religion dictates onto the rest of us. Women's rights and gender equality are on Pence's hit list.
Trump's religion, although very different, is similarly alarming. Unsurprisingly Trump accepts a religious viewpoint that tells him he is uniquely awesome. Whatever he has—however he acquired it—God wants him to enjoy to the fullest. Although traditional Christian social practice mandates that believers exercise humility, charity and other virtues that put others before self, Trump's faith rejects all curbs on self-indulgence and self-aggrandizement. This religious position, known as Prosperity Theology, is newer than Pence's literalism. It preaches that God wants the rich to be not only rich but selfish. Its attraction to a man like Trump—born to wealth, selfishly guided by his own desires, endlessly demanding that others adore him but never judge him—is transparent.
"Trump accepts a religious viewpoint that tells him he is uniquely awesome."
The arrogance of Trump's faith can be found in its elevation of the financially successful individual above all others. The rich are rich because God wants them to be so, and he furthermore wants them to enjoy that wealth without qualms or any sense of obligation to others. A religion for the arrogantly wealthy, Prosperity Theology ignores much traditional Christianity. It must brush off Jesus's parable (Matthew 19:24). In that Gospel, Jesus said "It is easier for a camel to go through the eye of a needle, than for a rich man to enter into the kingdom of God." With this warning, Jesus cautioned that the wealthy had to confront additional temptations unique to them, the temptations of arrogance, selfishness, and greed. In this life their road was easier, but their prospects in the next life were dimmed, if they just enjoyed their wealth without regard for others. Prosperity preaching asserts precisely the opposite: take what you can grab and if you succeed, enjoy it without a second thought, for your success proves you have God's blessing.
Pence's arrogance leads him to believe that he knows exactly what God wants us all to do and that he ought to force that on us if he has the power to do so. Trump's faith simply endorses his own self-regard, elevating his personal whims to God's desires. The political marriage of the two men is obviously one of expedience, given the great disparities in their beliefs and goals. Yet between them, they can do a great deal of damage. Arrogant self-righteousness and egotistical self-regard together wield power over the rest of us.
Little wonder that the pope has been modeling Christian humility and singing the praises of Christian charity, or that the supporters of these two find his lessons in what it means to be a Christian so infuriating.
Popular in the Community