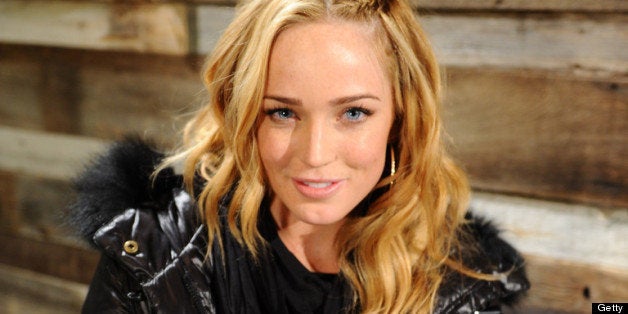 Actress Caity Lotz is set to play the alter-ego of Dinah Drake Lance on The CW superhero series, The Wrap reports. According to the website, Lotz will recur as the Black Canary on "Arrow's" upcoming second season. She is expected to eventually become a series regular, since her character is a potential love interest for Oliver Queen/Arrow (Stephen Amell).
UPDATE: In an interview with TV Guide, executive producer Andrew Kreisberg revealed that Lotz will not play Dinah Drake. "There's been a bit of misinformation printed out there," he said. "The character [Lotz is] playing is really the beginning of the story of the Black Canary ... Everyone knows that Laurel Lance is the Black Canary ... But how we get from A to B is the story of our show ... Laurel Lance right now is a lawyer with a lot of heart and a lot of humanity and courage. But it takes more than that to put on the mask and go out and fight crime. Our series is the evolution of that. People will see how Caity Lotz fits into Laurel's journey along the way. For us, it's very emotional and surprising and exciting. I would say to everybody, we haven't let you down so far. Keep going on this ride with us."
The Black Canary character, who possesses the superhuman ability of a super sonic scream (a.k.a. the "Canary Cry") that can shatter objects and incapacitate her opponents, has been buzzed about since Cassidy was cast as Laurel.
"I definitely would like that to happen somewhat soon because I think it would be cool to kick some ass as a woman and turn into the Black Canary," Cassidy told IGN in the fall of 2012. "However, story-wise, I think they're going about it the right way. You never know. They're writers. They change their minds. They can do anything!"
Around the same time, Cassidy told reporters, (via KSiteTV) "When -- if [she becomes Black Canary] is always still a question ... I try not to think about that at this point because I think sometimes I can get in my own way if I over-think it. I think as far as the Black Canary goes, it will probably happen very organically. I know that Laurel is very strong, very tough. She comes from a middle class family; her father's a cop; she knows how to fight … It's probably going to be pretty cool."
When introducing Cassidy at "Arrow's" Paleyfest panel in March 2013, DC Comics's Chief Creative Officer and moderator Geoff Johns called her the "Black Canary to be," according to TV Guide. But "Arrow" co-creator and executive producer Marc Guggenheim noted that the Black Canary develoment "has to be earned. It has to be real." Executive producer Andrew Kreisberg added, "For Laurel, where she's at right now, we don't want to do disservice to Laurel or Oliver that she could have a bad day and put on fishnets and just start killing people."
UPDATE 2: "Arrow" himself Stephen Amell spoke to TVLine about the Black Canary confusion on Friday and had this to say: "Everything on the show so far, be it Tommy Merlin (Colin Donnell) not becoming the Dark Archer or Thea Queen (Willa Holland) being called Speedy in the pilot, but then the introduction of Roy Harper (Colton Haynes) or even Malcolm Merlin (John Barrowman) really being the Dark Archer, everything on the show is designed to take your expectation and take the comic lore and maybe flip it on its head a little bit. But we'll see!"
As for Lotz, some may recognize her from her recurring role as Anna Draper's niece Stephanie on AMC's "Mad Men." She also starred on the MTV series "Death Valley" and will soon be seen in Screen Gems' dance film "Battle of the Year," as well as the indie movies "The Machine" and "Live at the Foxes Den."
The Huffington Post's request for comment from The CW was not immediately returned.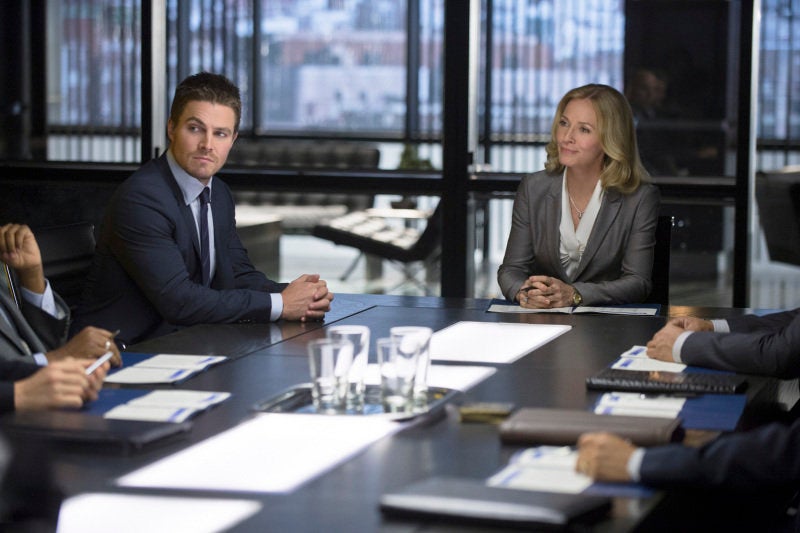 Arrow
Related
Popular in the Community