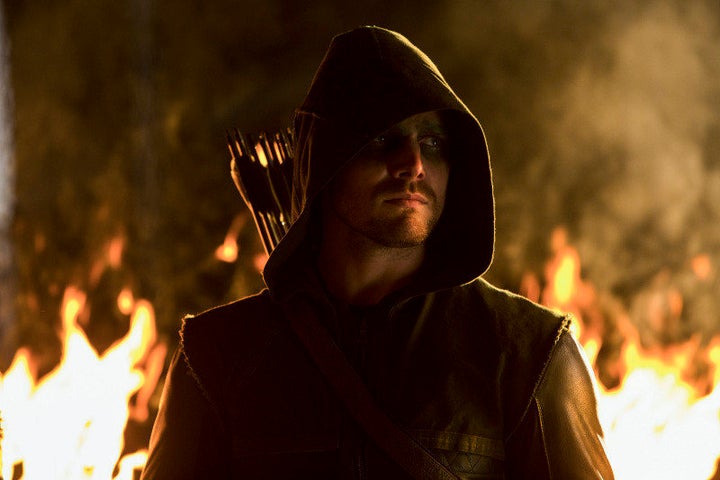 When "Arrow" (Wednesdays at 8 p.m. EST on The CW) returns with new episodes, Oliver Queen's list of enemies is going to get a lot longer.
Actors from "Fringe," "Battlestar Galactica" and "Spartacus" will be stopping by to play various villains in the next month or two, and in a few weeks, we'll see the first-ever villain team-up on the CW show, along with the return of one of Oliver's most deadly enemies and another run-in with the Huntress.
As the producers explained, when the show returns Wednesday, Oliver is at a low point -- he's even considering hanging up his bow and hoodie.
"The last time we saw him, he got his butt kicked" by the Dark Archer, Berlanti said. But having Oliver (Stephen Amell) experience serious self-doubt about his mission is all part of the "Arrow" team's overall plan for the show's first season, which will depict his evolution from "a vengeance-based vigilante to a justice-based hero," Guggenheim said.
Part of that evolution involves Oliver, the wealthy scion of the Queen family, expanding his focus beyond the list of wealthy Starling City evildoers that his father had drawn up just before his death. As we saw in the fall episode in which Oliver stopped a gang of bank robbers, the producers said he would come to realize that his calling is less about hurting the richest one percent of the city and more about helping the community as a whole begin to right itself.
"When we initially started the show, we had this engine of the list, and Oliver was going to go through and cross names off the list each week and they were always going to be one-percenters," said Guggenheim, who added that the list was always intended as the "springboard" that would occupy the first phase of Oliver's Starling City adventures. "We will always keep the one-percenter thing alive, but his trajectory as a character is probably away from that laser-like focus on the one-percenters, but that's just [so we can] tell the story of Oliver going from vigilante to hero."
Guggenheim and Berlanti -- who, along with fellow executive producer Andrew Kreisberg, form the show's brain trust -- said that over the course of the first half of the season, they realized that, to an extent, they had to reverse their ideas about how Oliver would takes steps along that road to mature heroism. As viewers saw in the show's pilot, he came back from a five-year stint on a remote island more able to fight and focus on his targets, but those aren't the only skills he needs to take on the problems affecting his city, his family and his soul.
"A very traditional model for this kind of show is, 'What does your hero learn at the end of the episode? What's the takeaway?'" Berlanti noted. "What we realized rather quickly is, we have a guy who learned a lot of things on an island so that could survive -- [things] that, in a lot of ways, he has to unlearn. So rather than have a hero who always has to learn something," he's in the process of modifying and expanding what he learned on the island in order to "regain his humanity."
That will involve, as you might expect, quite a bit of fisticuffs. The show's creative team spends a lot of time planning and storyboarding fight scenes and the time spent on that aspect of the show is "not dissimilar to the kind of time and energy they may put into musical production numbers on other shows," Berlanti said. "We always think the most successful [fights] are where you're learning something about the character through them. You're not just stopping the story, you're also learning something [them] as well."
The attention to both action and character paid off; "Arrow" is one of the few unqualified successes of the fall. The drama, which I chose as one of my favorite fall pilots, has consistently had some of the best shot and best rendered fight scenes on TV, and even if everything else that transpired last fall wasn't quite up to the level of the fine pilot or the intriguing two-episode Huntress arc, the show has been a solid slice of escapism with a brooding undercurrent of ambiguous morality. Just before it took its holiday break, the show appeared poised to mine its ample potential, and the upcoming evolution of Oliver's journey, as described by the producers, made me eager to see what transpires when the show returns.
"We were able to go through the hell of the first seven or eight [episodes] that I think you have to go to, to sort of calibrate how to make a good episode and how to make it on time and on budget and all that stuff, and [we started] to get real, true audience feedback about what people are enjoying most," Berlanti said. "So this next run of episodes is the byproduct of a conversation we've had with the audience and then also our own learning curve in terms of how to make better episodes."
What Guggenheim and Berlanti sounded most excited about was populating Starling City with a wide array of villains, some of which will come back to tangle with Oliver again. But they cautioned that the characters (who include a new villain who did not originate in the DC Comics universe) may just be early versions of who they eventually become.
"One of the things that has been fun about the show is that we introduce different characters and almost use their comic book backgrounds both to entice and surprise the audience," Guggenheim said. "For example, when we first met [Oliver's island mentor] Yao Fei, he was in the Green Arrow hood." Expect those kinds of mysterious character introductions to persist.
And expect Oliver's education to continue. As Guggenheim said, "Arrow" does not yet depict "a full-blown, fully formed hero" yet (within the show, his vigilante character is simply called "the Hood" at this stage). Oliver will continue to struggle with whether he should impose his own moral will on the city or play by at least some of the rules of the community. Ultimately, "Arrow" is about Oliver arriving at a "more perfect moral code," Guggenheim added.
Star Stephen Amell has already formed a more perfect torso, Guggenheim noted. "It's a silly thing to note," but the show's star, who got quite a bit of notice for his killer abs, has "bulked up" his chest and upper body in the past few months. "He was an impressive physical specimen before, but he has found a new gear," Guggenheim said.
So does that mean the show will continue to do exposition downloads while a shirtless Oliver works out in his secret hideout? In a word, absolutely.
"If they can do sexposition on 'Game of Thrones,' we can do abs-position on 'Arrow,'" Guggenheim said with a laugh.
In the podcast below, we talked even more about the politics of "Arrow," the relationship between Oliver and Laurel (Katie Cassidy) and how the show compares to the comic book. If you just want the highlights regarding what's next -- and who's next -- for Oliver Queen, here's the lowdown on the rest of the season and what's coming up for key characters and guest stars.
At least one other person (aside from Diggle) will learn Oliver's secret identity fairly soon, the producers said.
The villain in Wednesday's episode uses fire, which is a special challenge for Oliver. "We thought: What's more scary than fire? And also: Let's make things doubly difficult. Let's have him confront a villain he can't punch. He doesn't have a fire-extinguisher arrow," Guggenheim said.
Ben Browder ("Farscape") guest stars in Episode 11 as Diggle's former commanding officer and mentor. John Barrowman, who's been appearing as Tommy Merlyn's father (Malcolm Merlyn/Dark Archer), will also be in that episode.
Seth Gabel arrives as "the Count" in Episode 12, and he will almost certainly be back. Count Vertigo, a character from the comics, is the loose basis for this villain, but it sounds as though the writers have some tricks up their sleeves when it comes to the Count, whom Gabel discussed in this recent interview. "We love Seth and his interpretation of the character and the Count was always introduced with the plan to make him a recurring villain. In fact, Episode 12 ends with a set-up for his next appearance," Guggenheim said. "Seth plays the character with a lot of flair and it's a new color for the show. Those people who think the Arrow is all about business suited one-percenters will really want to check out this episode."
David Anders ("Once Upon a Time") arrives in Episode 14, and he'll play a brand-new villain created specifically for the TV show. "We wanted to have a villain who was purely sociopathic and without conscience and limitations, but also someone who was so incredibly smart that his tactics and the intelligence of his strategy would rival Oliver's tactics and ability to strategize," Guggenheim said. "We'd been having so much fun with established DC villains that we thought it was time to create someone new and add a new toy to the toy box. The fun about Vanch is that he's absolutely ruthless, but at the same time, a great tactician. He's the thinking man's villain."
Manu Bennett, best known to "Spartacus" fans as Crixus, arrives in Episode 13. He's playing Slade Wilson/Deathstroke -- or is he? "I'd caution against making any assumptions about the role he's playing," Guggenheim said. "We're a bit crafty over here at 'Arrow' and we've demonstrated a certain fondness for using people's comic book-based expectations against them. That said, Oliver will make a shocking discovery about Manu's character that will completely change how much -- or even whether -- he can trust him."
James Callis appears as the Dodger, a jewel thief, in Episode 15. There are no specific plans at the moment to bring him back, "but Andrew and I were watching James' first day of [shooting] and immediately vowed to bring him back. He's terrific," Guggenheim said. "The Dodger is a new type of adversary for us. He offers a slightly lighter touch than previous villains we've had on the show, but James really grounds him with an air of menace that makes the Dodger fit with the tone we've established in the first 14 episodes."
Haynes ("Teen Wolf") arrives as Roy Harper in Episode 15 as well. Hey, wasn't Harper known as Speedy in the Green Arrow DC comics? And hasn't Oliver's sister Thea also been called Speedy on the TV show? Yes and yes. The producers wouldn't say much more, but they did offer that Thea meets Roy, who's from the rough part of town and who is a potential love interest for her, after he steals her purse. Aww, what a meet cute!
Supervillain alert: There will be a team-up between Deadshot and China White in Episode 16. Yes, Deadshot is not dead -- he's going to return with "an all-new look," Guggenheim said, and the show will address how he can do what he does with only one eye.
There will be a new development in the life of Diggle (David Ramsey) that "affects him pretty profoundly," Berlanti said.
Thea's arc will change "fairly immediately" as the show begins to give her more things to do (more than complain, that is -- and fixing that repetitive problem was near the top of the writers' to-do list, Guggenheim said). In Wednesday's episode, "she has this terrific scene with [her mother] Moira, which takes all their previous scenes and turns them on their head," Guggenheim said. Thea (Willa Holland) will soon have more people in her orbit and a wider variety of storylines (including one in which she gets in trouble with the law).
Felicity Smoak (Emily Bett Rickards), the computer expert Oliver's been consulting lately, has "a big role to play in the second half of the season," Guggenheim said. "Of course, she'll continue to be Oliver's unwitting assistant, but also remember that, thanks to Walter, she has a copy of the Second Notebook."
When will we see a GLBTQ character on "Arrow"? Yes, that's certainly on the producers' list of things to do. "As an out writer/producer, that's always important to me, but it's also equally important to do it in a way that's fresh and interesting," Berlanti said. What they want to do is have the character be someone who works with Oliver and someone viewers see regularly, not just a villain fans might see only a couple times per season. "Hopefully we'll get to introduce the character before the end of year," Berlanti added. "It's definitely high on our priority list."
Speaking of Moira Queen (Susanna Thompson): "Viewers who are wondering when Oliver is going to realize his mom is naughty will want to pay particular attention to Episodes 12 thru 14," Guggenheim said.
Will Laurel evolve into the Black Canary? Will Tommy (Colin Donnell) start becoming a villain this season? We talked about those things at greater length in the podcast, but the important thing to know is that developments related to Tommy and his father "form the spine" of the rest of the season, according to the producers. "He doesn't know that his dad is the Dark Archer. What's going to happen if and when Tommy makes that discovery? How does his father's uber-scheme affect Tommy? Those are the questions we're raising [when the show returns] and then driving to our big finale," Guggenheim said.
"Arrow" returns 8 p.m. ET Wednesday on the CW.
Related
Before You Go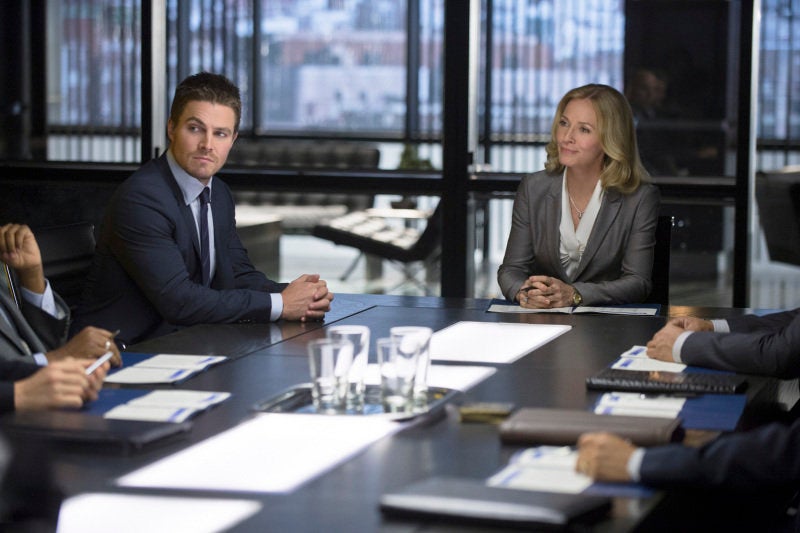 Arrow
Popular in the Community