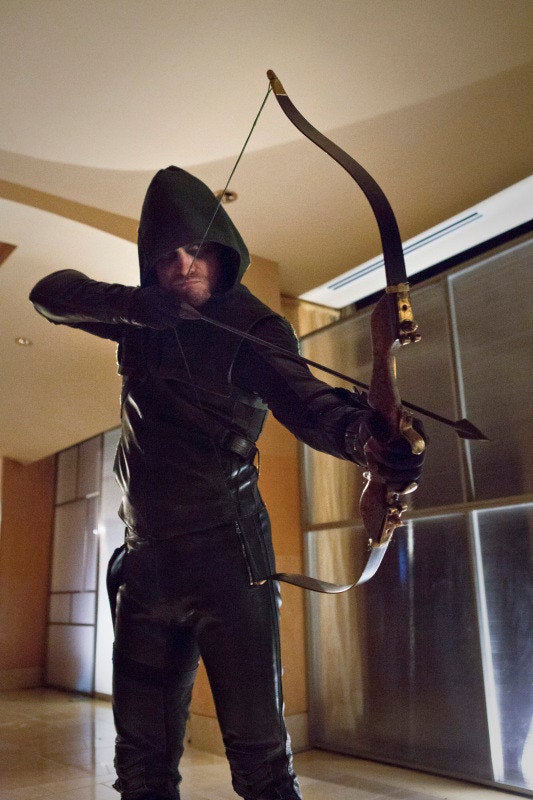 As the Chief Creative Officer of DC Comics, Geoff Johns is a busy man. In addition to shepherding DC's various non-comics properties into development and writing the relaunched "Justice League" (and its "Shazam" backup feature) every month, the prolific writer has contributed two episodes to The CW's "Arrow" thus far -- "Muse of Fire," which introduced The Huntress (Jessica de Gouw), and tonight's "Dead to Rights" (Wed., Feb. 27 at 8 p.m. EST), which sees the return of China White (Kelly Hu) and Deadshot (Michael Rowe).
The Huffington Post spoke with Johns to find out what "Dead to Rights" has in store for Oliver Queen (Stephen Amell) and his hooded alter-ego, and why this episode is the show's riskiest installment yet.
What can you preview about this week's episode without giving too much away?
One of the key words for this episode is probably "risk." There are a lot of risks taken by the characters and by this story in this episode and the amount of reveals and the amount of twists and turns that happen. There's quite a few in there, so it's very action driven, but I think emotionally-charged, which is a nice balance. I think Glen Winter, the director, really captured that wonderfully, especially in the last two scenes, which were some of the best performances I've seen of these guys in the series.
How do you think collaborating with Glen Winter again helped the episode?
Because Glen and I worked previously together on "Smallville" -- we worked on a couple episodes there -- we've always had a very good working relationship. So I knew what Glen was capable of and I wanted to just give him the best possible story that he could visualize and translate, and he did a stellar job. He's just grown leaps and bounds. He's a fantastic director in his own right, and when the episode came up and [the executive producers] were like "Glen's going to direct this," I was 150 percent on board because I absolutely love working with Glen. I mostly do comics and it's like working with a fantastic artist -- you trust them to help you tell the story and elevate the story and that's what Glen is to me. He's an A-list artist.
I feel like this is a dream episode for comics fans in terms of references and returning characters -- and judging by your "Smallville" episodes and comic book work, you excel at stories that widen a project's universe in that way. Was it a conscious decision between you and the producers to have you write this episode, or was it just a coincidence in how the season shook out?
Yeah, it was done with purpose. Greg [Berlanti] had called me about this episode and offered it to me and we talked a little bit about what it would be and what it could be. In "Smallville," we introduced brand new characters and in this, we kind of go deeper into the characters and introduce some revelations, but actually, at the very end, we do introduce a DC character into the mix in a way that hardcore fans will know.
While you're writing, how do you approach which characters to feature prominently and which to just namedrop as you do at various points in the episode?
For me this episode is all about Oliver and Tommy (Colin Donnell), and that relationship and, for Oliver, balancing a life that I don't know if he can really balance, [especially] if he's also focused on starting a new relationship with McKenna (Janina Gavankar). His friendship with Tommy is going to get a little off. It's hard to juggle everything he's juggling. So really, it was a focus on those two characters and then everything else around it.
The episode features some great scenes between Oliver and McKenna -- there's such a sweetness between them that wasn't there between him and Helena, because she's so messed up in so many ways. What do you like most about their relationship?
I like that they're two people who are very passionate and diligent and strong. It's a really interesting relationship I think because both of them are such independent characters in their own right, and they found each other and enjoy each other and like spending time with one another. I admire both of them in a way and they're a very good couple. Their lives with badge on and with the hood up are extremely complicated, and of course, that's what's going to make it a lot of fun to watch. How does that play out? What happens? I think they're great actors together too. They have a nice on-screen chemistry.
There's also a lot of fun stuff between Oliver and Slade [Manu Bennett] on the island. What are you enjoying most about exploring their dynamic?
I love the contrast between seeing Oliver now and then you cut back and you see him ... Stephen just portrays it well. He seems a little soft, he's out of his element, he's worried, but you can start to see, especially this episode, he's starting to try. He's starting to fight back a little bit and if Slade says "forget it," he's like, "I'm not going to forget it. I'm going to try!" He's going to kick the door in and try and I think we're seeing that spark start to grow -- and soon hopefully we'll see the fire -- that transforms him into Green Arrow. It's also fun to see Stephen with long hair ... I just love seeing the contrast between those two characters. They're two sides to the same coin.
"Arrow" airs Wednesdays at 8 p.m. EST on The CW.
Come back to HuffPost TV at 9 p.m. EST when we'll have a post-mortem with Johns to discuss the episode's biggest moments in-depth.