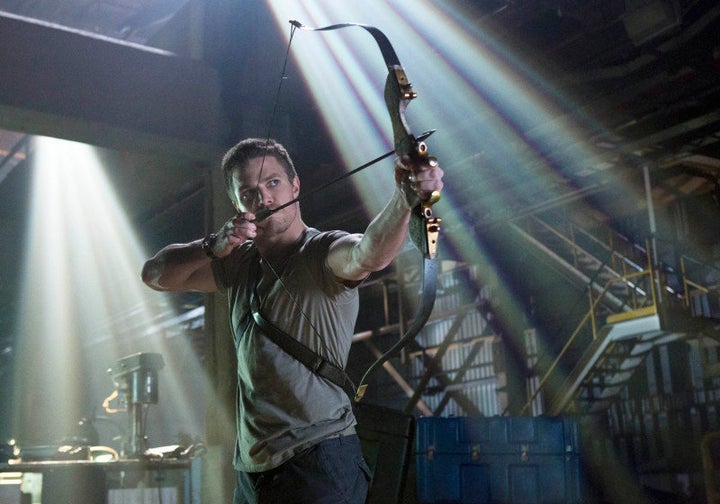 Has The CW hit the bullseye with "Arrow"? Judge for yourself and watch the preview for the network's new series based on DC Comics' "Green Arrow" below.

The CW will pair "Arrow" with "Supernatural" on Wednesday nights. Tuesday nights will be full of medical drama with "Hart of Dixie" and Mamie Gummer's new series "Emily Owens, M.D." Meanwhile, new drama "Beauty and the Beast" starring "Smallville's" Kristin Kreuk joins "The Vampire Diaries" on Thursdays.
"The Carrie Diaries," the prequel to "Sex and the City" about Carrie Bradshaw as a high schooler, will join The CW Mondays in January 2013. New drama "Cult" will also bow midseason. Click over here for the full CW schedule.
Check out the trailers and official descriptions for The CW's new shows below:
"Arrow"
After a violent shipwreck, billionaire playboy Oliver Queen was missing and presumed dead for five years before being discovered alive on a remote island in the Pacific. When he returns home to Starling City, his devoted mother Moira, much-beloved sister Thea, and best friend Tommy welcome him home, but they sense Oliver has been changed by his ordeal on the island. While Oliver hides the truth about the man he's become, he desperately wants to make amends for the actions he took as the boy he was. Most particularly, he seeks reconciliation with his former girlfriend, Laurel Lance. As Oliver reconnects with those closest to him, he secretly creates the persona of Arrow - a vigilante - to right the wrongs of his family, fight the ills of society, and restore Starling City to its former glory. By day, Oliver plays the role of a wealthy, carefree and careless philanderer he used to be - flanked by his devoted chauffeur/bodyguard, John Diggle - while carefully concealing the secret identity he turns to under cover of darkness. However, Laurel's father, Detective Quentin Lance, is determined to arrest the vigilante operating in his city. Meanwhile, Oliver's own mother, Moira, knows much more about the deadly shipwreck than she has let on - and is more ruthless than he could ever imagine.
"Emily Owens, M.D."
At long last, Emily Owens feels like she is an actual grown-up. She can finally put her high school days as the geeky-girl-with-flop-sweats behind her; she's graduated from medical school and is now a first-year intern at Denver Memorial Hospital, where she'll have the chance to work with world-famous cardiologist Dr. Gina Beckett - and where, not-so-coincidentally, her med-school crush Will Rider is also an intern. So why does everyone keep warning her that the hospital is just like high school? Emily soon finds out the hard way - her high school nemesis, the gorgeous, popular Cassandra Kopelson, is also just starting out at Denver Memorial, and it seems like they're rivals all over again - not only as surgical interns, but for Will's attention. Fellow intern Tyra Granger warns Emily that the cliques at Denver Memorial are all too familiar: the jocks have become orthopedic surgeons; the mean girls are in plastics; the rebels are in the ER, and Tyra has her own awkward place as the principal's kid - her father is the chief resident. Emily's the new kid all over again, and it's just as awkward as high school. Only this time around, Emily will have to balance the personal and emotional turmoil of social politics with the high-stakes world of life-and-death medical decisions. At least she has fellow intern Tyra and nerdy-but-cute resident Micah, to count on as friends. Emily is growing to realize that although she may be a geek, she may also grow to be a great doctor, flop sweats and all.
"Beauty and the Beast"
Detective Catherine Chandler is a smart, no-nonsense homicide detective. Several years earlier, Catherine witnessed the murder of her mother at the hands of two gunmen. Catherine would have been killed too, but someone - or something - saved her. No one has ever believed her, but she knows it wasn't an animal that attacked the assassins...it was human. Years have passed, and Catherine is a strong, confident, capable police officer, working alongside her equally talented partner, Tess. While investigating a murder, Catherine discovers a clue that leads her to a handsome doctor named Vincent Keller, who was reportedly killed by enemy fire while serving in Afghanistan in 2002. Catherine learns that Vincent is actually still alive and that it was he who saved her many years before. For mysterious reasons that have forced him to live outside of traditional society, Vincent has been in hiding for the past 10 years to guard his secret - when he is enraged, he becomes a terrifying beast, unable to control his super-strength and heightened senses. Catherine agrees to protect his identity in return for any insight he may have into her mother's murder. Thus begins a complex relationship between Catherine and Vincent, who are powerfully drawn to each other yet understand that their connection is extremely dangerous for both of them.
MIDSEASON SHOWS (trailers not yet available)
"The Carrie Diaries"
It's 1984, and life isn't easy for 16-year-old Carrie Bradshaw. Since their mother passed away, Carrie's younger sister Dorritt is more rebellious than ever, and their father Tom is overwhelmed with the responsibility of suddenly having to care for two teenage girls on his own. Carrie's friends - sweet, geeky Mouse, sarcastic and self-assured Maggie and sensitive Walt - make life bearable, but a suburban life in Connecticut isn't doing much to take her mind off her troubles. And even though the arrival of a sexy new transfer student named Sebastian brings some excitement to Carrie's world, she is struggling to move on from her grief. So when Tom offers Carrie the chance to intern at a law firm in Manhattan, she leaps at the chance. Carrie's eyes are opened wide at the glamour and grit of New York City - and when she meets Larissa, the style editor for Interview magazine, she's inspired by the club culture and unique individuals that make up Larissa's world. Carrie's friends and family may have a big place in her heart, but she's fallen in love for the first time with the most important man in her life - Manhattan.
"Cult"
Investigative journalist Jeff Sefton has learned to laugh off his brother Nate's relentless string of obsessions, especially his latest rant that a hit TV show intends to harm him. However, when his brother mysteriously disappears, Jeff takes Nate's paranoia seriously, and in the process uncovers the dark underworld of the TV show "Cult" and its rabid fans. The only person who seems willing to help Jeff with his investigation is Skye, a young research assistant for "Cult," who has also started to grow suspicious of the increasingly dark happenings surrounding the show. The fictitious show, centered on the cat-and-mouse game between charismatic cult leader Billy Grimm and LAPD detective Kelly Collins, has become an obsession for its viewers - and now some of its devotees seem to be taking their fixation to deadly extremes in the real world. As Jeff and Skye dig deeper into the fan world, they discover that the gruesome plot twists on television are much more than fantasy for some very unfortunate people. The hardcore fans of "Cult" would kill to see what happens next... The series stars Matt Davis ("The Vampire Diaries") as Jeff Sefton, Jessica Lucas ("Melrose Place," "Cloverfield") as Skye Yarrow, Alona Tal ("Supernatural," "The Killing") as Kelly Collins and Robert Knepper ("Prison Break," "Shameless") as Billy Grimm. CULT is from Fake Empire and Rockne S. O'Bannon Television in association with Warner Bros. Television and CBS Television Studios, with executive producers Rockne S. O'Bannon ("Farscape," "V"), Josh Schwartz ("Chuck," "Gossip Girl"), Stephanie Savage ("Hart of Dixie," "Gossip Girl"), Len Goldstein ("Hart of Dixie") and Jason Ensler ("Franklin & Bash," "Hart of Dixie"). The pilot was directed by Jason Ensler and written by Rockne S. O'Bannon.
What do you think of the new shows? Which ones are you most excited for?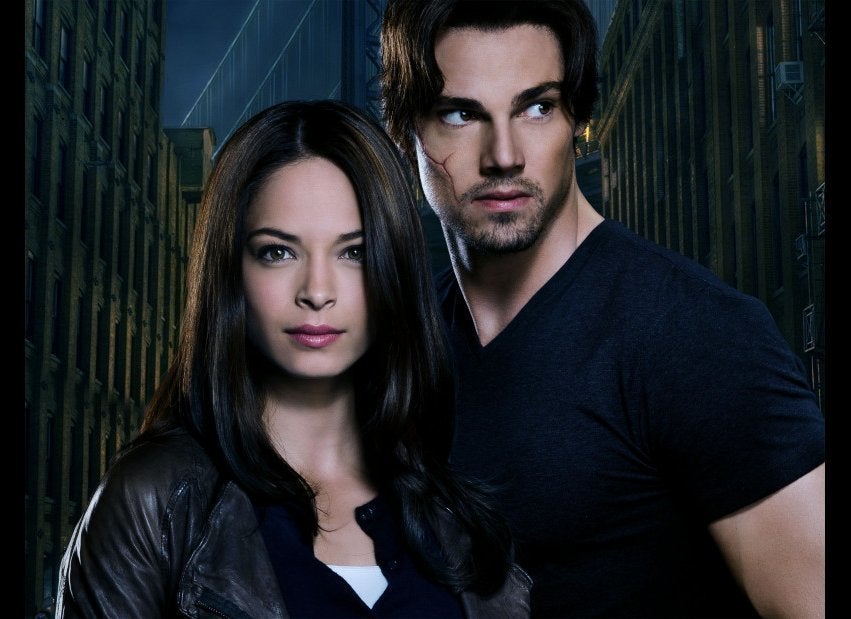 Popular in the Community