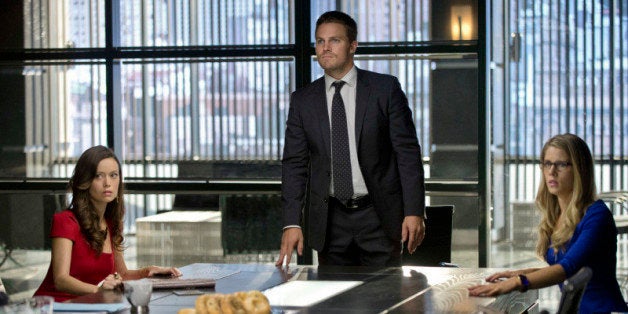 "Arrow" Season 2 returns tonight (Wed., Oct. 9 at 8 p.m. ET on The CW) and in the five months since the devastating Season 1 finale, a lot has changed for Oliver Queen (Stephen Amell) and the other inhabitants of Starling City.
The Season 2 premiere, titled "City of Heroes," is a great jumping on spot for new viewers, since it repositions many of the major characters and lays out a new trajectory for Oliver as he struggles to find his place in the world following the death of his best friend, Tommy Merlyn (Colin Donnell), and the incarceration of his mother, Moira Queen (Susanna Thompson), for her role in The Undertaking -- a plan to destroy the poorest part of the city, The Glades, with a man-made earthquake -- an act that inadvertently resulted in Tommy's death.
Executive producer Andrew Kreisberg likened the show to a comic book, with many different chapters in Oliver's journey towards becoming the hero that DC Comics fans know and love. "Season 1 really was one chapter and this is a brand new book ... We definitely tried to make the episode as user-friendly [as possible] for people who haven't seen Season 1, or had maybe started watching the DVDs over the summer," he said. "It really is a fresh new story ... Obviously, there's some names and some events that will be referred to that people will have to catch up with. But it really feels like in some ways it's a brand new show."
With that in mind, here are six things you should know about the "Arrow" Season 2 premiere, with bonus scoop from Kreisberg and actor Colton Haynes, who plays Thea's (Willa Holland) boyfriend -- and Green Arrow's eventual sidekick, if you're a comic book fan -- Roy Harper.
Retiring "The Hood"?
As viewers may have seen in various preview clips, Oliver has been absent from Starling City in the wake of the earthquake, returning to Lian Yu, the island which forged him into a vigilante in the first place, to reevaluate his choices. It's only the intervention of Felicity (Emily Bett Rickards) and Diggle (David Ramsey) that forces him out of hiding -- but he's still not in any rush to don the hood and pick up his bow again.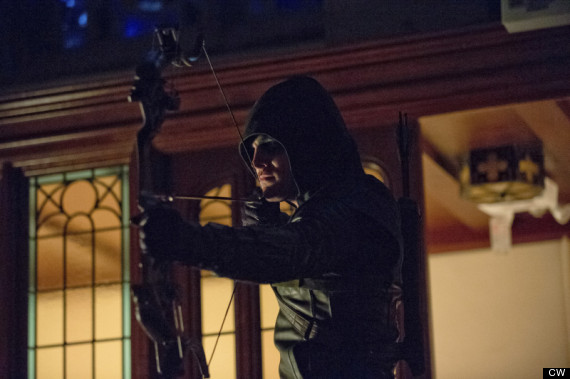 "The consequences of his actions last season are something that Oliver is going to be dealing with all of this season," Kreisberg said. "He's going to be taking a lot more responsibility for his actions in Season 2. His mission in Season 2 is ... last season it was to save the city, but I don't think he fully understood what that meant; that meant crossing names off of a list of bad people, and the city needs more than that. It needs a hero, it needs a symbol of good, it needs an example, and this season he really wants to be that."
Three's Company
Having seen the first two episodes of Season 2, we can safely say that the dynamic trio of Oliver, Felicity and Diggle is back and stronger than ever, with Episode 2 in particular offering some juicy insight into both Felicity and Diggle's roles in Oliver's life. Both characters are instrumental in forcing Oliver to face his responsibilities in Starling City, and for fans who might be hoping for something more to develop between our hero and his I.T. guru, we can preview that Oliver sweeps Felicity off her feet -- literally -- at least twice in the premiere.
Oliver's Got Some Competition In The Office ...
The Season 2 premiere introduces Isabel Rochev (Summer Glau), the Vice President of Acquisitions of Stellmoor International. She'll be a foil for Oliver, but perhaps not in the way people are expecting.
"I think what a lot of fans will be surprised about, just given Summer's background playing River or playing Cameron, is that she's not really a nemesis for The Arrow, she's really a nemesis for Oliver Queen," Kreisberg teased. "She represents the company that's trying to take over Queen Consolidated in the wake of The Undertaking ... So you're seeing Summer in a very different way than you've ever seen her before, and she's just amazing."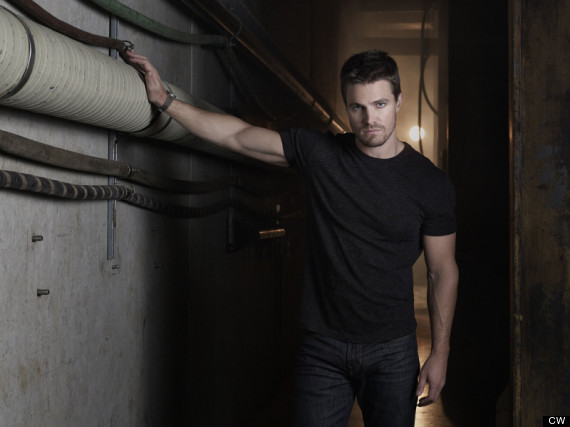 Unlike last season, there will be just as much emphasis on Oliver's real identity as on his secret one, according to Kreisberg. "The Queen family -- because of Moria's involvement in The Undertaking and because she admitted it on television -- their name is now synonymous with death and destruction. So Oliver has a real strong desire to save his company, and to save his family's name," he explained. "Last season, Oliver didn't care what anyone thought of him as a vigilante, and he really didn't care what anyone thought of him as Oliver Queen. He was happy to let people think that he was a drunk or lazy or whatever because he was solely focused on his mission. And what's interesting to us this season is that not only does he care what people think of him as a vigilante, but he also cares about what people think about him as Oliver Queen. So as hard as his life was last season, it's even harder when you're trying to set an example as both a leader of the community and as a masked superhero."
... And Out Of It
The antagonists in the premiere will hit pretty close to home for Oliver -- they've modeled themselves after his alter-ego and have called themselves "The Hoods," which doesn't do much for the vigilante's already tarnished reputation.
"I think the problem in the first episode is that he has far more guilt about letting Tommy die than he does about these copycats," Kreisberg said. "And it's really not until [something personal happens] that it shakes him out of his torpor ... The first episode is called 'City of Heroes,' and it's really, in a way, the subtitle for the season because Oliver will be faced with a lot of people who also think they're heroes and aren't necessarily going about it the best way. The season is really about Oliver finding his way, as a hero, to get to a place where he feels like he's finally being the best vigilante he can be."
Roy's The Voice Of Reason (At Least For Thea)
Roy and Thea's relationship is still alive and well in Season 2, although Roy's penchant for getting into trouble hasn't abated in the five months since The Undertaking -- if anything, he's in more danger than before this season.
"We pick up hot and heavy with Roy and Thea; [they're] definitely very into their relationship, having a lot of fun, still in love," Haynes previewed. "Roy is starting to pick up where The Arrow left off ... and he starts to get into some trouble, trying to be a little nosy, trying to be a little mini-vigilante himself, but he's not very good at it, so he's always getting pulled in by Officer Lance and questioned because he's not very stealth at getting away."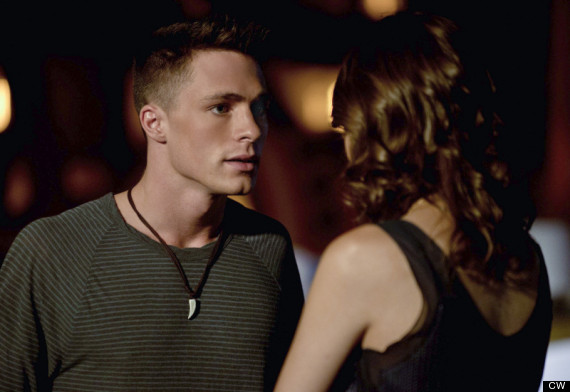 While he's still fascinated by the vigilante, he's also the one steady presence in Thea's life, especially given that her brother's been AWOL for five months and her mother's in jail. Thea's got a few issues with Moira following the events of the finale, but Roy -- who has a rocky past with his parents -- urges her to mend her relationship with her mom. "Roy's talked in a few episodes about how there's a lot of drug use in his parents' past," Haynes pointed out. "It's not that he's jealous of Thea's relationship with her mom, but he's trying to get her to see that once she's gone, she's gonna regret not having [Moira] in her life, and I think it's gonna help her get through all the other trials in her life if she [fixes] her relationship."
Laurel's Got A New Gig -- But The Same Goal
After the destruction of Laurel's workplace, CNRI, she's got a new job at the District Attorney's office, working for Dylan Bruce's Adam Donner, a man determined to rid the city of the lawless vigilantes taking justice into their own hands across Starling City. It's a goal Laurel shares, and one she'll be pursuing aggressively in the first few episodes.
"One of the fun things we've done this season is we've flip-flopped Laurel and her father," Kreisberg said. "Last season Lance (Paul Blackthorne) was hunting The Arrow, and by the end of the season they formed a bit of an uneasy alliance, and this season finds them reluctant partners in an early episode, at the same time that Laurel -- because she blames the vigilante for Tommy's death -- is hunting him full scale with her grief. So Oliver's life kind of got turned upside down, but it's going to be very difficult."
"Arrow" Season 2 premieres Wed., Oct. 9 at 8 p.m. ET on The CW.
What are you most looking forward to in "Arrow" Season 2? Weigh in below!
Calling all HuffPost superfans!
Sign up for membership to become a founding member and help shape HuffPost's next chapter