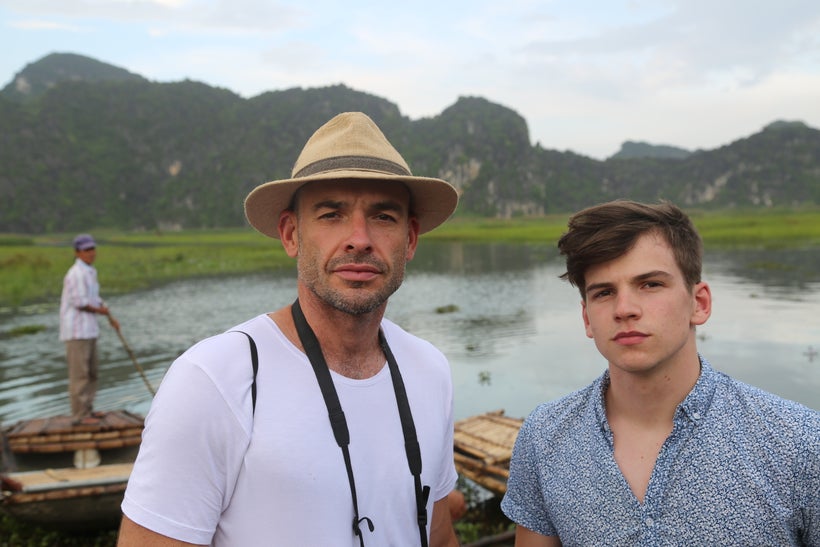 Traumatically distressing – a film clip of a rhino, with half of its face hacked off, plays in the lecture theater of Thang Long University, Vietnam. Its exposed and bloody nasal passages flare with each labored breath, and its head jerking shows its still alive.
The rhino was brutally attacked by poachers for its horn, and this record of the aftermath has been included in a new short documentary released today, called "Save the Rhino Vietnam."
Vietnam is one of the world's biggest consumers of the expensive rhino body part, which is made of the same substance as our hair and nails. The horn is trafficked into the country from Africa, then purchased for use in traditional medicine and as a symbol of status.
As well as speaking to students at the university during their time in Vietnam, Blackthorne and Dudman also went undercover to expose the village of Nhi Khe for its involvement in the rhino horn black market. They found horn freely available to purchase - at a cost of $40,000 a piece.
Their shocking discoveries were delivered in meetings to the Ministry of Natural Resources and Environment, and to the Embassy of South Africa, both of which are in Hanoi, Vietnam's capital.
"We witnessed things on our trip that people need to know," said Dudman, "Things that as of yet have gone largely untold."
Not only does the documentary investigate the sale of illicit rhino horn in Vietnam, but it also shines a spotlight on other uses of animals in the country, including the Bao Son Park Zoo (which Dudman described as being so poor that "most of the animals were lying on their sides, seemingly unable or too tired to stand"), and the Cuc Phuong Trai Restaurant that houses live snakes and turtles to be killed and served on the menu.
Dudman wants to reach as many people as possible with the insightful documentary and in particular, viewers located across Vietnam and Asia. The ultimate goal is to influence opinions and attitudes away from rhino horn as a desirable product, and to nurture a feeling of responsibility towards all animals.
"I hope that the film will educate people and encourage them to take action," Dudman said, emphasizing how he isn't just referring to the rhino poaching: "The important thing with issues like this is to keep talking about them. It's important to keep the momentum up."
And of the documentary's title, "Save the Rhino Vietnam," he said, "It's more than a name; it's a plea. It reflects Paul and I using our voices to speak up about what we're passionate about, and that's the message we want people to take away from this: If you're passionate about something, speak up!"
Find out how you can help Save the Rhino Vietnam here & watch the documentary below.
REAL LIFE. REAL NEWS. REAL VOICES.
Help us tell more of the stories that matter from voices that too often remain unheard.
This post was published on the now-closed HuffPost Contributor platform. Contributors control their own work and posted freely to our site. If you need to flag this entry as abusive,
send us an email
.