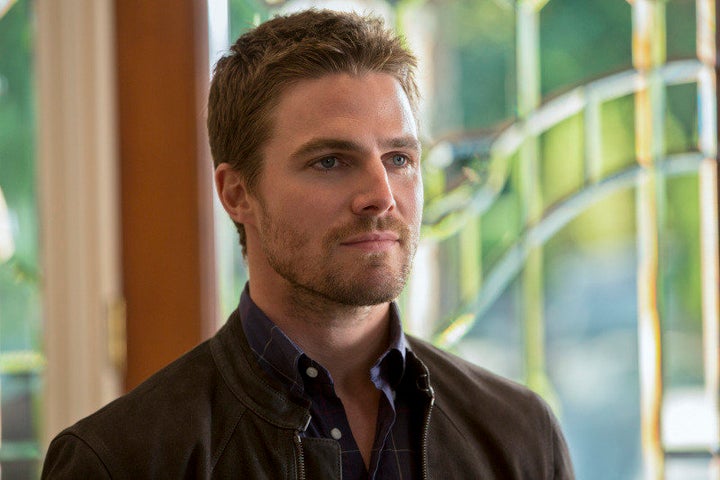 Tonight's episode of "Arrow" (Thurs., Nov. 28, 8 p.m. ET on The CW) is a momentous one for a number of reasons. Not only does it introduce another fan-favorite character from DC Comics canon -- Helena Bertinelli, a.k.a. The Huntress (Jessica De Gouw) -- and promise to reveal the identity of John Barrowman's enigmatic "Well-Dressed Man," it was also co-written by DC's Chief Creative Officer Geoff Johns, who has penned some of the industry's most iconic comic book runs, as well as a number of "Smallville" episodes.
No surprise, then, that star Stephen Amell was so enthusiastic about the installment when HuffPost TV visited the "Arrow" set in Vancouver earlier this month. Amell was preparing for a night of intense stunts on a very chilly evening, but proved charismatic, knowledgable and passionate about his craft.
Since our conversation spanned multiple unaired episodes, this interview has been condensed and divided into several parts, the first of which you can read below. In it, we discuss tonight's episode, "Muse of Fire," Oliver's romantic prospects, his new partnership with Diggle (David Ramsey) and whether anyone else in his life is likely to find out his secret anytime soon. Tread carefully; there are light spoilers ahead.
I love that the writers let Diggle in on Oliver's secret so soon -- it really seems to have opened up the world and given you a great new dynamic to play with. How are things progressing with their partnership in terms of what you've been filming recently?
Coming up in "Muse of Fire," Diggle is really questioning what I'm doing. The thing is, a lot of the times we think that he's right and that Oliver is wrong and it's because, on a larger scale, while he's interested in Diggle being his partner, he hasn't opened up to him completely about what his plan is, right? He hasn't actually let him see the book. Diggle knows there's a book, he knows there's a list, but it's not like Oliver is doing storytime with him and showing it to him. So a lot of times the viewer is lead to believe that Diggle is right -- being that he's taken the most practical approach to something -- and Oliver is wrong because he's being a little bit reticent to share. But there's almost always a reason for what he is doing. Coming up, Oliver doesn't take his advice and it doesn't work out very well. If Oliver is wrong, he'll say that he's wrong.
And Diggle isn't like, "I told you so"?
He is, but not in a vindictive way. And as we saw in [the last episode], there's a playful banter that's going on between them and that continues.
In Episode 4, Oliver and Laurel had that moment where he was in costume and he said her name and there was almost a moment of recognition, but then that kind of got swept away. Do you think, at this point, that she suspects and she's just ignoring those suspicions?
I think that she suspects there are things that he's not telling her, but I don't think that it extends to him being the vigilante right now. We've dealt with that. We've captured that for the time being, but there are obviously things about Oliver that are going to continue to intrigue her until she finds out what they are. We know what they are to a large extent so that will eventually have to come to a resolution, but for now, I think that no gasoline has been thrown on the fire for a while.
Meanwhile, tech guru Felicity Smoak (Emily Bett Rickards) seems to suspect him, and Tommy (Colin Donnell) saw a little something in the Pilot episode ...
Yeah, Tommy in the Pilot and then it calmed down from there. But there are only so many times that Oliver can request Felicity to do the same thing before ... I think straight away in Episode 3, you know, she said "This is your laptop?" "Yes." "It has bullet holes in it." "It's from my coffee shop." That's clearly BS. She knows this. But she's intrigued and, you know, evil has taken over and she wants to get to the bottom of these mysteries and be involved. So, I think if Tommy is pushing one way away from suspicion, Felicity is probably pushing more towards suspicion.
Going back to Laurel, I loved the rooftop encounters that she and Arrow had a few episodes ago. They were very iconic, almost Superman/Lois Lane-esque. You mentioned that she's intrigued, but how is their relationship developing? Oliver and Laurel have tentatively been getting closer and she seems to be trusting him a bit more since Episode 4 ...
Yeah. The Arrow and Laurel relationship has stalled. She thinks he's a killer. He doesn't totally want to realize that about himself, but that relationship is on the back burner for the time being. As far as Oliver and Laurel go, we're seeing, most importantly, a development between Laurel and Tommy. I think that if there's anything that Oliver wants right now -- above and beyond whatever his feelings are for Laurel -- it would be for her to be happy. I mean, I know people will think that it's weird -- and I don't mean viewers, I mean the people surrounding them in their lives will think that it's weird -- but I think for Oliver ... I think that's what he wants. In his ideal vision, was that with Tommy? Probably not, but in his ideal vision it wasn't with anybody, so he just wants her to be happy.
Right, he's not really in a position now to even be dating someone when he's keeping so many secrets ...
Oliver dating somebody right now would be a whole bunch of trouble, which is why "Muse of Fire" is such a cool episode.
That's a perfect segue, because Huntress is coming and at least in the comics, she was always much more violent and didn't have the same moral codes as some of the other heroes in the DCU.
A lot of people have questioned whether or not Oliver has a moral code. Oliver does have a moral code. He's not running around and hitting civilians and endangering innocent people. There's just a bottom line for him, but he's not reckless. Huntress is reckless and therein lies the difference. She is just bent on revenge while he is bent on justice. Even though there is a difference, they are two people that are at the far end of the spectrum and they do have a lot of similarities.
Does her appearance make Oliver question or reexamine the way he does things? Obviously he has killed people, even if he doesn't think of himself as a killer, per se. If he sees her being more violent, is that going to make him take a look at himself?
It doesn't make him take a look at himself as Arrow. If anything, it solidifies what he thinks as Arrow because she steps beyond it. It does change how he acts and behaves as Oliver Queen, and maybe some of the things that he hasn't been willing to do since he's been back from the island. He's opened up to Diggle, but aside from the occasional pat on the shoulder, I don't think there's a lot of affection involved in that relationship. There's certainly companionship, but he tried to open up to Laurel and that did not work. On the female side, there hasn't been anything, so this is an interesting opportunity for him and you get to see a couple of sides of him that you certainly haven't seen yet.
On the subject of companionship -- at least in terms of his family -- I found the last scene with Oliver and Moira [Susanna Thompson] in the last episode so heartbreaking, to see that tenderness in him, where he obviously wants to open up and be honest with his mom but is also pulling back and being cautious about saying too much.
Right. I really enjoyed the last episode, when Susanna has a scene with the Well-Dressed Man and it became clear that ... while she has been up to some mysterious things, to think that she was specifically targeting her family or trying to murder her son, or that she's just incredibly evil, that was obviously misguided. She's tied up with bad things, but she's not out to get anybody. So as a result, clearly she does want to have a relationship with Oliver. She'd like things to be the way that they were; he'd like things to be the way that they were but this is how it's going for him, you know? When he makes an effort ... It just would have been better if he hadn't been at the brunch in the first place -- but she asks, she means it, he understands, he says yes and then he has to disappoint her, as opposed to just disappointing her at the beginning. Oliver's relationship with his family is coming more to the forefront as we move, I think from Episode 7 all the way through Episode 13, which we haven't even started yet. We're entering into an arc with his family and with the relationships and with the way that he's sensibly trying to ... he's deceiving them. A resolution is going to have to come out of that.
What can you reveal about Episode 8?
Episode 7 and Episode 8 are kind of like a two-parter. Episode 8 begins after the final moments of Episode 7 and everything that you see, all the plans that the Huntress has in 7, ties directly into 8. Episode 7 maybe gives the idea that this is going to be a moment of calm for Oliver, and there is no such thing. There is no such thing ... There's stuff coming in Episode 7. Big stuff. Yeah. I look forward to Episode 7. But I think of them as one episode.
"Arrow" airs Wednesdays at 8 p.m. ET on The CW.
Are you looking forward to seeing The Huntress? Who do you think the Well-Dressed Man really is? Are you hoping Oliver and Laurel will get together? Weigh in below!
Calling all HuffPost superfans!
Sign up for membership to become a founding member and help shape HuffPost's next chapter
BEFORE YOU GO